'Black and Blue' Film Review
Cast: Naomie Harris, Tyrese Gibson, Frank Grillo, Mike Colter, Nafessa Williams, Reid Scott, James Moses Black, and Beau Knapp
Director: Deon Taylor
Release Date: Oct 25, 2019
Running time: 108 min
Corruption in the police force has been a topic of multiple on-screen titles throughout the years. With Black and Blue, however, director Deon Taylor (Intruder) brings an alternative perspective – he does not only showcase the turbulent relationship between the Black community and law enforcement but welcomes a never seen before character – a black female lead, who is a police officer – to help understand that relationship in all its complexity.
The film opens with a scene in which the lead character, rookie officer Alicia West (Naomie Harris), is pulled over and roughly searched by two white cops while on her morning run in what seems like a suburban neighborhood. The officers release her shortly after they learn "she is blue", then arrogantly state that West "fits a description". Without issuing an apology, the cops leave the slightly shaken rookie be. Later at the precinct, West volunteers to cover for her partner Kevin (Reid Scott) and teams up with officer Deacon Bacon (James Moses Black) for a graveyard shift. While on patrol, West witnesses a murder of three young men by narcotics detective Terry Malone (Frank Grillo) and his crew in an abandoned factory. When West is detected with her bodycam recording the execution, the fellow officers attempt to kill her. She manages to escape. Malone, desperate to get the bodycam, recruits druglord Darius (Mike Colter) to find West. He falsely accuses her of killing Darius's nephew (one of the murdered drug dealers). With the entire NOPD and Darius' crew after her, West turns to her childhood friend Mouse (Tyrese Gibson) for help. Mouse also has had a traumatic encounter with the police in an earlier troublous but yet powerful scene. Concerned about a possible break-in to his store, he calls for police. When a cop arrives, he treats Mouse as if he was the criminal – shoves him against a table and threatens him with a gun. Terrified and upset, Mouse quietly breaks down.
The narrative exposes the unfortunate realities many face today. Black communities are being neglected and taken advantage of and those, who swore to protect and serve, often only follow the oath when it's in their own interest. In this scenario, Naomie Harris' character, is the best hope for any type of resolve. She is an outsider but also belongs, all at the same time, which makes her a perfect candidate for the job. She believes, perhaps naively, that by going against the grain and following her principles, she can earn people's trust and amend the broken relationship between the 'blacks' and the 'blues'.
Black and Blue excites with its action-filled sequences, suspenseful moments and chilling but yet beautiful sights of post-hurricane-Katrina New Orleans. Audiences will enjoy great performances and will be entertained by finding hidden messages throughout the film. Black and Blue delivers a vital modern story of crime and punishment and reiterates the notion that doing the right thing is always the right thing.

'American Son' Sheds Light on Being Black in America
by Kimberly Jones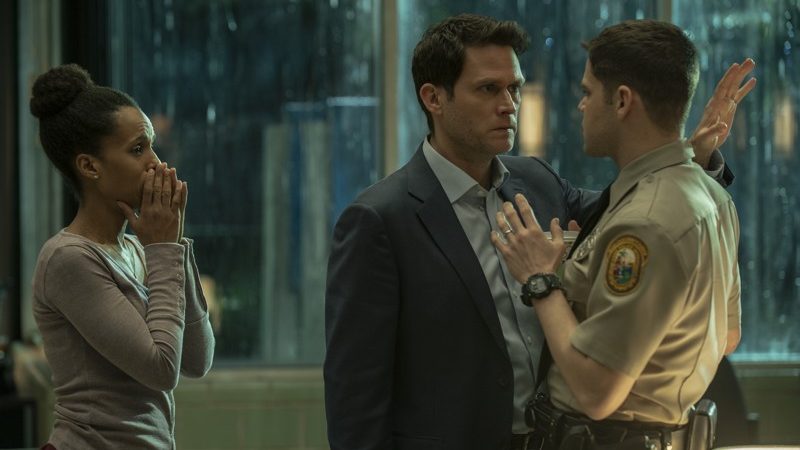 American Son, originally a Broadway play turned short film, debuted on Netflix this past
weekend. The film stars Emmy Award-nominated actress Kerry Washington as Kendra Ellis-Connor searching for information about her son while dealing with a failed interracial marriage. Washington stars opposite Steven Pasquale who plays her estranged husband Scott Connor, an FBI agent and a member of a military family with the utmost respect for all members of law enforcement.
The entire film takes place in a waiting area of the Miami police precinct when the couple's
eighteen-year-old son goes missing after an incident with a police officer. Although the identity of Connors's son Jamal was never revealed, the dialogue through the entire film gave a good back story into who Jamal was. A young man with a good head on his shoulders in search of his identity trying to navigate through young adulthood.
American Son told the story of being black in America from different perspectives while also dissecting many layers of issues people of color experience daily. The fact that the Connors were in an interracial marriage added to the complexity of the issues the couple was facing. Kendra (Washington) could relate to Jamal more because she understands the relationship between black men and cops, and how one wrong move can be fatal and life-changing. Her husband Scott (Pasquale), on the other hand, is arrogant and ignorant when it comes to race relations. Both parents agree that they did what was best for their son and provided him with the tools to survive in the real world. The breakdown is that the couple had two very different versions of survival, Scott worries that his son's friends are having a negative effect on him and doesn't want Jamal to represent himself as"too urban".
Perhaps the most stand out moment of the film is when Scott reveals that he doesn't even like his son's name. He is blinded by his ignorance. 'Jamal' is a black name and he never liked it but went along with Kendra's decision. This further confirms some of the mother's concerns about her son and how his own father can judge him just from his name alone. During a conversation Kendra has an epiphany about her marriage and asks Scott, why did he approach her when they first met? She questioned his reasoning for wanting to pursue a relationship with a black woman at all, especially since Scott's new girlfriend is white. He quickly reassures Kendra that he sincerely cared for her and that the new girlfriend did not mean much to him. The situation with Jamal led them to have this difficult yet necessary conversation.
The overall message in the film is that no matter where a child is raised or what fancy schools he or she may attend – when that child is out in the world, the only thing that matters is skin color. There is basically no way to prepare for discrimination and life-threatening situations that may arise at any time for a black person in America. It can also be difficult for white people to understand how severe police brutality is. It is not something that is blown out of proportion, it is a very real problem.
The film left audiences with a somber tone and feeling defeated. Perfectly titled American Son, this is a very familiar tragic story that we see in headlines all the time. This is a reminder that there is no such thing as equal justice in our country.
American Son is now available for streaming. You can watch the trailer below.