'Black and Blue' Film Review
Cast: Naomie Harris, Tyrese Gibson, Frank Grillo, Mike Colter, Nafessa Williams, Reid Scott, James Moses Black, and Beau Knapp
Director: Deon Taylor
Release Date: Oct 25, 2019
Running time: 108 min
Corruption in the police force has been a topic of multiple on-screen titles throughout the years. With Black and Blue, however, director Deon Taylor (Intruder) brings an alternative perspective – he does not only showcase the turbulent relationship between the Black community and law enforcement but welcomes a never seen before character – a black female lead, who is a police officer – to help understand that relationship in all its complexity.
The film opens with a scene in which the lead character, rookie officer Alicia West (Naomie Harris), is pulled over and roughly searched by two white cops while on her morning run in what seems like a suburban neighborhood. The officers release her shortly after they learn "she is blue", then arrogantly state that West "fits a description". Without issuing an apology, the cops leave the slightly shaken rookie be. Later at the precinct, West volunteers to cover for her partner Kevin (Reid Scott) and teams up with officer Deacon Bacon (James Moses Black) for a graveyard shift. While on patrol, West witnesses a murder of three young men by narcotics detective Terry Malone (Frank Grillo) and his crew in an abandoned factory. When West is detected with her bodycam recording the execution, the fellow officers attempt to kill her. She manages to escape. Malone, desperate to get the bodycam, recruits druglord Darius (Mike Colter) to find West. He falsely accuses her of killing Darius's nephew (one of the murdered drug dealers). With the entire NOPD and Darius' crew after her, West turns to her childhood friend Mouse (Tyrese Gibson) for help. Mouse also has had a traumatic encounter with the police in an earlier troublous but yet powerful scene. Concerned about a possible break-in to his store, he calls for police. When a cop arrives, he treats Mouse as if he was the criminal – shoves him against a table and threatens him with a gun. Terrified and upset, Mouse quietly breaks down.
The narrative exposes the unfortunate realities many face today. Black communities are being neglected and taken advantage of and those, who swore to protect and serve, often only follow the oath when it's in their own interest. In this scenario, Naomie Harris' character, is the best hope for any type of resolve. She is an outsider but also belongs, all at the same time, which makes her a perfect candidate for the job. She believes, perhaps naively, that by going against the grain and following her principles, she can earn people's trust and amend the broken relationship between the 'blacks' and the 'blues'.
Black and Blue excites with its action-filled sequences, suspenseful moments and chilling but yet beautiful sights of post-hurricane-Katrina New Orleans. Audiences will enjoy great performances and will be entertained by finding hidden messages throughout the film. Black and Blue delivers a vital modern story of crime and punishment and reiterates the notion that doing the right thing is always the right thing.

"Concrete Cowboy" Movie Review: Taking the Scenic Route Through Netflix's Newest Addition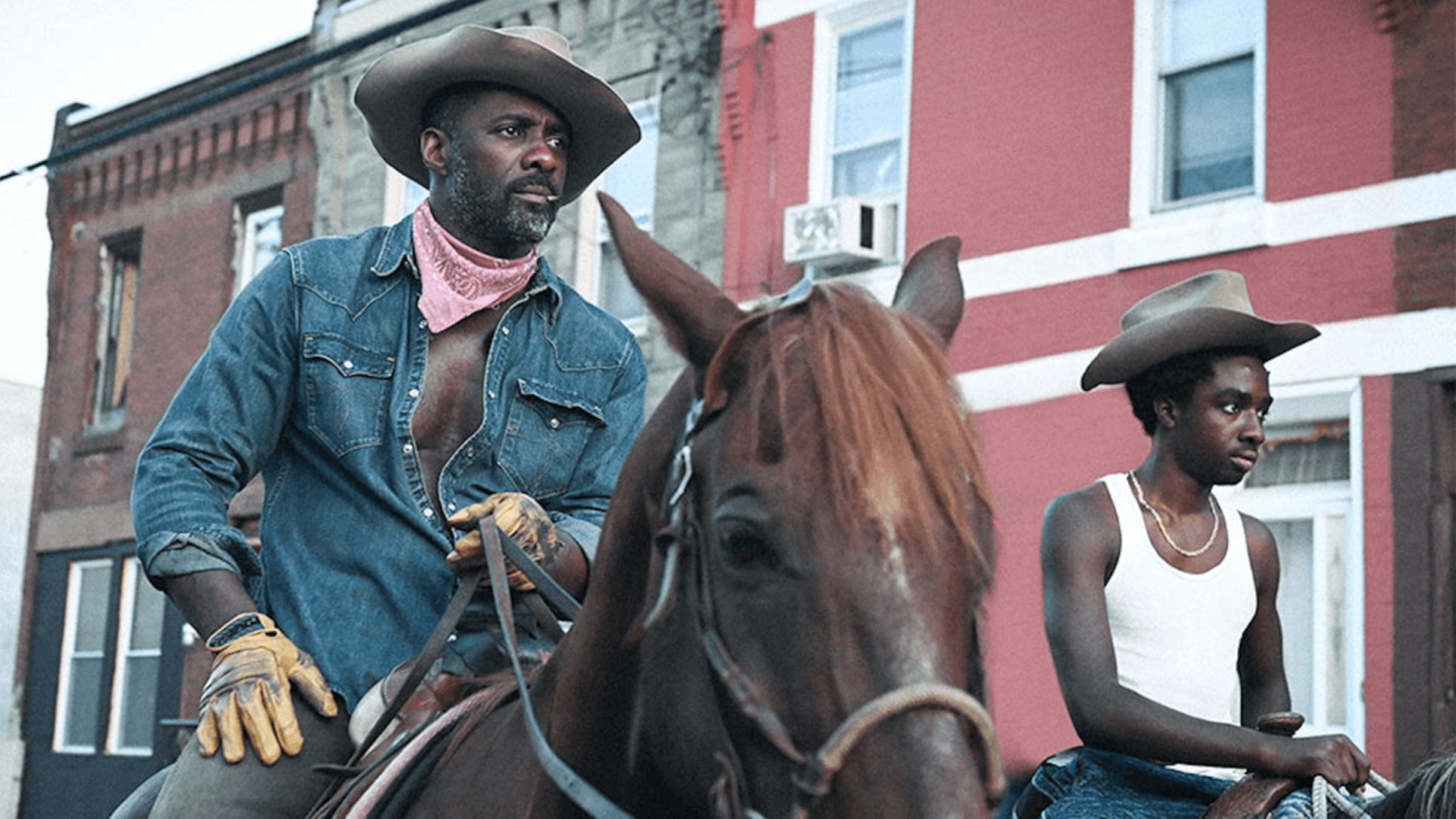 written by Betti Halsell
Ricky Staub's Concrete Cowboy unearths multiple traumas, both in the broadening range of African-American culture and the complex circumstances of Black men and their perspective within a household setting.
The film opens up with Cole (Caleb McLaughlin), a 15-year old boy sitting outside the principal's office. His face bruised and bleeding from a fight he had with another kid – a moment that keeps repeating itself. His mother arrives, looking more discouraged as if she's been called to the principal's office one too many times herself.
Cole is a kid unable to see the consequences of his personal choices. He is full of anger and entitlement. Being a child from a broken home, he leads his life with the "right" to act out. His mother, unable to come up with another excuse for her son's behavior, sees that Cole stays with his father for the summer in Philadelphia. This might sound like a familiar pivot to a teen-angst-driven film, but here is where things get interesting – the 15-year-old finds himself staring at the truth of his reality, coming straight from the horse's mouth.
His father (played by Idris Elba) takes him in, and the two of them seem to forge an understanding through hardships and repeated history, a not-so-far-off truth between Black fathers and their sons that are looking to become men, Cole comes from a line of Black horse riders that live in the city.
The cinematography captures breathtaking landscapes and frameworks that seem almost otherworldly. Although the movie captivates the audience with its raw truth of reality, many people may know nothing about. Some questions that needed further explanation were left unanswered, for example, how old was Cole when his parents separated and he moved away from Philidelphia? Or when did Cole develop his summer fling when he returned to the city ranch?
Survival is the common denominator in the movie and its message, which spells out how lack of resources affects the living conditions and the quality of a person's life and their community.
In Concrete Cowboy, Stranger Things' Mclaughlin introduces the viewers to a wider acting range while playing Cole. British chameleon Elba plays Harp, Cole's father. He also produced the film. Other cast includes Jharrel Jerome as Cole's childhood best friend Smush, Lorraine Toussaint as the community's 'mother,' Nessie, and rapper Method Man as town sheriff Leroy.
Staub highlights the Black cowboy community through this project. Reports say the director stumbled upon the culture after seeing a man on a horse in Philadelphia. He then researched the Fletcher Street Urban Riding Club, which led him to Greg Neri's book, Ghetto Cowboy.
The truth behind this movie leaves the audience enamored, and the images of beauty found in the concrete prairie of Philadelphia are masterpieces. The sunsets and the grading of color are painted effortlessly as if the setting was no longer the city but rather the natural breeding ground for a cowboy to lay his hat.
Concrete Cowboy is now available for streaming on Netflix. Watch the trailer below.
Eddie Murphy's 'Coming 2 America'- Movie Review
by Betty Halsell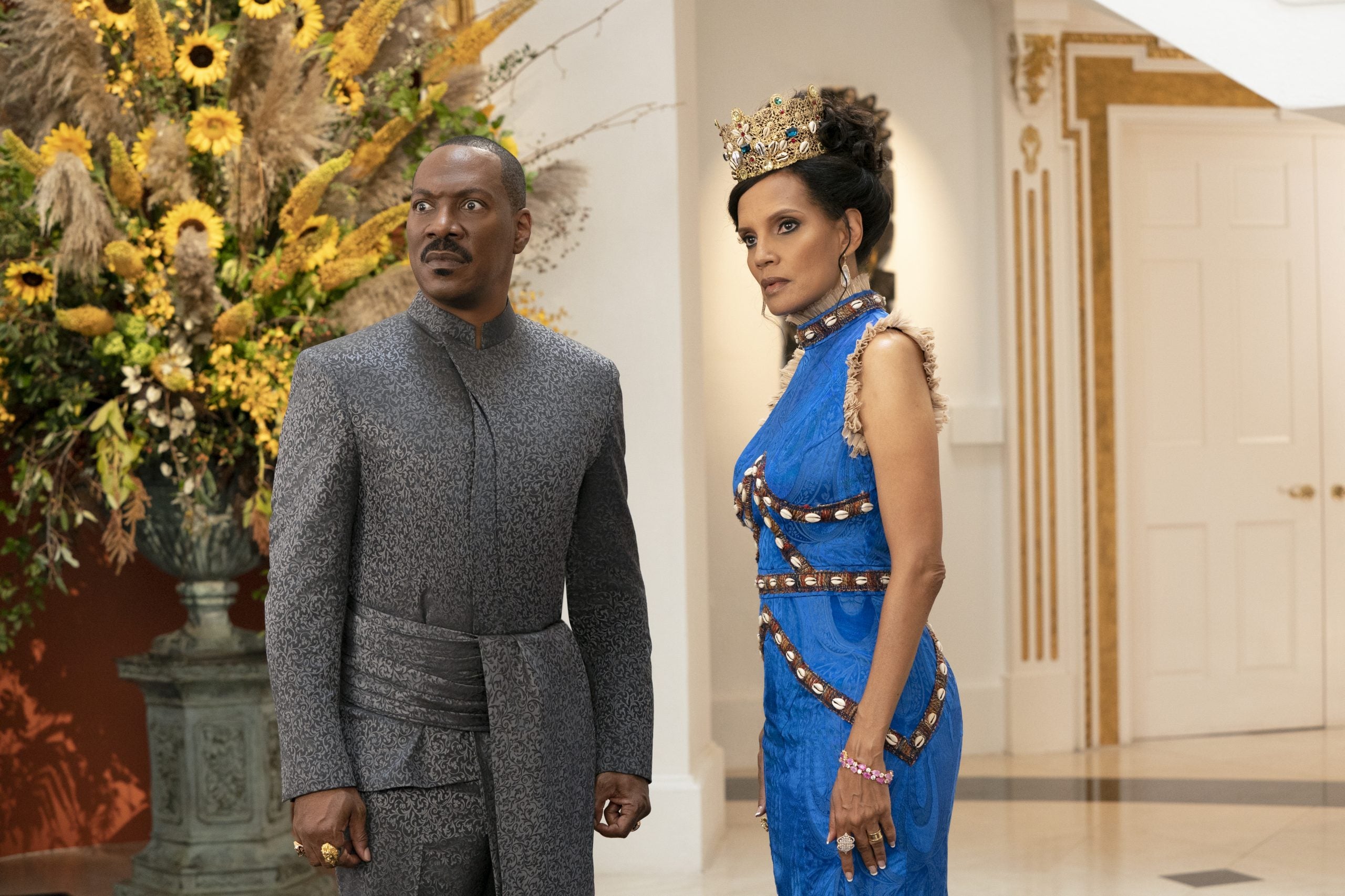 Coming 2 America unearthed bejeweled life lessons, sewn in with the fabrics of true love. It touched on blended families, racism, feminism, and just a touch of true passion and diplomatic change. Paramount Pictures, New Republic Pictures, Eddie Murphy Productions, and Misher Films carefully groomed this sequel to sit on the throne as the next American classic.
Coming 2 America is the true royal oat to the 1988 narrative. The movie picks up 30 years later, back in Zamunda. The future king Akeem (Eddie Murphy) and his beloved wife, Lisa (Shari Headley), arise to their three daughters wishing them a happy anniversary. It is important for there to be a male heir to carry out the patriotic rule of the country in royal families, this was something Prince Akeem assumed he failed at accomplishing. However, to his surprise, a royal oat was sewn, Lavelle Johnson (Jermaine Fowler) sprouted back in the land of Queens.
Prince Akeem soon becomes king, and with the new crown, comes new weight. Coming 2 America presented real scenarios like a blended family, Queen Lisa and Levelle's mother (Leslie Jones) were vastly different but found common ground.
The movie touched on the rule of tradition that overshadows the change for the future, as Meeka (Kiki Lane) eldest royal daughter, watched her dreams of being Queen fade away as soon as there was talk of a son. Women in Zamunda spoke of owning their own business, but solemnly knew according to Zamunda Law, it was not possible. The sequel presented each problem smoothly – they were serious issues, without political heaviness.
Getting into the design and feel of Zamunda, one could assume the wealth of this country is on the highest scale. They pulled from both African and African-American cultures. The entrances of General Izzy (Wesley Snipes) paralleled 'stepping' from Black fraternities/sororities (think stomp the yard every time General Izzy entered the scene.) The costumes were curated by Oscar award-winning Ruth E. Carter, who was the designer behind Wakanda's sense of fashion.
Although there wasn't an official breakdown of what African tribes inspired Carter, she is known to pull from South Africa, using African lace, symbols, and their traditional headdress as statement pieces. Each character presented a unique style, Prince Lavelle interpreted the royal stride and attire to fit his personal taste of swag and cadence. All the intricate nuances that make up Black culture were joined with the vivacious origins of African heritage, which was a beautiful marriage of its own. Also, the athletic brand Puma was spotted making their renditions of African-inspired gear in the movie.
The sequel upheld the presence of being over the top like the 1980s original, with a dash of new flavor, giving it a different soulful bite. There were quick peeks into places that made the classic movie the crowned jewel that it is, such as McDowell's fast food eatery, adding "healthier options." The ingenious characters Murphy created were peppered throughout the film effortlessly.
Nostalgic cameo appearances throughout the journey were made the singing royal announcer Oha (Paul Bates), Morris and Clarence from the barbershop(Arsenio Hall and Murphy), the womanizing pastor Reverend Brown (Hall), the arranged betrothed Imani Izzy (Vanessa Bell Calloway), and Randy "Sexual Chocolate" Watson (Murphy) all played into the new story of royalty.
Love expanded as the root of the story, planting different seeds where it was needed. The affection between a son and his mother who raised him, the love of tradition and family honor, and how love can also be the seed for change. Throughout the movie, Prince Akeem once again evolves to another version of himself, bringing along his country to a new level of progression.
The credits had a few sparks as well, with much-wanted bloopers and an unexpected musical artist doing the cover of the endearing serenade, " She's Your Queen." Much like the 1988 original, the sequel was light-hearted but tackled some of the most tangible issues that America is facing today, Coming 2 America brought back a much-needed smile and feel-good reality that the nation is looking to get back to.
Available March 5 exclusively on Amazon Prime.
Review: 'Antebellum' – a Racial Horror That Misses The Mark
written by Kimberly Jones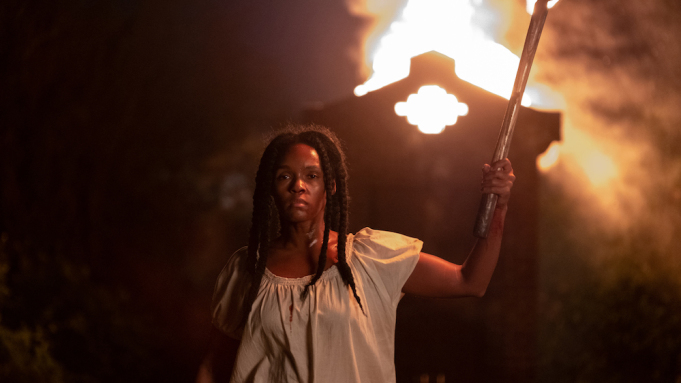 Based on the previews, many viewers, myself included, expected Antebellum to be a mix between Jordan Peele's Get Out and HBO's latest hit series Lovecraft Country. With this concept and Janelle Monae leading the cast what could go wrong? A lot. Although Monae did a good job bringing her character to life, ultimately, the horror film missed the mark.
Antebellum is Gerard Bush and Christopher Renz's directorial debut. Its opening scene takes place on a Louisiana plantation where a woman named Eden (played by Monae) is captured after an escape attempt and is strapped to the back of a horse. On the other side of the plantation, a couple is being tortured – a man is in shackles, and a woman is hunted down and noosed. These images are used for shock value – it is hard to watch but at the same time, it keeps the viewer intrigued.
In this storyline, prior to being kidnapped, enslaved, and renamed, Eden is a successful scholar Veronica Henley. She is also a mother and a brilliant public speaker. Veronica is an intelligent, powerful woman who speaks out against injustices and unapologetically owns her blackness. She has a very public platform and acts as a commentator and activist which makes her a target for her abductors.
While in Louisiana on her latest book tour, Veronica goes out with her girlfriends Dawn (Empire's Gabourey Sidibe) and Sarah (Lily Cowles, Roswell New Mexico). The three catch up and indulge in girl talk. Sidibe is a much needed addition to the story with her quick wit and one-liners. After the night out, on her Uber ride back, Veronica is kidnapped by the rideshare driver, a woman named Elizabeth (Jena Malone, Hunger Games).
Eden eventually finds herself in a group of others who suffered the same fate. Now enslaved, she is looked upon as the strong one because of her accomplishments and her platform. She, however, is hesitant to take on the role of a leader. A desperate young woman named Julia (Kiersey Clemons, Lady and the Tramp) approaches Eden in hopes that she can save them all. Eden is mentally worn down, and after a failed first attempt to escape, she is just terrified to try it again.
Directors Bush and Renz fail to connect with the audience through Black trauma. Certainly, there have been plenty of movies that portrayed slavery. The scenes in Antebellum, however, are too graphic. In one of them, for instance, Eden is being branded by one of her masters. It is hard to watch, and, as some expressed, unnecessary.
In the end, Veronica manages to flee the horror of Antebellum, which, we learn in the last scene, is a Civil War reenactment park located in Louisiana. Although her escape was meant to bring this story to a conclusion, we were left with many unanswered questions. Despite that, Monae did a great job carrying the film. Although I found the storyline to be weak and lacking character development, she was able to deliver an overall good performance.