Lex Scott Davis Talks Playing An Attorney in ABC's Upcoming Series 'Rebel'
Best known for her role in Tony Braxton: Unbreak My Heart and Superfly, Lex Scott Davis is coming back to the small screen. She stars as a series regular in ABC's brand new drama Rebel.
Inspired by Erin Brockovich's story, the show follows Annie "Rebel" Bello (played by Katey Sagal), a blue-collar legal advocate without a law degree who cares desperately about the causes she fights for and the people she loves. That includes Davis's character, Cassidy Ray, who is not only a lawyer but also Rebel's daughter. Both work closely together – anytime Rebel needs an attorney, Cassidy is there.
When talking about what attracted her to this project, Davis recalls reading the script and being drawn in by the unique family dynamic presented on the show and the diversity it brings. She says it is "a proper representation of what America is today. It's not just this or that; it's a combination of everything. And I like that this story completely embraces that."
Watch Rebel on Thursday, April 8 at 10/9c on ABC.
Holly Robinson Peete Talks New 'Morning Show Mysteries' Hallmark Film
The actor, producer, and philanthropist chatted with us about her role in the latest season of Morning Show Mysteries. The sixth installment, titled Murder Ever After, continues to follow her character, Billie Blessings, as she now discovers human bones in the basement of an old friend's house, which leads her back into investigative work that she loves so much.
Also starring in the upcoming mystery feature are Colin Lawrence (Riverdale) and Karen Robinson (Schitt's Creek).
Watch the premiere of Morning Show Mysteries: Murder Ever After on Hallmark Movies and Mysteries Sunday, May 23 at 8 p.m. ET. 
Snowfall's Michael Hyatt Talks Season 4, Cissy Saint's Evolution and Being Comfortable In Your Own Skin (Video)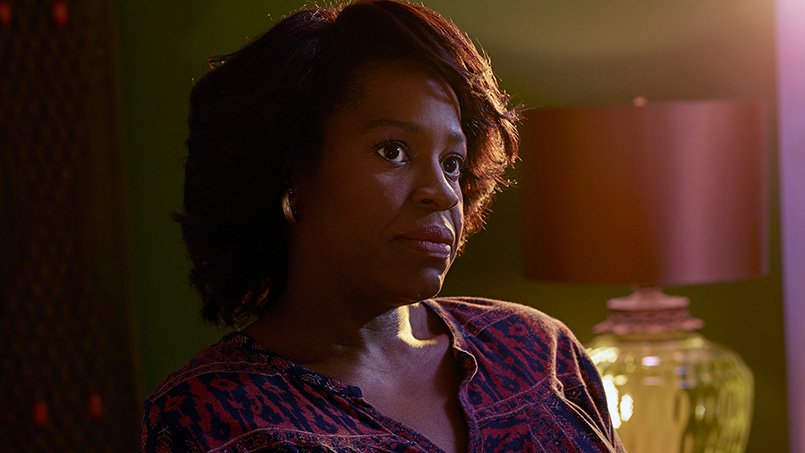 Michael Hyatt has graced our screens since before Snowfall. The Howard University alumn is known for playing recurring roles on several television shows, including The West Wing, The Wire, and True Detective, to name a few. Yet, her character Cissy Saint on FX's drama Snowfall holds an exceptional place in her craft and her heart.
Currently in season 4, the show continues to follow Frankin Saint (Damson Idris), his friends, and associates as things around their drug dealing enterprise get more intense and a bit out of control.
Cissy's journey from the series pilot to today has been enjoyable to watch. "Cissy has evolved."Hyatt tells HM, "Over the last four years [you've] had the opportunity to see not just Cissy the mom, but the career woman, and the wife. And I don't think we have enough opportunities to see us in the multi-dimensional consciousness that we actually live in."
Cast as a series regular by the show's creator John Singleton, the actress commends the late director for always bringing the authentic stories and talent of people of the African diaspora to the forefront. "When John was here, his whole thing was – it's gotta be true. People wanna see themselves." He carried the same vision for his crew behind the scenes. "Many of the crew members that are still on the show today were brought on by John, and I'm talking about the African faces that I have the pleasure of experiencing," Hyatt says.
Born in the UK to Jamaican parents Vera and Charles Hyatt, the actress emigrated to the United States with her mother and siblings when she was 10 years old. Hyatt always remembers who she is and where she comes from, "I am African, British, Jamaican, American. I am that." She tells HM. Embracing her West Indian heritage has been instrumental in her portrayal of Cissy Saint. "John [Singleton] would tell me that he has West Indian family members and when he thought of this story and these people, he was thinking of his aunt, grandmother, who are West Indian." She shared in our interview, "It gave me permission to allow any aspect of myself to come out because they all represent who Cissy is, who all of us are."
Make sure to check out our exclusive interview with Michael Hyatt above!
Bria Danielle Singleton Talks Playing The Younger Version of Octavia Spencer's Character in 'Thunder Force'
Bria Danielle Singleton had secured a role in Netflix's new superhero comedy Thunder Force, starring Oscar-winning actress Octavia Spencer and Emmy winner Melissa McCarthy.
The 15-year-old California native is playing the younger version of Spencer's character, Emily – a quiet girl who prefers to keep it to herself. Tween Emily lives with her grandmother and does not have any friends. That is until she meets Lydia, and they form a strong friendship. The two best friends lose contact with each other but later reunite when in their 40's after Emily devises a treatment that gives both powers to protect their city.
Watch our interview with Bria below and stream Thunder Force on Netflix starting Friday, April 9.