#MeToo Movement at the Center of 'The Morning Show'
Kimberly Jones
The entertainment industry was shook in 2017 when news broke that Harvey Weinstein was accused of sexual misconduct by several women. More than a dozen of them claimed that the film producer sexually harassed and raped them. Following the allegations, the #MeToo movement came to the forefront with women around the country uniting to take a stand against sexual harassment and sexual assault. The Morning Show is right on time tackling the very real and uncomfortable situations women often face in the workplace.
The Morning Show premiered on Apple TV+ on November 1. It is centered around the anchors and producers of a very popular and successful morning program. The series follows the aftermath of the show after its lead anchor Mitch Kessler (Steve Carell) was fired due to sexual misconduct allegations. The world of The Morning Show is now forever changed.
Mia Jordan (Karen Pittman) is a producer on the show and is at the center of the controversy. She is a sharp top-notch producer but her good work is being overshadowed by the fact that she had an inappropriate relationship with her superior Mitch Kessler. Working in an industry heavily dominated by men, Mia has no choice but to speak up for herself and tell her truth. In episode 7 Mia reached her boiling point. After being taunted by a male colleague, she decides to address the elephant in the room. "We're all human. We all have regrets" she grabbed the studio microphone and made a statement in front of her colleagues, "No matter which side of that #metoo line you fall on we are all just people who want to do our jobs, do good work. So, that's what I'm going to focus on my work."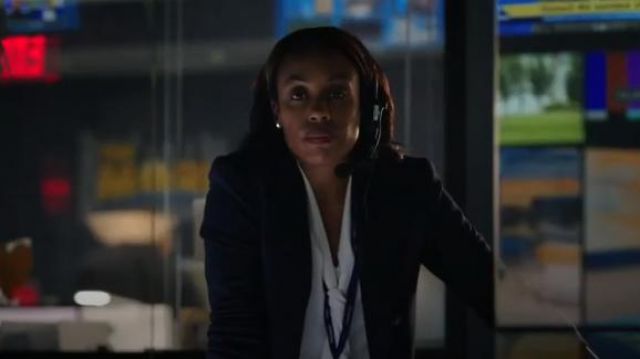 Unfortunately, Mia is not the only victim of sexual misconduct in the office. Chief segment producer Hannah Shoenfeld (Gugu Mbatha-Raw) had a non-consensual encounter with Mitch when she was still a rookie on the team (ep. 8). After an emotional day covering the deadliest mass shooting in US history in Las Vegas, Mitch invites the young and ambitious junior producer to his hotel room leaving her in a powerless situation. When Shoenfeld reports the incident to Fred Micklen (Tom Irwin), the president of the network, he offers her the head booker position instead of addressing the issue and trying to resolve it. She accepts. Despite the promotion and moving up with the company, the incident has left Hannah's life in shambles – she turned to drugs and alcohol to help her cope with her new reality.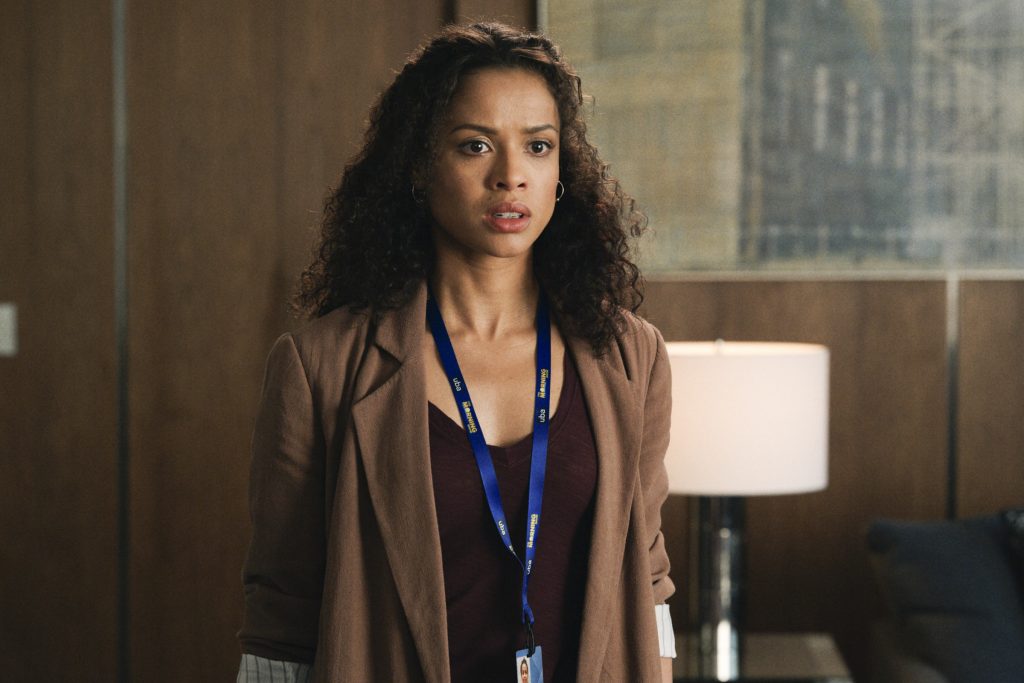 Pittman and Mbatha-Raw are joined by veteran actresses Jennifer Aniston (Alex Levy) and Reese Witherspoon (Bradley Jackson) – both are the anchors of the revamped version of The Morning Show trying to set a new tone for the show under female leadership. It has been a bumpy ride for them all as they try and navigate a new normal in the workplace and the women fight to take their power back.
The Morning Show is nominated for Best TV Drama series at the upcoming Golden Globe Awards and new episodes are available every Friday on Apple TV+.
Emmy-Award Winning Actress Maya Rudolph Returns to SNL Stage
by Betti Halsell
According to multiple sources, comedic actress, Maya Rudolph is set to host Saturday Night Live on March 27, with Grammy-nominated musical guest, Jack Harlow.
Rudolph is an SNL alum and has served as the master of ceremonies for Saturday Night Live once before. She was a part of the NBC variety show family for six years (2000-2007). Rudolph has been in over 269 sketches. The comedian, actress, and singer has done parody characters of Beyoncé, Michelle Obama, and her most recent and ingenious impression of Vice President Kamala Harris.
SNL has subsequently missed five shows before streaming their 15th episode of the season; quoting her statement found on Vulture, Rudolph said, "I'm so grateful, always, to be a part of that place. And then like, when in my wildest dreams did I think there would ever be a candidate that looks remotely close to whatever this is…" 
After Rudolph graces the stage, TikTok rapper, Jack Harlow will bring the show home. His song What's Poppin went viral on the TikTok platform last summer. The Louisville rapper is 22-years-old. Due to his accelerated success, Harlow has been nominated for a Grammy in the best rap performance category. His Tiktok tune reached over 14 million streams in the US. Catch the Rudolph and the young hip-hop musical guest performance on March 27 on SNL.
Prince Harry and Meghan Markle's Interview with Oprah Winfrey (First Look)
No subject is off limits in Meghan Markle and Prince Harry's upcoming interview with Oprah Winfrey.
CBS has released a glimpse of the much-anticipated conversation and it is definitely something we would not want to miss! The interview will be the couple's first sit-down since their engagement. 
You can watch Oprah with Meghan And Harry: A Primetime Special on Sunday, Mar. 7 at 8/7c on CBS.
Dominique Fishback Talks 'Judas and the Black Messiah' and the Importance of Personal Alignment
by Betti Halsell
Creativity comes from within. Rising actress and writer Dominique Fishback is relishing in her newfound space of alignment. Her performances have shown the depth of her manifestations. During our conversation, the New York native shared a personal view of her journey blossoming in the entertainment industry, and explained how what one may internalize, eventually manifests externally.
"Everybody is super excited about the movie…" Fishback said she received overwhelming support for her role as Deborah Johnson in recently released Judas and the Black Messiah.
The movie is a historical drama based on the life of Black Panther leader of the Illinois Chapter, Chairman Fred Hampton. Fishback plays a distinguished character, his fiance and fellow activist, highlighting the significance of Black women involved in the dawning of the civil rights movement.
During the press release of the film, Johnson also known as Mother Akua sat with Fishback and gave her deep praise for the uncanny portrayal. The actress looked back to that day of acknowledgment and said, "…It was a complete love fest that we had and I couldn't believe that this was actually happening–since I was in college learning about the Black Panther party, I always cared and I always held them in high regard…" She went to explain her personal embodiment of the organization and what they stand for.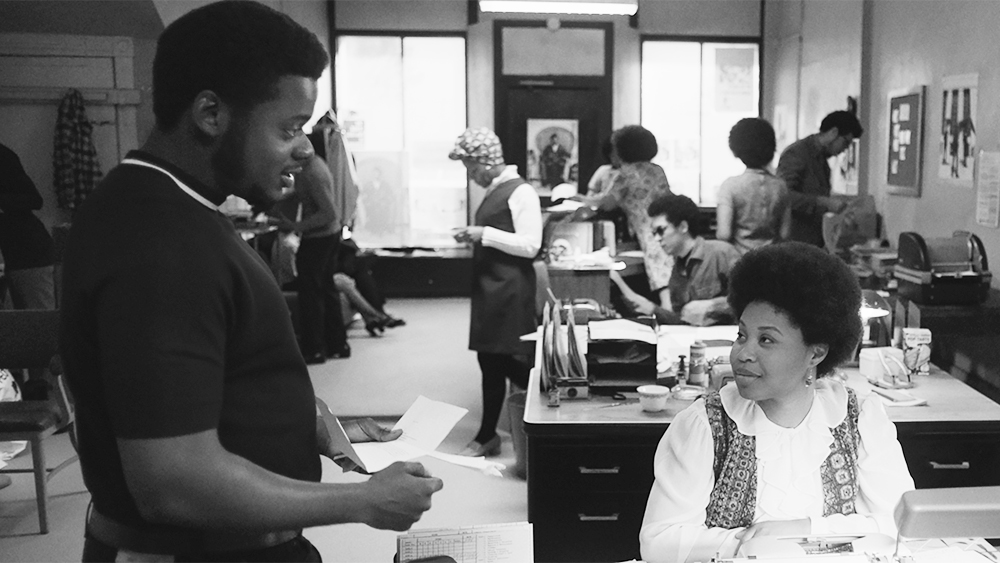 As Fishback swims deeper into her acting range, the people around her continue to show genuine support. She shared a story of her loved ones pouring into her after a private screening of the movie. One moment that stuck out to her was when her friend noted that the rising star is always present in all of the roles that she takes on.
The actress also shows her creativity through her writing, she spoke about her one woman play titled Subverted, her thesis project to graduate from Pace University. The playwright talked about the diversity within her classroom or the lack thereof – she was usually the only Black person. This caused a lack of understanding from her peers. Rearing into a debate that broke out in one of her sociology classes, a student said if Black men wore "normal clothes" they wouldn't get stopped by the police. This sparked the 22-character role Fishback took on with the mission to widen the perspective among the narrow minds, like the one she encountered in her class.
With all the resources offered at her university, the final production got great feedback and with her first debut she was able to pack up a theatre during a movie festival. Subverted is looking to be brought to a grander audience, to voice a wider perspective for everyone to hear. 
Fishback touched on the frustrations of being a creative soul going through life and watching others achieve their dreams, while still being on ground zero of one's career. In a Facebook post from ten years ago, she recalls describing her stress of watching people in previews, when she wanted to be there. Now in retrospect, she talks about the power of alignment and what it means to be in full control of one's destiny.
"God could've given it to me sooner, but I wasn't in the place for it." She went on to elaborate on the need for personal growth and self-examination of the energy that's surrounding one's life, "… I'm thankful for learning how to remove ego, and appreciate things a little bit more." 
God could've given it to me sooner, but I wasn't in the place for it
The actress discussed her gift for gratitude and always staying humble through her faith, "…I feel like inside, I have happiness and the outside is matching." She also reflected on her mental state before she focused on her greater alignment to life, "I would book something and it would be an amazing opportunity, but I would still be sad." She described sitting with herself and those feelings, asking herself why–why she felt sad even when she seemingly was on the right path.
Fishback unearthed the complexities of her journey through meditation, journaling, and reflecting. That is when she realized the process is just as important as the reward. She gives herself the time to meditate and find what she needs to bring out from within. Watch Fishback in Judas and the Black Messiah, now streaming on HBO Max.