Michael B. Jordan Fights For Justice In Newly Released Trailer For 'Just Mercy'
Warner Bros. has released the newest trailer for its upcoming highly-anticipated thought-provoking story starring Michael B. Jordan and Oscar-winning actor Jamie Foxx.
Just Mercy follows young lawyer Bryan Stevenson (Jordan) and his history-making battle for justice. After graduating from Harvard, Bryan had his pick of lucrative jobs. Instead, he heads to Alabama to defend those wrongly condemned or who were not afforded proper representation, with the support of local advocate Eva Ansley (Brie Larson). One of his first, and most incendiary, cases is that of Walter McMillian (Foxx), who, in 1987, was sentenced to die for the notorious murder of an 18-year-old girl, despite a preponderance of evidence proving his innocence and the fact that the only testimony against him came from a criminal with a motive to lie. In the years that follow, Bryan becomes embroiled in a labyrinth of legal and political maneuverings and overt and unabashed racism as he fights for Walter, and others like him, with the odds—and the system—stacked against them. 
The drama is written and directed by Destin Daniel Cretton (The Glass Castle). The cast also includes Rob Morgan, Tim Blake Nelson, Rafe Spall, O'Shea Jackson Jr., and Karan Kendrick. 
Just Mercy will be released in select theaters on Christmas and wide on January 10!
Check out the new trailer above.
Watch: 'Like a Boss' Red Band Trailer Starring Tiffany Haddish and Rose Byrne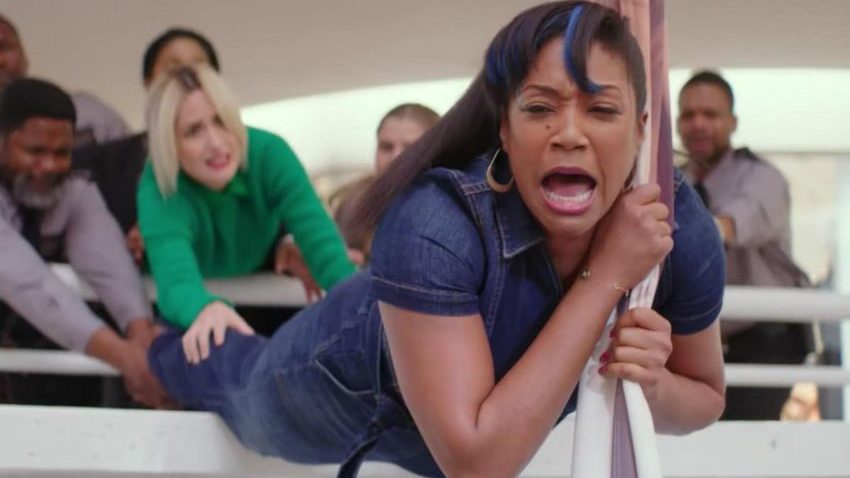 Paramount has released the red band trailer for its upcoming comedy Like a Boss starring Tiffany Haddish and Rose Byrne.
Miguel Arteta (Cedar Rapids, Youth in Revolt) directed. Adam Cole-Kelly and Sam Pitman wrote the screenplay. Both are first-time feature writers.
Synopsis: Best friends Mia and Mel (Haddish and Byrne) are living their best lives running their own cosmetics company they've built from the ground up. Unfortunately, they're in over their heads financially, and the prospect of a big buyout offer from a notorious titan of the cosmetics industry Claire Luna (Salma Hayek) proves too tempting to pass up, putting Mel and Mia's lifelong friendship in jeopardy. The beauty business is about to get ugly.
Also starring are Billy Porter (Pose), Jennifer Coolidge (Legally Blonde), Ari Graynor (The Sitter), Natasha Rothwell (Insecure), Jessica St. Clair (Bridesmaids), and Karan Soni (Always Be My Maybe).
Like a Boss hits theaters on January 10, 2019. Watch the latest trailer above.
This Looks More Like It! Paramount Releases The Brand New Trailer for (The Upgraded) 'Sonic The Hedgehog'
Months after Paramount released the first Sonic The Hedgehog trailer which was received with very little enthusiasm, to say the least, the company returns with a brand new preview.
Based on the global blockbuster videogame franchise from Sega, Sonic The Hedgehog tells the story of the world's speediest hedgehog as he embraces his new home on Earth.
In this live-action adventure comedy, Sonic and his new best friend Tom (James Marsden) team up to defend the planet from the evil genius Dr. Robotnik (Jim Carrey) and his plans for world domination. The film also stars Tika Sumpter and Ben Schwartz as the voice of Sonic.
Watch the full trailer above.
Watch: Pixar's 'Soul' Teaser Trailer
The teaser trailer for Pixar's upcoming original feature Soul dropped Thursday morning. The clip offers a taste of what's in store for moviegoers.
Per Pixar's press release, the animated film introduces Joe Gardner (voiced by Jamie Foxx), a New York-based middle-school band teacher whose true passion is playing jazz. Just when Joe thinks his dream might be in reach, a single unexpected step sends him to a fantastical place where he's is forced to think again about what it truly means to have soul. That's where he meets and ultimately teams up with 22 (voiced by Tina Fey), a soul who doesn't think life on Earth is all it's cracked up to be.
According to two-time Academy Award-winner Pete Docter, who directed the animated film, the idea for the story is 23 years in the making and was inspired by his then newborn baby. "It started with my son—he's 23 now—but the instant he was born, he already had a personality," says Docter. "Where did that come from? I thought your personality developed through your interaction with the world. And yet, it was pretty clear that we're all born with a very unique, specific sense of who we are."
"I was born and raised in New York," says Kemp Powers, who co-directed Soul. "This is the first time Pixar has gone to my hometown and I've been so impressed by the amount of energy that goes into making sure that everything is right. When the character's in Queens, it looks like he's in Queens. When he's in Manhattan, it looks like he's in Manhattan. It's pretty incredible."
Jon Batiste is writing original jazz music for the film, and Oscar winners Trent Reznor and Atticus Ross (The Social Network) are creating an original score.
The film also features the voices of Phylicia Rashad, Ahmir Questlove Thompson and Daveed Diggs.
Soul opens in theaters on June 19, 2020. Watch the full trailer above.