'All American' Bre-Z on playing Coop and making original music for The CW's hit series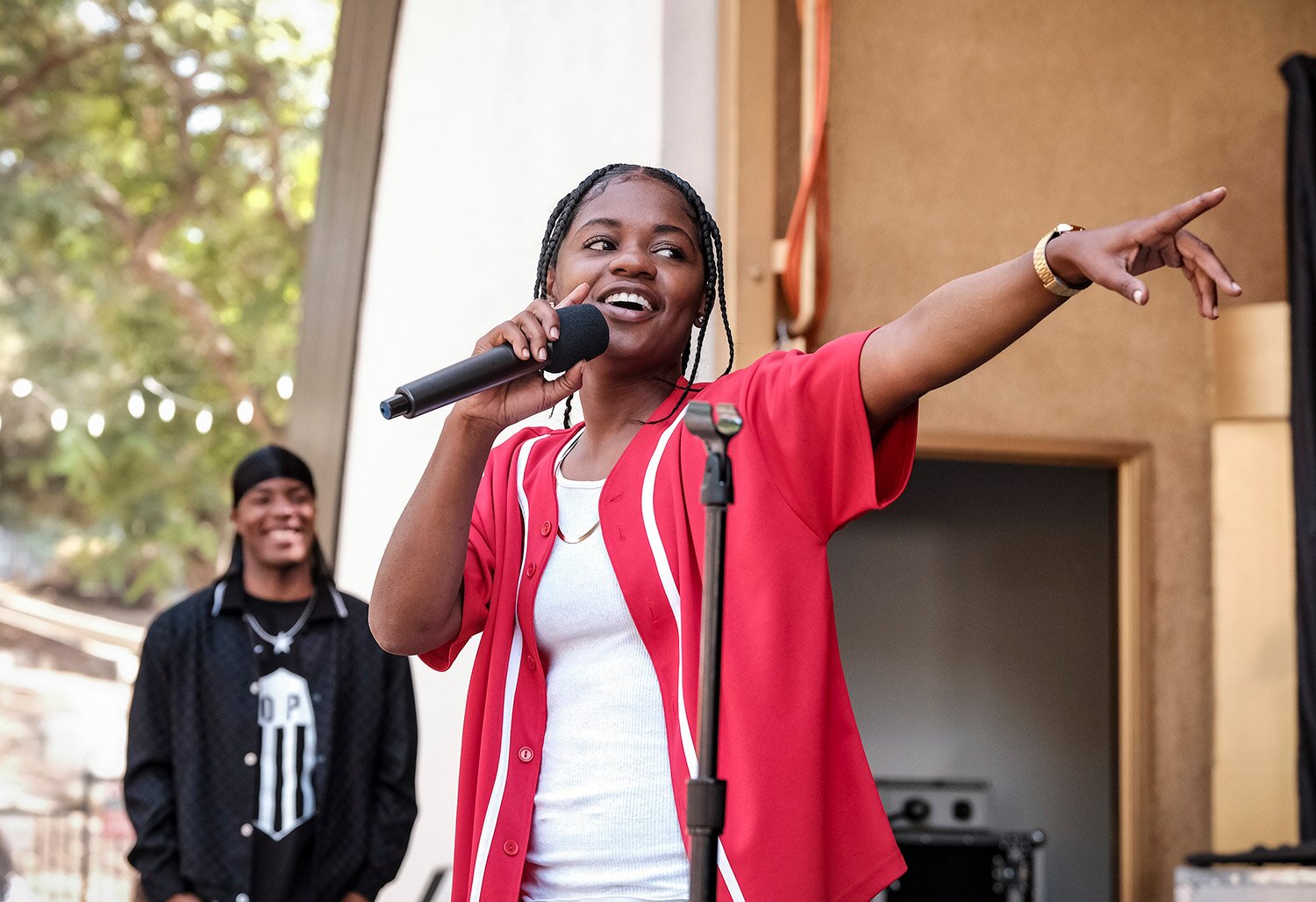 Starring in All American has been a rewarding experience for Bre-Z, an actress and musician, who is not just playing a Crenshaw teen rapper on screen, but also gets to share her own musical talent through Coop, a role that she says was a perfect fit for her. With the fourth episode of season 3 airing on Monday (Feb. 8), Coop will return with more original music, a new record titled Family Over Everything.
HM: You are so gifted. Is acting, music and arts in general something you had around you growing up?
Bre-Z: It's just something I picked up in my early teenage years. I don't have anyone in my family who is, I guess you could say, a professional entertainer but I had family members singing in the choir and stuff like that.
HM: And when it comes to acting, how did that come about?
Bre-Z: I was a barber first. I was cutting hair one time and someone came to me and recommended that I go on an audition based on this character doing music. I was just like 'okay'.
Honestly, didn't know anything about that world of television or film, but I did it, I got the role and truly fell in love with it. And I was like 'wow I could do this". I've been doing it and learning as I go along and watching other professionals. I had the pleasure of working with so many big actors of our time, and just working across from them or alongside them made me feel like I was where I was supposed to be.
HM: Any great advice from the big actors you worked with?
Bre-Z: Terrence Howard [Bre-Z's co-star on 'Empire'] would always tell me just to trust myself and trust my natural instinct. And I think that's something I carry with me every day. And I think it's one of the best [pieces of] advice.
HM: At this point of your life what comes first music or acting and why?
Bre-Z: Music. It's there, it's not going anywhere. I work on it daily. It's hard to put it on number 1 with so much filming going on but when filming is done, it's number 1.
HM: What are you working on currently? Are you making music, are you filming?
Bre-Z: I'm actually doing both. I am finishing up my album, just tying loose ends on that and we are in production for season 3 [of All American]. So I am filming and working on my music whatever time I can get.
HM: In the first two seasons of the show, your character was focused on her friendships, relationships, and family. What Coop's journey will be like in season 3?
Bre-Z: She's growing. They are just coming back from summer break, of course, she was on tour. The tour was very successful, so I think moving forward we'll just have to see more growth from there. We'll have to see what's next. I can't tell you what's next. We'll have to see… But they dig into what happened over the summer and the tour, and how did it really go. All of us have to finish our senior year in High School; a lot of decisions to be made going into young adulthood.
HM: You now have written and co-written several records for All American, including the latest one,  Family Over Everything. What is the song about and why now?
Bre-Z: It's speaking to our community in supporting one another, holding each over down with everything that may go on we continue to stick together. We have the desire to stick together and that was the direction for the record. The title Family Over Everything is self-explanatory; and I say family in terms of our community, our peers, not just our immediate family – everything that helps us grow and helps us be who we are, everything that supports us. That's what I mean in terms of family.
HM: When it comes to creating music that Coop performs on the show, how much creative freedom do you get?
Bre-Z: I have a very good relationship with my showrunner and my music supervisor and they trust me with the music that's being created for Coop. So, I just talk to them, get their notes, get specifics if needed, and just go in the studio and knock it out.
HM: Out of all the music you've written and co-written for the show, which is your favorite?
Bre-Z: I think they are all very meaningful, so I don't even know if I have a favorite. Because they all meant something special to the character and to the show, and they were all able to be relative to the storyline.
HM: Can we expect any exciting musical collaborations down the road on the show and from you personally? 
Bre-Z: I'm working on an album. It's just gonna create the separation between what people see me do on television and what Bre-Z really loves to do. My music is more laid back, more chill. Not a lot of yelling and screaming, things like that. It's good vibes. I'm putting that together now. And, again, as I said, this is me creating that separation cause I wasn't able to that while constantly creating music for television. It's hard to separate who I actually am as an artist, a lot of people don't know that. So it's almost like a re-introduction.
Catch All American on Mondays at 8 p.m. ET on the CW.
The 355: Lupita Nyong'o Talks Starring In Upcoming Female-Led Espionage Thriller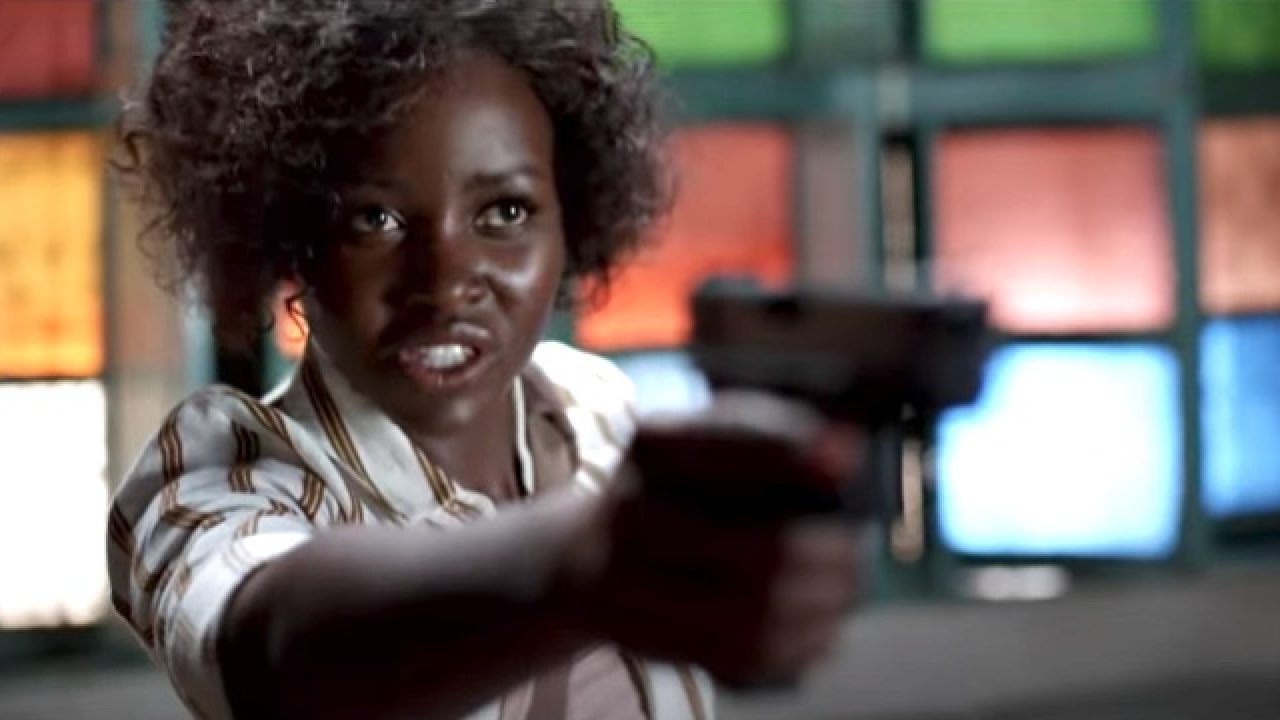 Black Panther's Lupita Nyong'o joins an ensemble of fierce female spies – The 355. Named after one of the first woman spies in the United States during the American Revolution, the elite group of agents embarks on a mission to stop a criminal organization from launching a cyber attack that would cause global disruption.
Directed by Simon Kinberg (X-Men: Dark Phoenix) from a script written by Theresa Kinberg, the film also stars Jessica Chastain, Penélope Cruz, Diane Cruger, Bingbing Fan, Sebastian Stan, and Edgar Ramirez.
Nyong'o portrays an MI6 ally and cutting-edge computer specialist named Khadijah, a role written specifically for the Oscar winner. "There was no auditioning; the roles were developed for us," she told HM.
The cast came together before everything else in making The 355. Nyong'o shared that producer-star Chastain initially reached out to her with just an idea, "There was no script, there was no writer, there was just her and Simon Kinberg who was going to direct it," the actress said, "So the actors came into this before the script. Then the writers went off and came back with these characters that we played."
Although the movie landscape may seem oversaturated with spy flicks, The 355 attempts to bring forth a fresh perspective on how women in action films ought to be portrayed. During her interview with Entertainment Weekly, Chastain revealed the inspiration behind the film was to create something that simply did not exist. "I was seeing all these films with male action ensembles, but I'd never really seen a female action ensemble that took itself seriously [and] didn't make it silly that girls were actually good at the job," the Oscar nominee said. "My experience on making Zero Dark Thirty, I discovered how many women are in espionage and how often they're utilized. It kind of started from there, and I just went with a wish list of who I thought were the best actresses working today."
Nyong'o was one of the sought-after talents Chastain decided to pursue. The unique direction of what was, at the time, a project in development appealed to her deeply. "It just felt really fresh, like it was filling a gap that I didn't even know existed. I think that's what makes it special and different."
Viewers will get the chance to follow the thrilling mission of the fearless spy quintet in theaters this Friday, January 7. Watch the full trailer below.
'Sing 2': Eric Andre Talks Voicing Darius
Director Garth Jennings(Pets 2) brings the audience back into the world of a well-tailored Koala bear with the master plan. Buster Moon (Matthew McConaughey) is dreaming bigger in Sing 2. With a star-studded line-up, Moon is preparing the ultimate experience with legendary entertainment.
With stars in his eyes, Moon works on getting his act together while managing the chaos behind the curtains.
Along the way to stardom, Moon is reunited with his stage family, Meena (Tori Kelly), Rosita (Reese Witherspoon), Ash(Scarlett Johansson), and the rest of the gang. New adventures begin to unravel while the original cast starts working with a few new beams of light.
Everyone is challenged past their comfort zones, and new talent and strengths begin to surface. There are so many new twists and turns paving the way to Moon's big show, one being the comeback of a legendary artist.
But of course, the real star in the making here is Darius (Eric André), new to the team he has on the fast track to fame and fortune. Nothing will deter him away from his dream. Watch an exclusive interview with comedic genius Eric André, who brings the character to life. There's a slight chance one might favor this talent above the rest; even Darius can't get enough of Darius.
The Music behind this epic movie was composed by Joby Talbot and edited by Gregory Perler. Sing 2 is set to premiere on December 22 nationwide.
Meet the Stars of New Comedy Series 'Harlem'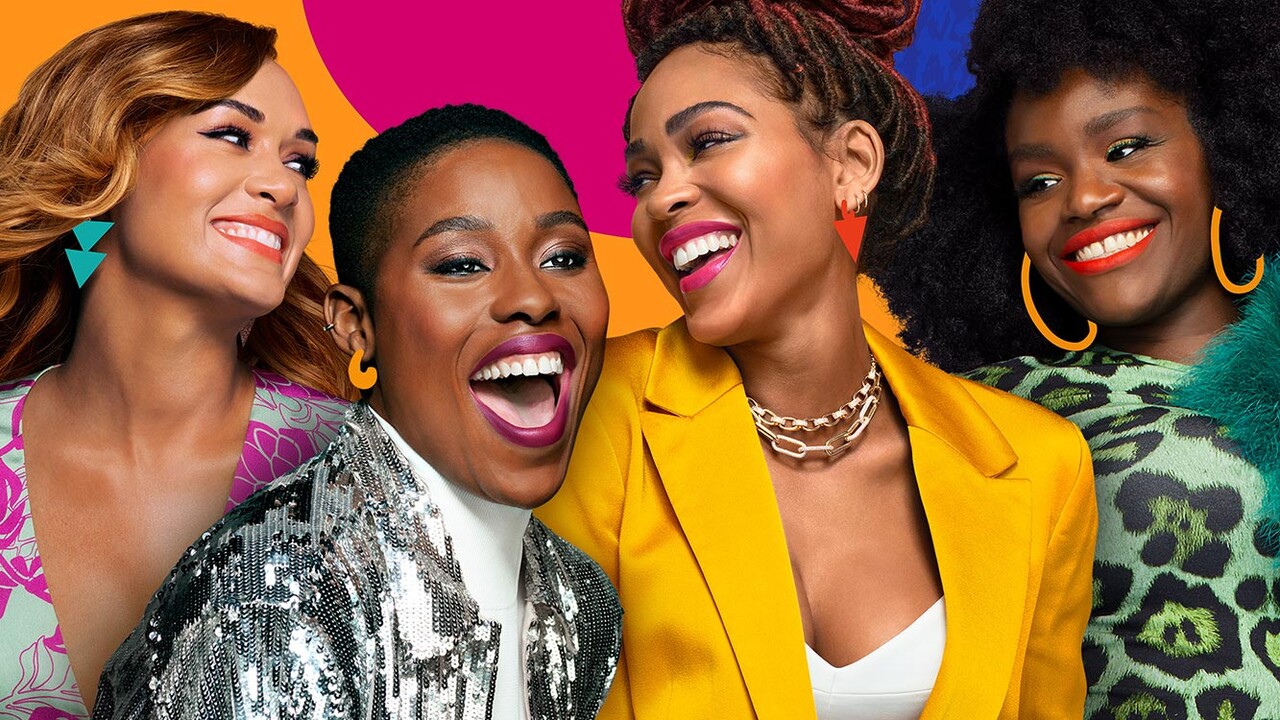 The new modern and stylish comedy series Harlem gives the audience a front-row seat to the lives of four beautiful, independent, and talented women who live in the mecca of soulful art and Black culture. Camille ( Meagan Good ), Angie ( Shoniqua Shandai ), Quinn (Grace Byers), and Tye (Jerrie Johnson) each tell a specific narrative of feminine energy, captivating a plethora of women into the storyline.
As these sensational actors perform a version of reality, they each hold a unique personal story that adds a unique spice to the series.
Meagan Good – Camille
Meagan Monique Good is a California native that grew up on television. She's been booking commercials since she was four. 
Good played the "it girl" for several major Black teen films in the early 2000s. She had significant roles in House Party 4, Roll Bounce, Stomp the Yard,  and You Got Served.
Later in her career, Good began to seek out more crucial parts in Hollywood; roles that challenged her acting chops. She took on a focused role in the Steve Harvery-inspired movie, Think Like a Man.
Her character Mya expressed so many emotions and different levels of strength within her setting that she felt relatable to every woman's internal struggle with love. 
Currently, Good is working on Shazam! Fury of the Gods. 
Jerrie Johnson – Tye
Penn State School of Theatre Alum, Jerrie Johnson gained her Bachelor of Arts in theatre with a minor in African American Studies. As an actress, poet, and arts activist, Johnson went on to earn her Master's of fine arts at the American Conservatory Theater in 2019. 
As a Philadelphia native, Johnson had her TV debut on Freeform's Good Trouble.  Recently, Johnson became a published poet with her creative project, The New Normal, an inspired piece by the current pandemic.  
Johnson uses her voice to advocate the value of fresh food in underserved communities. She is currently focusing on designing "healing pods" in impacting communities. 
Grace Byers – Quinn
Grace Lillis Gealey, now known as Grace Byers, was born on British Overseas territory in the Cayman Islands. 
She moved to America in her college years, attending the University of South Florida. She received her bachelor's degree in Theater Arts. Byers continued her academic journey at the University of Irvine and received her Master's in Acting. 
Byers landed several theatrical productions, short films, and national commercials in Chicago; her acting presence in the world was timestamped in her role as Anika Calhoun in the hit TV series Empire.
She also dedicates an immeasurable amount of energy to activism and the betterment of humankind.
The activist and actress Byers recently published a children's book, I am Enough. It was released in March of 2020. 
Shoniqua Shandai – Angie
Shoniqua Shandai is a New York-born starlet with her eyes on the spotlight. As a trained actress and singer, Shandai spends most of her life honing her skills. 
Shandai was brought up in Richmond, Virginia but moved to the land of movie stars. In Hollywood, Shandai graduated from the American Musical and Dramatic Academy, where she received music and theatrical performance credentials. 
After being in several Hollywood productions, Shandai's career in front of the camera began to take form. She landed the title role in a Mud Puddle Film, Zola Jumped in. 
Shandai is looking to use her platform to represent all shapes of women and break the narrow lens of beauty. 
Harlem is now streaming on Prime Video.