'All American' Bre-Z on playing Coop and making original music for The CW's hit series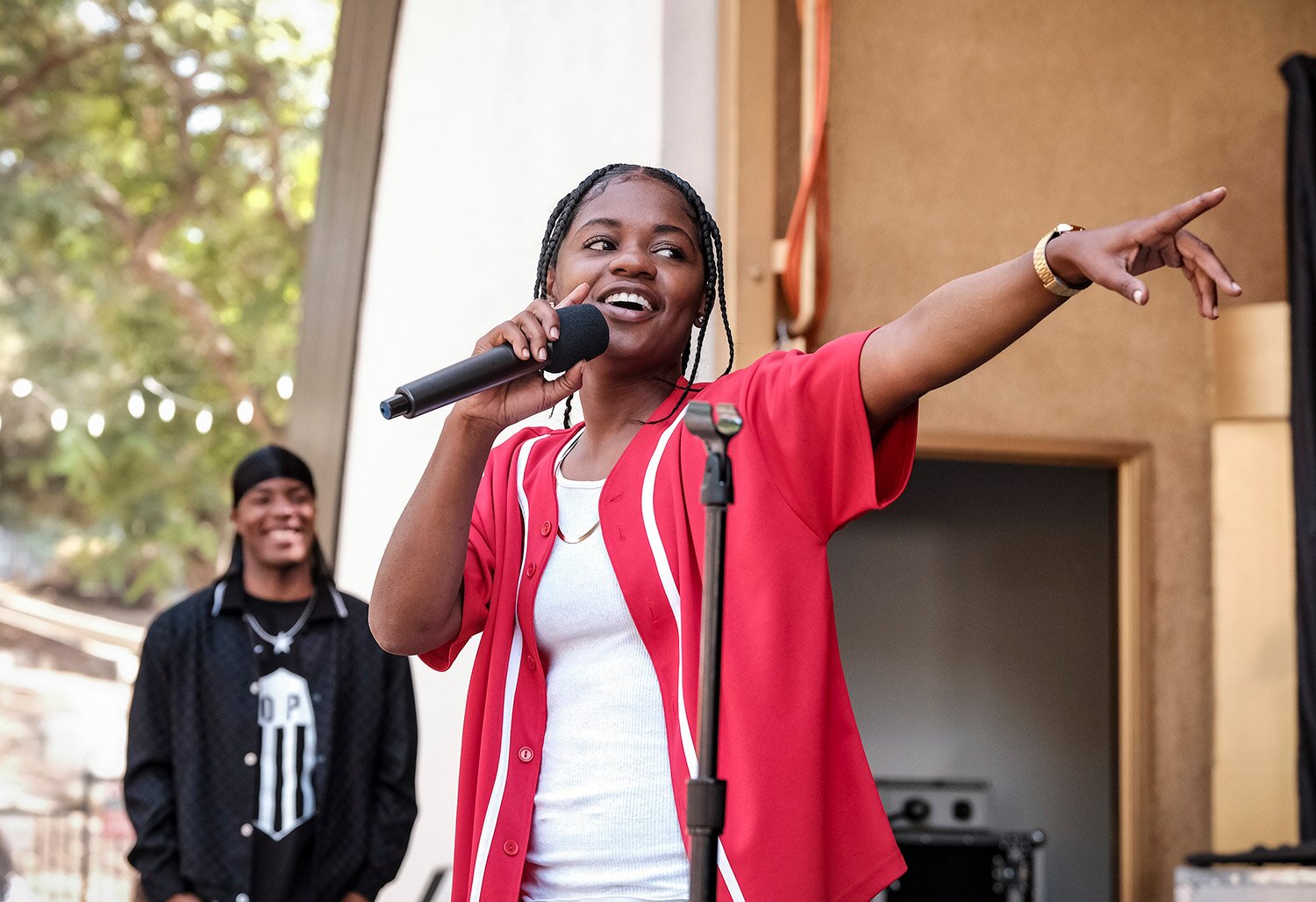 Starring in All American has been a rewarding experience for Bre-Z, an actress and musician, who is not just playing a Crenshaw teen rapper on screen, but also gets to share her own musical talent through Coop, a role that she says was a perfect fit for her. With the fourth episode of season 3 airing on Monday (Feb. 8), Coop will return with more original music, a new record titled Family Over Everything.
HM: You are so gifted. Is acting, music and arts in general something you had around you growing up?
Bre-Z: It's just something I picked up in my early teenage years. I don't have anyone in my family who is, I guess you could say, a professional entertainer but I had family members singing in the choir and stuff like that.
HM: And when it comes to acting, how did that come about?
Bre-Z: I was a barber first. I was cutting hair one time and someone came to me and recommended that I go on an audition based on this character doing music. I was just like 'okay'.
Honestly, didn't know anything about that world of television or film, but I did it, I got the role and truly fell in love with it. And I was like 'wow I could do this". I've been doing it and learning as I go along and watching other professionals. I had the pleasure of working with so many big actors of our time, and just working across from them or alongside them made me feel like I was where I was supposed to be.
HM: Any great advice from the big actors you worked with?
Bre-Z: Terrence Howard [Bre-Z's co-star on 'Empire'] would always tell me just to trust myself and trust my natural instinct. And I think that's something I carry with me every day. And I think it's one of the best [pieces of] advice.
HM: At this point of your life what comes first music or acting and why?
Bre-Z: Music. It's there, it's not going anywhere. I work on it daily. It's hard to put it on number 1 with so much filming going on but when filming is done, it's number 1.
HM: What are you working on currently? Are you making music, are you filming?
Bre-Z: I'm actually doing both. I am finishing up my album, just tying loose ends on that and we are in production for season 3 [of All American]. So I am filming and working on my music whatever time I can get.
HM: In the first two seasons of the show, your character was focused on her friendships, relationships, and family. What Coop's journey will be like in season 3?
Bre-Z: She's growing. They are just coming back from summer break, of course, she was on tour. The tour was very successful, so I think moving forward we'll just have to see more growth from there. We'll have to see what's next. I can't tell you what's next. We'll have to see… But they dig into what happened over the summer and the tour, and how did it really go. All of us have to finish our senior year in High School; a lot of decisions to be made going into young adulthood.
HM: You now have written and co-written several records for All American, including the latest one,  Family Over Everything. What is the song about and why now?
Bre-Z: It's speaking to our community in supporting one another, holding each over down with everything that may go on we continue to stick together. We have the desire to stick together and that was the direction for the record. The title Family Over Everything is self-explanatory; and I say family in terms of our community, our peers, not just our immediate family – everything that helps us grow and helps us be who we are, everything that supports us. That's what I mean in terms of family.
HM: When it comes to creating music that Coop performs on the show, how much creative freedom do you get?
Bre-Z: I have a very good relationship with my showrunner and my music supervisor and they trust me with the music that's being created for Coop. So, I just talk to them, get their notes, get specifics if needed, and just go in the studio and knock it out.
HM: Out of all the music you've written and co-written for the show, which is your favorite?
Bre-Z: I think they are all very meaningful, so I don't even know if I have a favorite. Because they all meant something special to the character and to the show, and they were all able to be relative to the storyline.
HM: Can we expect any exciting musical collaborations down the road on the show and from you personally? 
Bre-Z: I'm working on an album. It's just gonna create the separation between what people see me do on television and what Bre-Z really loves to do. My music is more laid back, more chill. Not a lot of yelling and screaming, things like that. It's good vibes. I'm putting that together now. And, again, as I said, this is me creating that separation cause I wasn't able to that while constantly creating music for television. It's hard to separate who I actually am as an artist, a lot of people don't know that. So it's almost like a re-introduction.
Catch All American on Mondays at 8 p.m. ET on the CW.
Interview: Dorian Missick Talks 'For Life'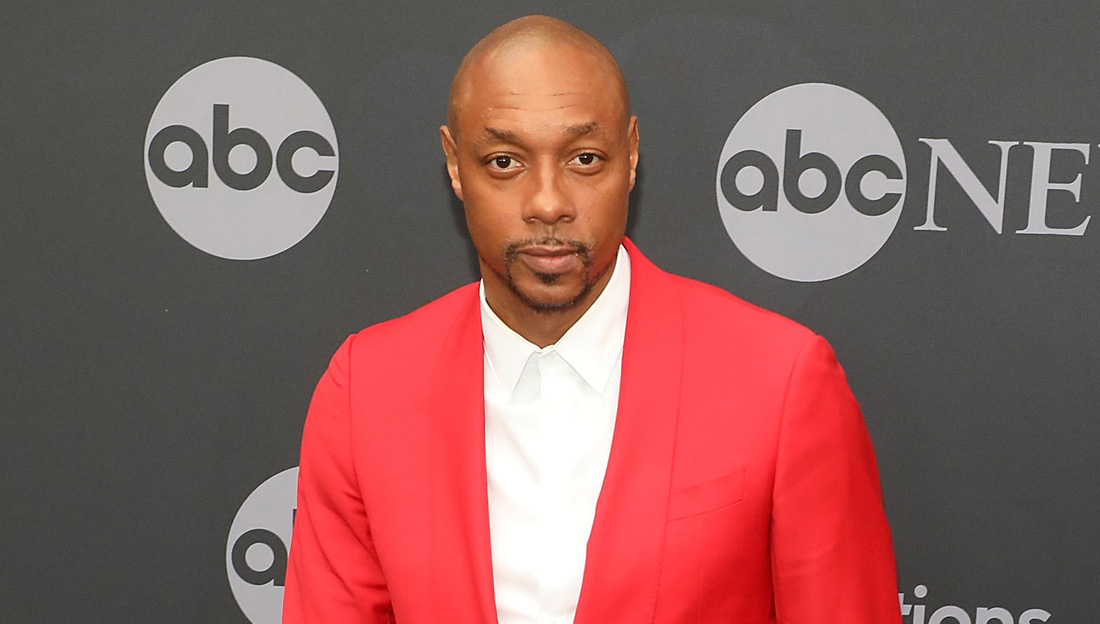 Watch our conversation with Dorian Missick, the star of ABC's legal drama For Life, as we discuss the significance of the show and how it facilitates a much needed conversation about the justice system.
Shawn Richardz: Hey Dorian, how you doing?
Dorian Missick: I'm very good, how are you?
Shawn Richardz: Good, good, good. So with this show, which I am a huge fan of – huge fan of your DJing and also a huge fan of your work. What is it about this show in this particular time do you think is important?
Dorian Missick: I feel like America is ready, you know, if they are not ready then they've been primed enough to where we can get them listening. The conversation about the American penal system has been going on and I just think that we have an opportunity to address it, and to be in people's living room every day, every week rather, it really brings it home. A lot of times I think that if you are not from certain communities and something doesn't affect you you feel like this is happening out there, this is not my thing. You can have an opinion about something that's happening across the river, whereas when we are in your living room every week, there's a certain feeling of having to deal with it. When you start rooting for Aaron and you like, "I don't know anybody like this guy" but you're rooting for him, it starts to open up your eyes and think that there are other Aarons. Or when you're rooting for Jamal. And I think that's an important thing about television, and one of the greatest things about our show – is that we're able to open up a conversation for people that maybe wouldn't talk about it…
Shawn Richardz: … Or are afraid to talk about it
Dorian Missick: Right! Or don't even know, [or] have the tools to discuss it. Don't even know it has to be talked about. I think that's the biggest thing in America – people don't realize that certain things have to be addressed. If it doesn't affect them personally they feel like this is something that needs to be talked about. There are millions of people in this world, people in this country, that have a different experience than you and I. And it needs to be addressed.
Shawn Richardz: Well, I find it very interesting that your wife is playing a judge and you are doing this…
Dorian Missick: You find it interesting, I find it very natural. That's a judgy lady! (laughs) I'm just kidding. I was like, yeah they picked the right one, you're a judge for sure!
Shawn Richardz: So what are those conversations like when it comes time to coming home and maybe just decompressing from the character – for you and for her?
Dorian Missick: We talk about our work so much. I'm so glad we're both doing something we are inerested in because we come home and we unload on each other, or download, however you wanna say it. Discuss our work at nausea. We discuss how to approach scenes. It's just a lot. So this is just a natural progrssion that we both have shows that deal with the legal ssystem. And it's a conversation that we have, especially her said of the family. Her side of the family is very political. We do family calls with her parents, and her brother and sister, it's usually politics. Our family – we usually talk about religion or something, but her family – it's usually politics. And so it's like a very natural thing. I love debating with her dad, he's my dad, I love debating with him about politics. So, it's a natural progression in our household actually.
Shawn Richardz: Being that you are the DJ, is there a song or a music when you are on set to get in character?
Dorian Missick: I have a playlist that is kind of crazy, it's all over the place. It really depends on what mood I need to be in for the day. It changes. As time goes by, the character kind of dictates what he needs to hear. And sometimes it's not at all what I chose. Joy Bryans dressing room is next to mine, and sometimes I feel really sorry for her cause I blast my music. I wonder if Joy has a problem with this, she never said anything to me but I wonder (laughs). And I noticed that I've been mysteriously placed the furthest from the set. I think that's because I make the most noise, Imma just be real (laughs)
Shawn Richardz: Well thank you so much. And we at Hollywood Melanin are so excited for your character and just having you come to the screen and bring all of these elements to your character.
Dorian Missick: Thank you, it's been a pleasure
Shawn Richardz: Thank you!
Trinity Whiteside On Family, Starring on 'Sistas' and Never Being Discouraged
Trinity Whiteside originally entered the universe of Tyler Perry's Sistas for six episodes. In season one, Danni (Mignon Von), one of the four sistas, lassoes herself a cowboy named Preston, played by Whiteside, who urges her to "let her walls down." Coming back for more in season two, their new on-screen romance has everyone engulfed by the North Carolina native's performance. The audience is looking to know more about Whiteside and how his guest appearance landed him a continuous role on the BET's hit show.
Tyler Perry Studios was the first to construct a whole series during a global pandemic. A space they call "Camp Quarantine" was established looking to keep everyone within the studio COVID-free. Whiteside reflected on the testing procedure that went on during set takes, he said, "…we take two tests prior to traveling to Tyler Perry Studios, and then we take one when we arrive." Whiteside continued, "We quarantine for up to about 24 hours, waiting on those results. And once they get back, we are able to travel about the studio grounds." No one is allowed in the so-called 'bubble' except for the talent and the crew. And so far, the experiment has been successful with no positive cases detected.
Whiteside was born in Asheville, NC. He was named after his father's favorite old western movie character in They Call Me Trinity. In his childhood years, the actor displayed an array of intellectual and artistic gifts – he scored in the top eight percentile on California Achievement Test and was considered advanced in mediums of illustration. Although Whiteside reflected many various academic talents early in life, during playtime, when it was just "make-believe," Whiteside dived deep into those roles.
It was the gentle push from his wife, Nikkia, that put him on the path of acting, first appearing on BET's The Game. After that role, Whiteside flourished and exercised all different parts of his acting chops. Other appearances he made include The CW's The Originals, The Hunger Games: Mockingjay, Lila and Eve, Masterminds, Barbershop 3, and The Fate of The Furious, which earned Whiteside his first screen credit.
Whiteside reflected on the deep conversation he had with his wife that aligned him with his destiny, "I was actually in the dental program. And I came home one day after being in class and I was just like— you know… I only do this to have a career. It's not something I want to do, this is not something I see myself doing day after day, year after year. And we just had the conversation and she asked what I wanted to do, what would make me happy, what I see myself doing, and I told her I want to pursue a career in acting."
On-screen, one can see how devoted Whiteside is to his character, but he pursues his role of being a father to his three children with all the passion living in his heart. He mentioned his concern for his kids, before finally taking the first step toward his purpose. Whiteside shared, "if I was to pursue a career in acting, I didn't want to do that at the detriment of their mental health. In their early developmental years, I didn't want them to go 'where's my dad', 'I want my dad'. I wanted them to be old enough to understand that if dad is gone, it is his job, he will be back."
With season 3 of Sistas now underway and Whiteside as a series regular, it is hard to imagine him not playing Preston. The actor unveiled that he originally auditioned for The Oval, a different Tyler Perry series, but did not get the role. Whiteside recalled that after that audition he texted Perry and thanked him "for the opportunity." He was disappointed, he said, but never discouraged. Shortly after, Perry reached out and offered him to audition for the role of Preston.
"I had those times when I didn't get the role and wasn't chosen, and I always told myself, "It's okay to be disappointed, as long as you're not discouraged."
It seems that when Whiteside entered into the realm of Sistas, he was able to hold his ground effortlessly. Whiteside was surrounded by female powerhouses, and yet he captured the heart of the viewers, creating an opportunity to become a series regular.
Whiteside reflected on his foundation, crediting the Black women that shaped him to be the person he is today. Whiteside stated, "There are things at times that I draw inspiration from – what I've experienced at home, and with my father's side of the family, all those being strong African American women that I grew up around, who were an intricate part in my upbringing. I do draw on those inspirations and from those experiences."
One can catch Trinity Whiteside on Tyler Perry's Sistas every Wednesday on BET.
KJ Smith Talks Leading and Producing 'The Available Wife', Tapping Into Her Calling, and Working with Tyler Perry
KJ Smith is making waves in the industry. In the last few years, she's been busier (and happier) than ever. From co-leading one of Tyler Perry's hit series Sistas to recently starring in Netflix's top-rated titles #BlackAF and Fatal Affair, the actress (who now also added the producer title to her resume) is not planning to slow down any time soon.
The Available Wife, one of Smith's latest and dearest projects, is currently going through the festival circuit and has already been nominated for Best Narrative Feature at the American Black Film Festival (ABFF).
The film is based on Carla Pennington's book of the same title, which was adapted for the screen by Tressa Azarel Smallwood (BET's All In) and Jamal Hill (Brotherly Love), who also directed the feature. Also starring in the romantic feature are Terayle Hill, Clifton Powell, and Roger Guenveur Smith.
The storyline centers around Nicole Wright (Smith), a successful music executive whose life is about to fall apart. While having an affair with Kingston (Hill), the sexy artist on the rise full of promises, Nicole learns the hard way that looks can be deceiving and his motives are as dark as the secrets she keeps.
This is Smith's first time undertaking such a multifaceted role, she shared with us. Although the complexity of Nicole's character made her exciting to play, the actress could not fully relate to her at first. "It was hard for me because I would simply not make the choices that she made. This is the entertainment industry, you know. One of the things that they warn you is this may be a very dark place. And I've faced the same decisions that Nicole had to make and I chose a different path. I've literally been in this situation and I did not make that choice."
Eventually, Smith found other ways to connect to Nicole. "She would do anything for her family, that's something that was common. The fact that she doesn't let anything take her down. It's like me, I never give up, I never have, and I never will," she shared. The actress hopes that the viewer will have sympathy for Nicole and will see why she made those choices.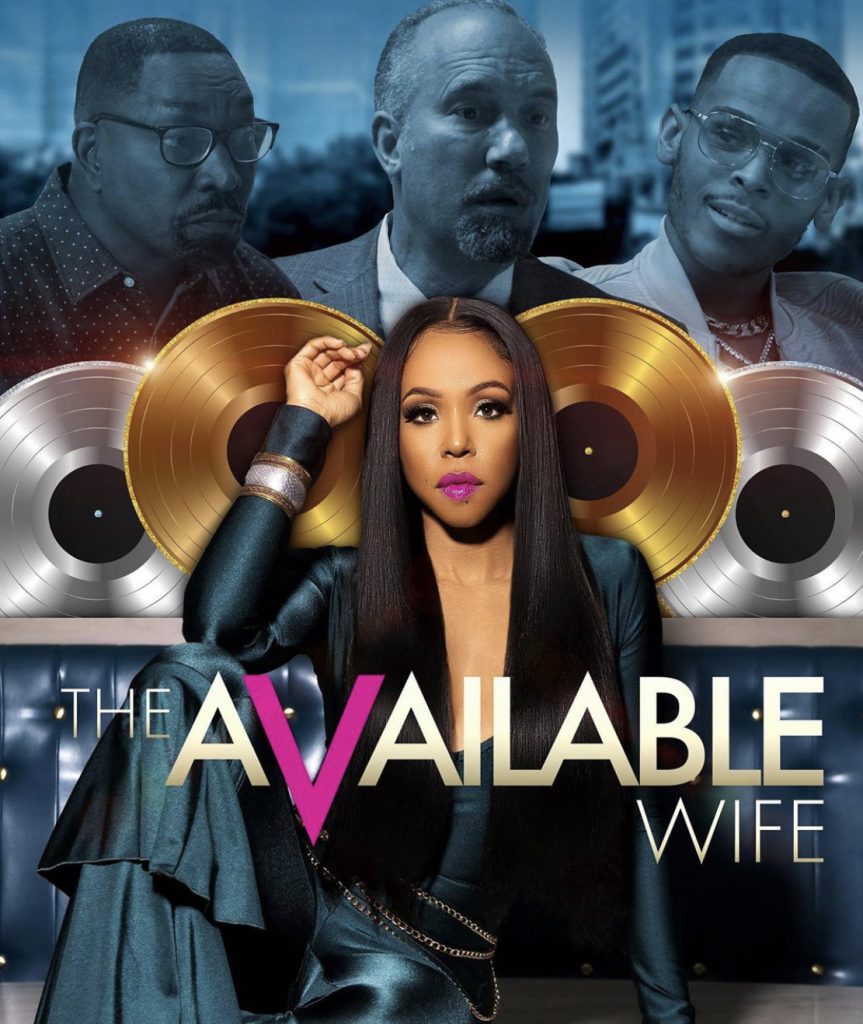 The Available Wife is special to Smith in many ways: this marks her first leading role in a feature film and her first time producing a project of such magnitude. "I feel like I was really tapping into my calling. I've always been a natural-born leader, I've always been able to multitask. I've always had that capacity and that ability. When you are an actor you kind of do what you're told, so the opportunity to have a say-so in how this film goes and how my character is portrayed really made me feel empowered and I just fell like I was in my zone, I felt great!"
When it comes to passions outside television and film, Smith enjoys fitness, yoga, and dance classes. Traveling has become her most favorite thing. Now, with COVID still holding most productions on hold, the actress has more time to enjoy new places and discover new cultures.
The pandemic, however, could not hold Smith away from work for too long. Tyler Perry Studios made history by becoming the first in the country to resume production in July. Smith, who stars as Andrea Barnes in Perry's hit show Sistas, says she had no reservations about going back to the set. "I trust Tyler Perry and I knew we were gonna be okay. I trust him, I trust the team. We are family now, so I don't worry about it."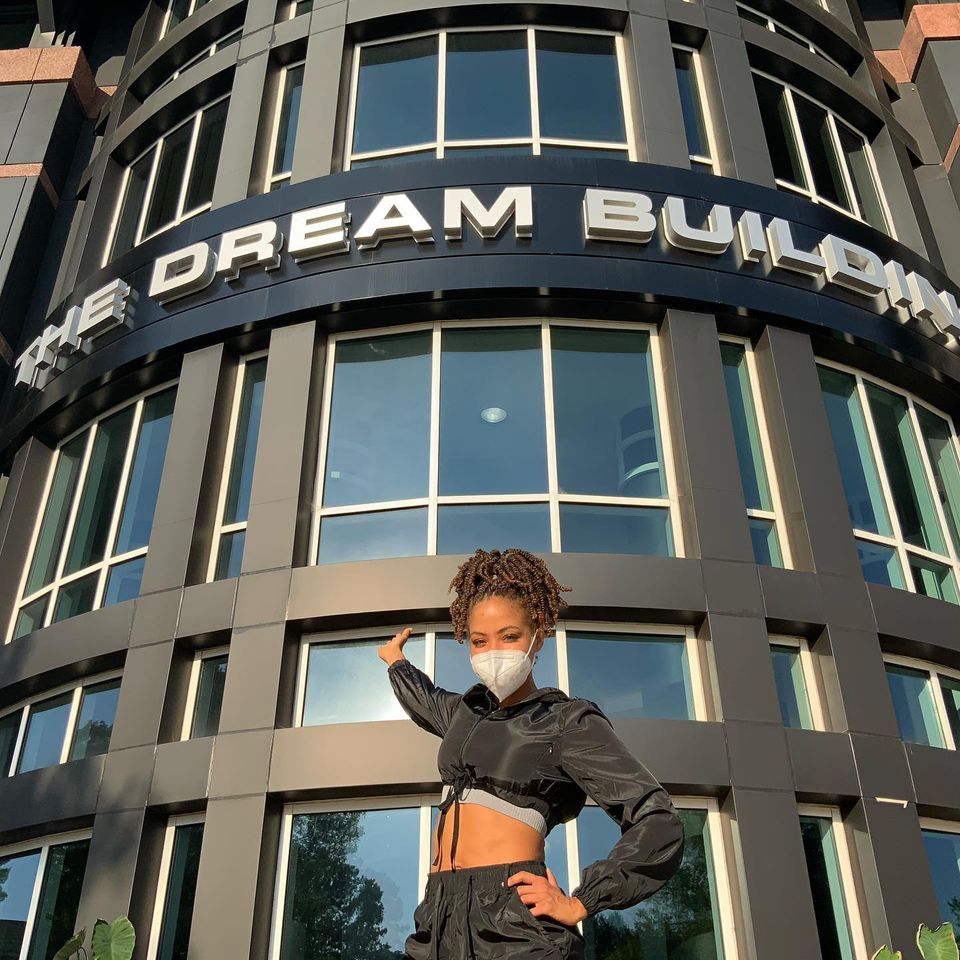 Working for Perry has been lifechanging. The world-renowned filmmaker and entrepreneur is not just her boss, Smith considers him a friend and her biggest inspiration. "I don't know how he finds time to respond to my text messages, but he always responds, quickly. I mean no one's done what he's done in this business."
Smallwood, who owns MegaMind Media and co-wrote the screenplay to The Available Wife, has also made an impact on Smith and her work. "I call her often, she gives me great advice and especially as an up and coming producer. She has made so many films. She is just so great!"
The Available wife is currently available at ABFF Play through August 30, and will later drop on one of the streaming platforms. Smith says an announcement will be made soon, so stay tuned!