Trinity Whiteside On Family, Starring on 'Sistas' and Never Being Discouraged
Trinity Whiteside originally entered the universe of Tyler Perry's Sistas for six episodes. In season one, Danni (Mignon Von), one of the four sistas, lassoes herself a cowboy named Preston, played by Whiteside, who urges her to "let her walls down." Coming back for more in season two, their new on-screen romance has everyone engulfed by the North Carolina native's performance. The audience is looking to know more about Whiteside and how his guest appearance landed him a continuous role on the BET's hit show.
Tyler Perry Studios was the first to construct a whole series during a global pandemic. A space they call "Camp Quarantine" was established looking to keep everyone within the studio COVID-free. Whiteside reflected on the testing procedure that went on during set takes, he said, "…we take two tests prior to traveling to Tyler Perry Studios, and then we take one when we arrive." Whiteside continued, "We quarantine for up to about 24 hours, waiting on those results. And once they get back, we are able to travel about the studio grounds." No one is allowed in the so-called 'bubble' except for the talent and the crew. And so far, the experiment has been successful with no positive cases detected.
Whiteside was born in Asheville, NC. He was named after his father's favorite old western movie character in They Call Me Trinity. In his childhood years, the actor displayed an array of intellectual and artistic gifts – he scored in the top eight percentile on California Achievement Test and was considered advanced in mediums of illustration. Although Whiteside reflected many various academic talents early in life, during playtime, when it was just "make-believe," Whiteside dived deep into those roles.
It was the gentle push from his wife, Nikkia, that put him on the path of acting, first appearing on BET's The Game. After that role, Whiteside flourished and exercised all different parts of his acting chops. Other appearances he made include The CW's The Originals, The Hunger Games: Mockingjay, Lila and Eve, Masterminds, Barbershop 3, and The Fate of The Furious, which earned Whiteside his first screen credit.
Whiteside reflected on the deep conversation he had with his wife that aligned him with his destiny, "I was actually in the dental program. And I came home one day after being in class and I was just like— you know… I only do this to have a career. It's not something I want to do, this is not something I see myself doing day after day, year after year. And we just had the conversation and she asked what I wanted to do, what would make me happy, what I see myself doing, and I told her I want to pursue a career in acting."
On-screen, one can see how devoted Whiteside is to his character, but he pursues his role of being a father to his three children with all the passion living in his heart. He mentioned his concern for his kids, before finally taking the first step toward his purpose. Whiteside shared, "if I was to pursue a career in acting, I didn't want to do that at the detriment of their mental health. In their early developmental years, I didn't want them to go 'where's my dad', 'I want my dad'. I wanted them to be old enough to understand that if dad is gone, it is his job, he will be back."
With season 3 of Sistas now underway and Whiteside as a series regular, it is hard to imagine him not playing Preston. The actor unveiled that he originally auditioned for The Oval, a different Tyler Perry series, but did not get the role. Whiteside recalled that after that audition he texted Perry and thanked him "for the opportunity." He was disappointed, he said, but never discouraged. Shortly after, Perry reached out and offered him to audition for the role of Preston.
"I had those times when I didn't get the role and wasn't chosen, and I always told myself, "It's okay to be disappointed, as long as you're not discouraged."
It seems that when Whiteside entered into the realm of Sistas, he was able to hold his ground effortlessly. Whiteside was surrounded by female powerhouses, and yet he captured the heart of the viewers, creating an opportunity to become a series regular.
Whiteside reflected on his foundation, crediting the Black women that shaped him to be the person he is today. Whiteside stated, "There are things at times that I draw inspiration from – what I've experienced at home, and with my father's side of the family, all those being strong African American women that I grew up around, who were an intricate part in my upbringing. I do draw on those inspirations and from those experiences."
One can catch Trinity Whiteside on Tyler Perry's Sistas every Wednesday on BET.
'A Snowy Day in Oakland:' Nicole Ari Parker Stars in New Dramedy From 'Sister, Sister' Creator Kim Bass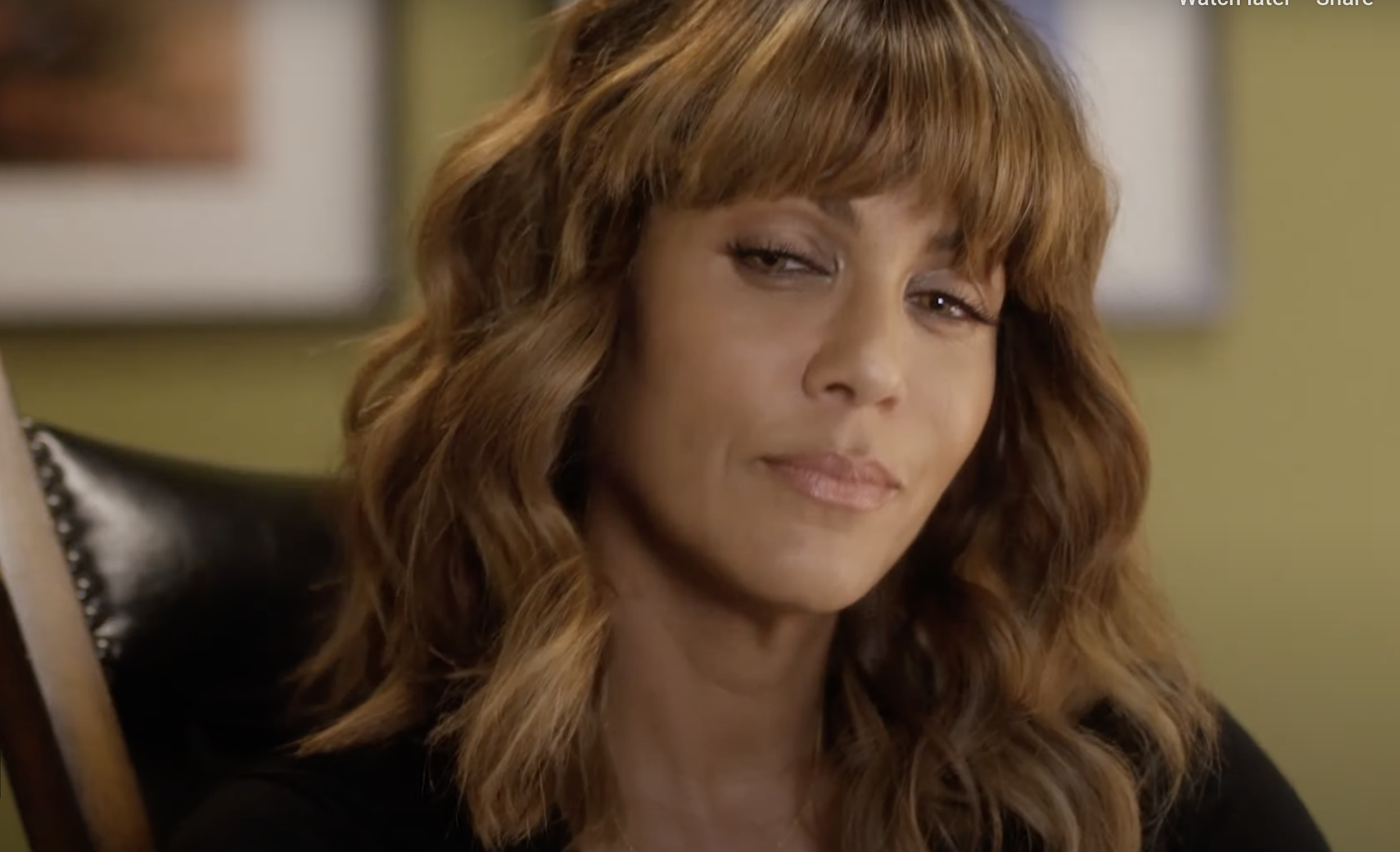 A Snowy Day in Oakland is heading into theaters this week. The magical-realism comedy starring Nicole Ari Parker is gearing up to be introduced to the world on Friday, March 17. Hollywood Melanin sat down with the leading star to explore some of the critical issues addressed in the film.
At the center of the story is LaTrice (Parker), the successful psychologist from San Francisco who longs for a more purposeful life. Leaving her unfaithful, high-profile psychiatrist boyfriend and business partner behind, she establishes her practice in a vacant office space on a small commercial block across the bay in Oakland. Surrounded by minority-owned businesses, LaTrice is determined to provide support and gently guide the residents of this predominantly Black neighborhood to embrace the importance of communicating one's feelings through therapy.
"I think there is an issue of trust in the Black community where we just keep our problems close to our chest," Parker expressed while discussing mental healthcare in minority groups. "It's also an expense. It's an investment. So, when you are trying to make ends meet and prioritize your income, it feels like a luxury. But I think that that's an expense worth taking."
Helmed by Sister, Sister creator Kim Bass, the film was initially shot six years ago. Parker says she attributes her involvement in this project not just to the powerful and relevant script but also to "Kim's vision, his magical realism, his playing with time, and his saturation of color," she added, "We don't really get to have that kind of whimsy in most independent Black films."
Produced by Planet 9 Productions and distributed by People of Culture Studios, this dramatic comedy also explores other meaningful themes like navigating complex relationships and struggles of entrepreneurship. Those conversations are explored through the town's biggest personalities, Davis (Deon Cole), Jeanette (Loretta Devine), Theona (Kimberly Elise), and Rodney (Evan Ross). The star-studded cast also includes Keith David, Marla Gibbs, Michael Jai White, Tony Plana, Arden Myrin, and others.
Watch A Snowy Day in Oakland in selected theaters on Friday, March 17. Watch the trailer below.
'Harlem' Star Shoniqua Shandai Talks 3 Pillars of Success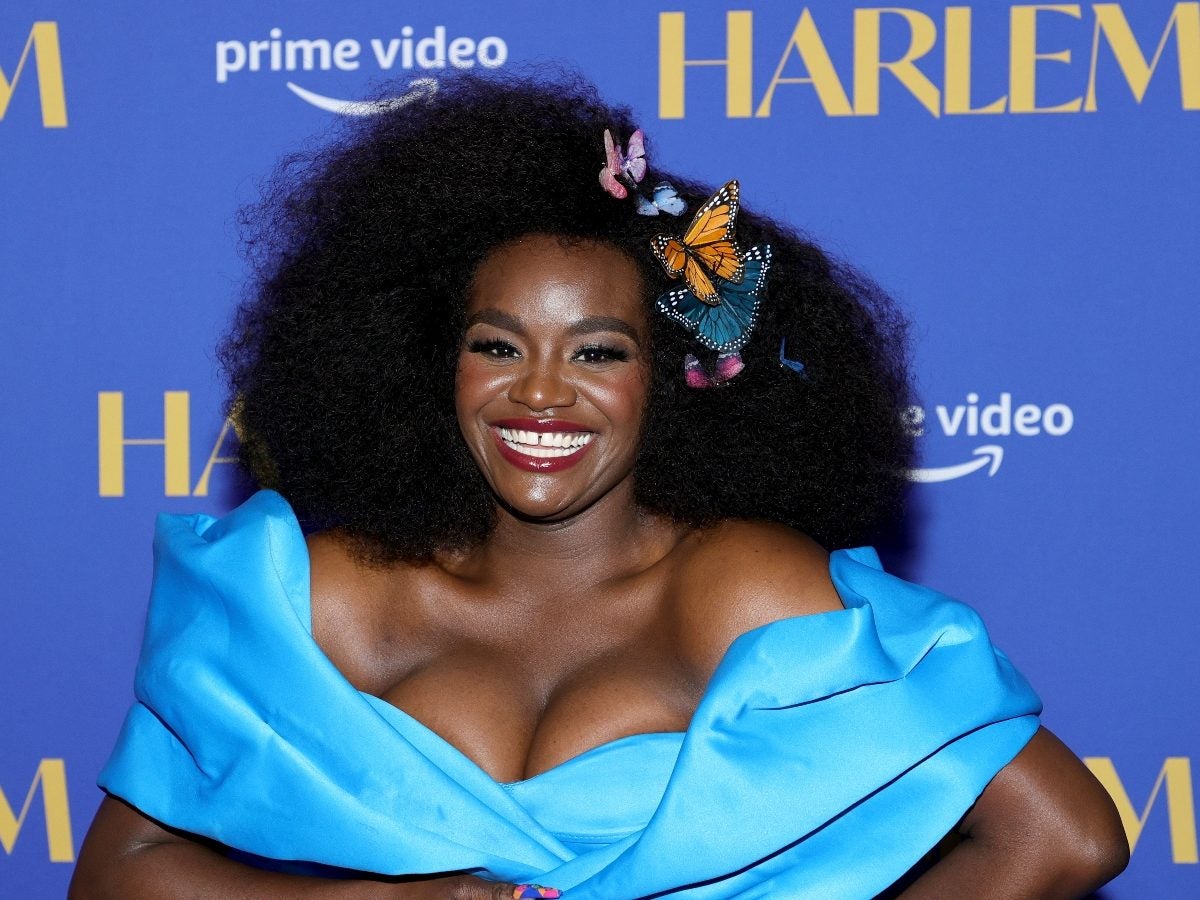 Shoniqua Shandai is fully immersed in the study of her success. Through her determination, Shandai found a way to reach the precipice of her goals. In an exclusive interview with Hollywood Melanin, Shandai shared an in-depth level of self-perception. She provided personal definitions of courage, confidence, and self-belief.
The world is waking up to the power that Shandai holds. In the new hit Amazon series Harlem, the New York native brings Angie's character to life. Many would look at her and say she is struggling, playing into the "starving artist" archetype, but if one looks closer, Angie's only struggle is the battle with the conformity of the world.
Series creator Tracy Oliver worked with Meagan Good, Grace Byers, Jerrie Johnson, alongside Shandai, to share a raw narrative of Black women who have the goal of living out their version of happiness.
Angie embodies liberty, a freeform display of what it means to be dedicated to pursuing a dream. Off-screen, Shandai knows the level of commitment it takes to create a world that fits a personal vision. It takes a custom-made level of courage, confidence, and self-belief. It takes a personal standard of hustle.
Conquering the fear of being one's true self ignites the labor in building confidence. Shandai admitted the process was in layers. "I found the confidence to be myself in having tried to be everyone else and it not working," she continued, "I might as well show up as me–as vividly, as boldly, as audaciously as possible. You have to live for yourself."
I found the confidence to be myself in having tried to be everyone else and it not working
Courage is defined as "the ability to do something that frightens one." To be one's true self is nearly impossible without courage. It's the secret ingredient to personal success. Before every interview, the repeated chorus from loved ones is "to be yourself," but that takes courage. Shandai opened up and shared her process.
"Courage came from having to build confidence – I am who I am." The actor and singer continued to explain that her support from her mother, adjacent to her self-determination fueled her confidence.
Courage came from having to build confidence
To be unstoppable, there has to be a strong foundation of self-belief. The approval of others is fickle. Self-belief might be the only thread left to hang on to when no one else is willing to share blind faith in chasing dreams.
The Amazon series star considered the solution to working when the motivation isn't there, "I am incredibly future-oriented. Being so future-oriented has saved my life." Shandai said. She admitted to reverting back, and taking baby steps in order to prepare for bigger strides. Each day, she pulled herself closer into the vision.
Shandai said she is most happy when she is cooking success in multiple pots. Her next debut is coming in through audible wavelengths. As a singer and songwriter, she will be looking for a deeper level of self through music.
Her first single, with visuals directed by her co-star Good, is called, Something About You. Nothing has been officially released yet, but Shandai is ready for this part of herself to rise to the surface.
Through her personal definition of courage, confidence, and self belief, Shandai always finds the strength to keep extending her reach, to keep answering the calling on her life. Stay connected with Shandai on Instagram and Twitter. Bingewatch Harlem on Amazon Prime.
Robin Givens Talks Guest-starring on ABC's Queens
Givens' episode titled "Let the Past Be the Past" will air on Tuesday, February 8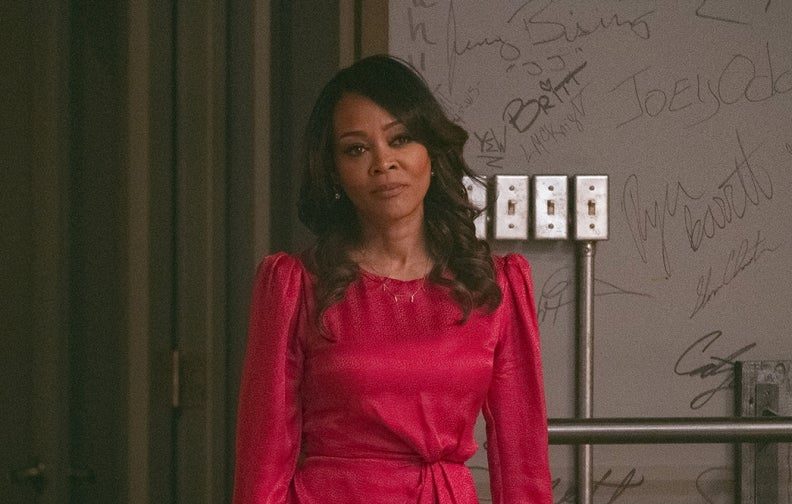 Robin Givens is set to appear on the all-new episode of ABC's music drama Queens. We sat down with the Ambitions star to discuss her joining the show and take a deeper dive into her pivotal scenes.
In Queens, we get a first-hand look at the dynasty built by the hip-hop quartet of women – Naomi (Brandy), Brianna (Eve), Valeria (Nadine Velazquez), and Jil (Naturi Naughton). Viewers meet the group on the verge of claiming their place at the top of the music game for the second time.
The upcoming episode titled 'Let the Past Be the Past' will feature Givens as Eric's ex-wife, who will pay him an unexpected visit. Once the manager of the girl group, Eric will have to confront his former spouse to help save the future of Nasty Girl Records.
Last week ET exclusively released the first look images of Givens as Robin and her intense sit-down with Brandy's Naomi – the woman who might've caused the breakup of her and Eric's marriage. See the photos below.
The official ABC synopsis reads, "Queens follows a fractured girl group living in the shadows of their once prominent hip-hop dynasty. After their popularity skyrocketed with the success of their chart-topping single, "Nasty Girl," they were once regarded as one of the greatest girl groups of their generation. However, the group was plagued by internal conflict and jealousy despite critical and commercial success. Estranged and out of touch, the four women, now in their 40s, reunite for a chance to recapture their fame and regain the swagger they had in the '90s when they were legends in the hip-hop world."
Watch Queens on Tuesdays at 10 p.m. ET/PT on ABC.