Get To Know [Bertrand Boyd] (Ep. 1)
In our very first episode of the Get To Know… series we sat down with the poet, writer, and actor Bertrand Boyd. Watch him talk about his deepest passions and fears, starring in Melina Matsoukas-directed box office hit Queen & Slim, being a big Samuel L. Jackson fan and more!
KJ Smith Talks Leading and Producing 'The Available Wife', Tapping Into Her Calling, and Working with Tyler Perry
KJ Smith is making waves in the industry. In the last few years, she's been busier (and happier) than ever. From co-leading one of Tyler Perry's hit series Sistas to recently starring in Netflix's top-rated titles #BlackAF and Fatal Affair, the actress (who now also added the producer title to her resume) is not planning to slow down any time soon.
The Available Wife, one of Smith's latest and dearest projects, is currently going through the festival circuit and has already been nominated for Best Narrative Feature at the American Black Film Festival (ABFF). The film is based on Carla Pennington's book of the same title, which was adapted for the screen by Tressa Azarel Smallwood (BET's All In) and Jamal Hill (Brotherly Love), who also directed the feature. Also starring in the romantic feature are Terayle Hill, Clifton Powell, and Roger Guenveur Smith.
The storyline centers around Nicole Wright (played by Smith), a successful music executive whose life is about to crumble in front of her. While having an affair with Kingston (Hill), the sexy artist on the rise who promises her everything, Nicole learns the hard way that looks can be deceiving and his motives are as dark as the secrets she keeps.
This is Smith's first time undertaking such a multifaceted role, she shared with us. Although the complexity of Nicole's character made her exciting to play, the actress could not fully relate to her at first. "It was hard for me because I would simply not make the choices that she made. This is the entertainment industry, you know. One of the things that they warn you is this may be a very dark place. And I've faced the same decisions that Nicole had to make and I chose a different path. I've literally been in this situation and I did not make that choice."
Eventually, Smith found other ways to connect to Nicole. "She would do anything for her family, that's something that was common. The fact that she doesn't let anything take her down. It's like me, I never give up, I never have, and I never will," she shared. The actress hopes that the viewer will have sympathy for Nicole and will see why she made those choices.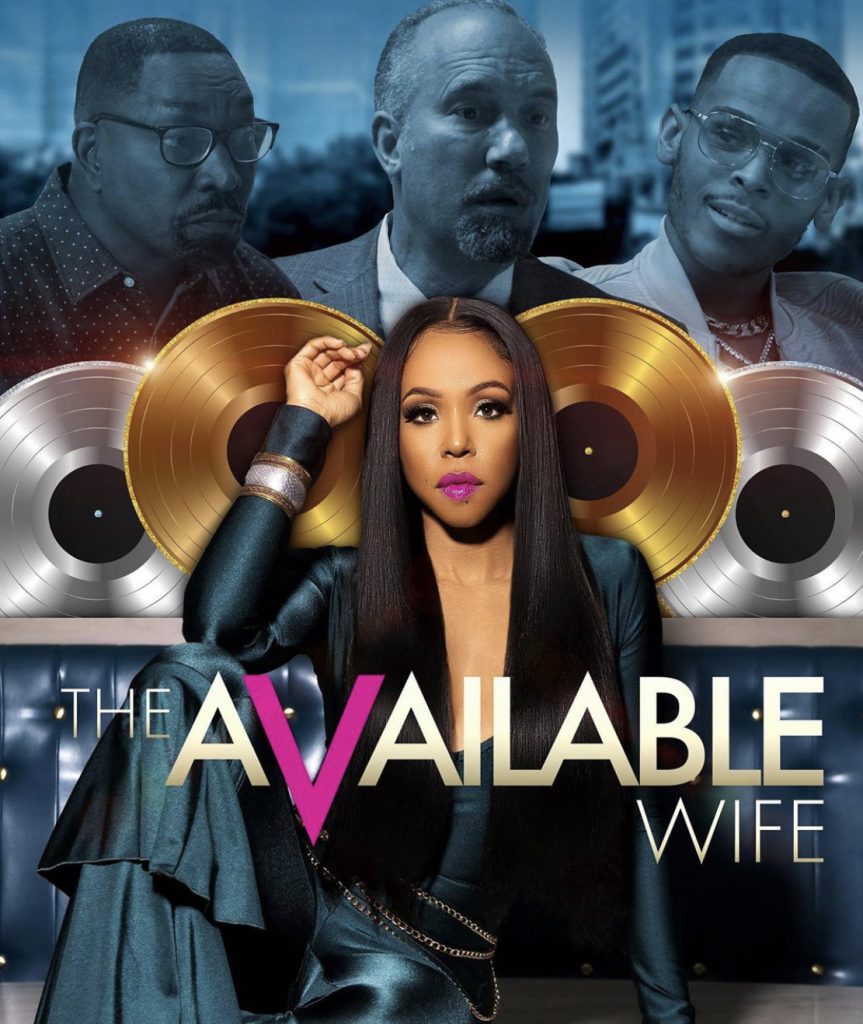 The Available Wife is special to Smith in many ways: this marks her first leading role in a feature film and her first time producing a project of such magnitude. "I feel like I was really tapping into my calling. I've always been a natural-born leader, I've always been able to multitask. I've always had that capacity and that ability. When you are an actor you kind of do what you're told, so the opportunity to have a say-so in how this film goes and how my character is portrayed really made me feel empowered and I just fell like I was in my zone, I felt great!"
When it comes to passions outside television and film, Smith enjoys fitness, yoga, and dance classes. Traveling has become her most favorite thing. Now, with COVID still holding most productions on hold, the actress has more time to enjoy new places and discover new cultures.
The pandemic, however, could not hold Smith away from work for too long. Tyler Perry Studios made history by becoming the first in the country to resume production in July. Smith, who stars as Andrea Barnes in Perry's hit show Sistas, says she had no reservations about going back to the set. "I trust Tyler Perry and I knew we were gonna be okay. I trust him, I trust the team. We are family now, so I don't worry about it."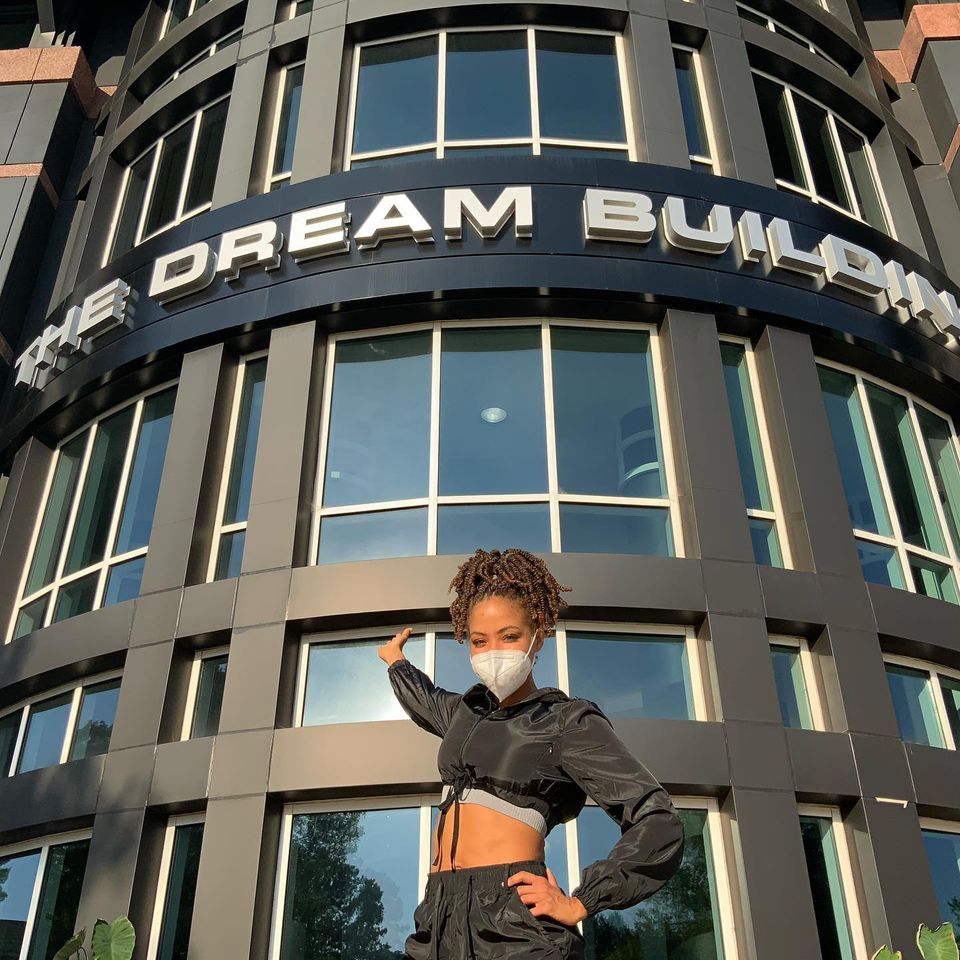 Working for Perry has been lifechanging. The world-renowned filmmaker and entrepreneur is not just her boss, Smith considers him a friend and her biggest inspiration. "I don't know how he finds time to respond to my text messages, but he always responds, quickly. I mean no one's done what he's done in this business."
Smallwood, who owns MegaMind Media and co-wrote the screenplay to The Available Wife, has also made an impact on Smith and her work. "I call her often, she gives me great advice and especially as an up and coming producer. She has made so many films. She is just so great!"
The Available wife is currently available at ABFF Play through August 30, and will later drop on one of the streaming platforms. Smith says an announcement will be made soon, so stay tuned!
Karen Pittman Talks Playing Willa Hays in Paramount Network's 'Yellowstone'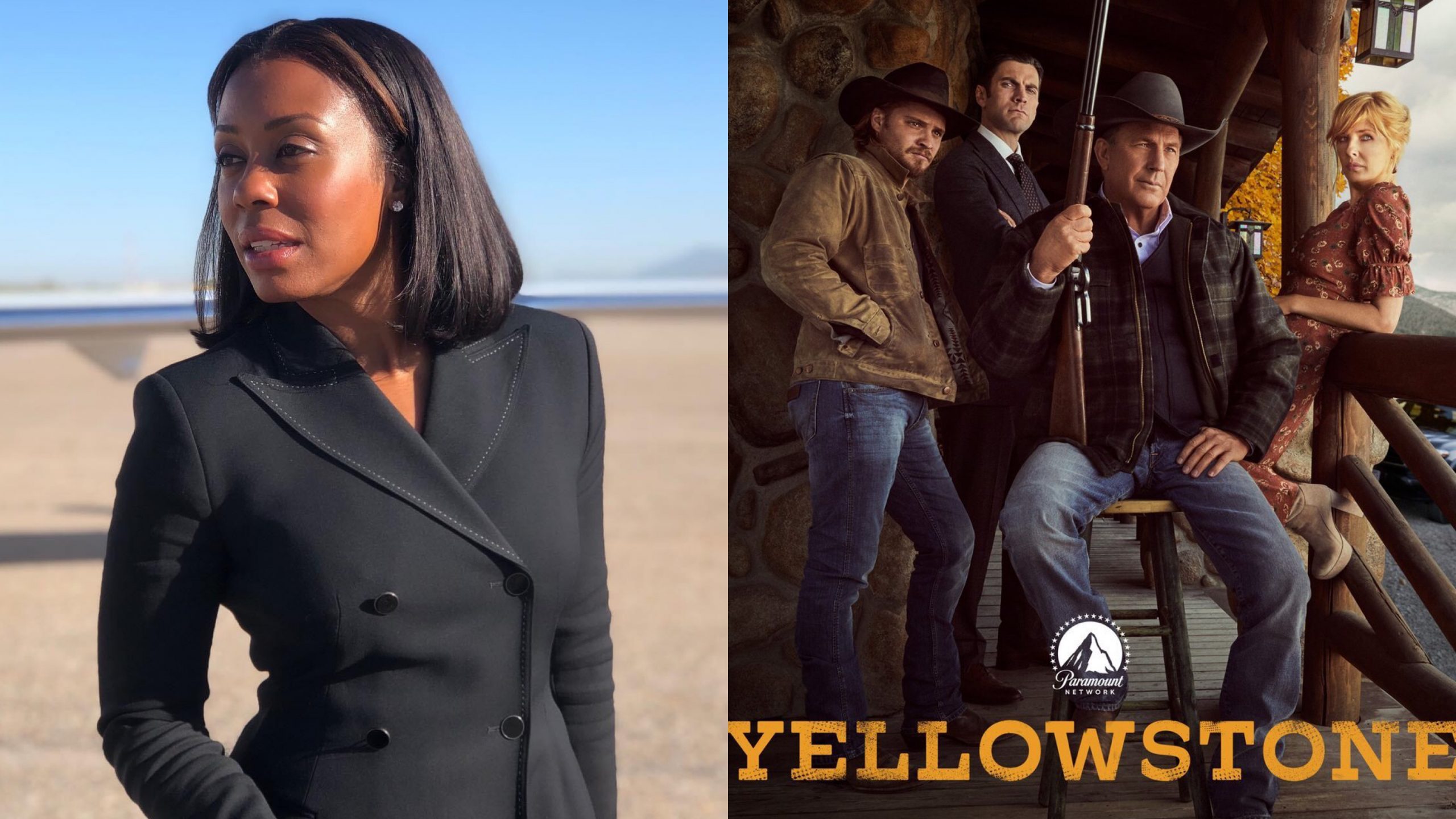 Paramount Network's flagship drama series Yellowstone is returning on Sunday (June 21) and The Morning Show star Karen Pittman is joining the cast in a recurring role opposite Kevin Costner. The series was co-created by Taylor Sheridan and John Linson.
The show follows the Dutton family, led by John Dutton (Costner), who controls the largest contiguous ranch in the United States, under constant attack by those it borders – land developers, an Indian reservation, and America's first National Park.
Pittman plays Willa Hays, a very smart, confident and intimidating CEO of Metro Capital, who "comes in with a great deal of swagger" and brings the Duttons an offer they can't refuse. "I loved playing a CEO character," Pittman shared in our interview, "I loved it. A woman in charge. I think I might be the only African American woman in this kind of storytelling they ever had on the show." Yellowstone will feature many strong female characters this season, she continued, "I think everyone's gonna be excited about it."
New episodes of the highly anticipated third season will start dropping on Sunday, June 21, on Paramount Network. Watch our full conversation with Karen Pittman below.
Michele Weaver On Playing The Ambitious and Relatable Luly Perry on NBC's 'Council Of Dads'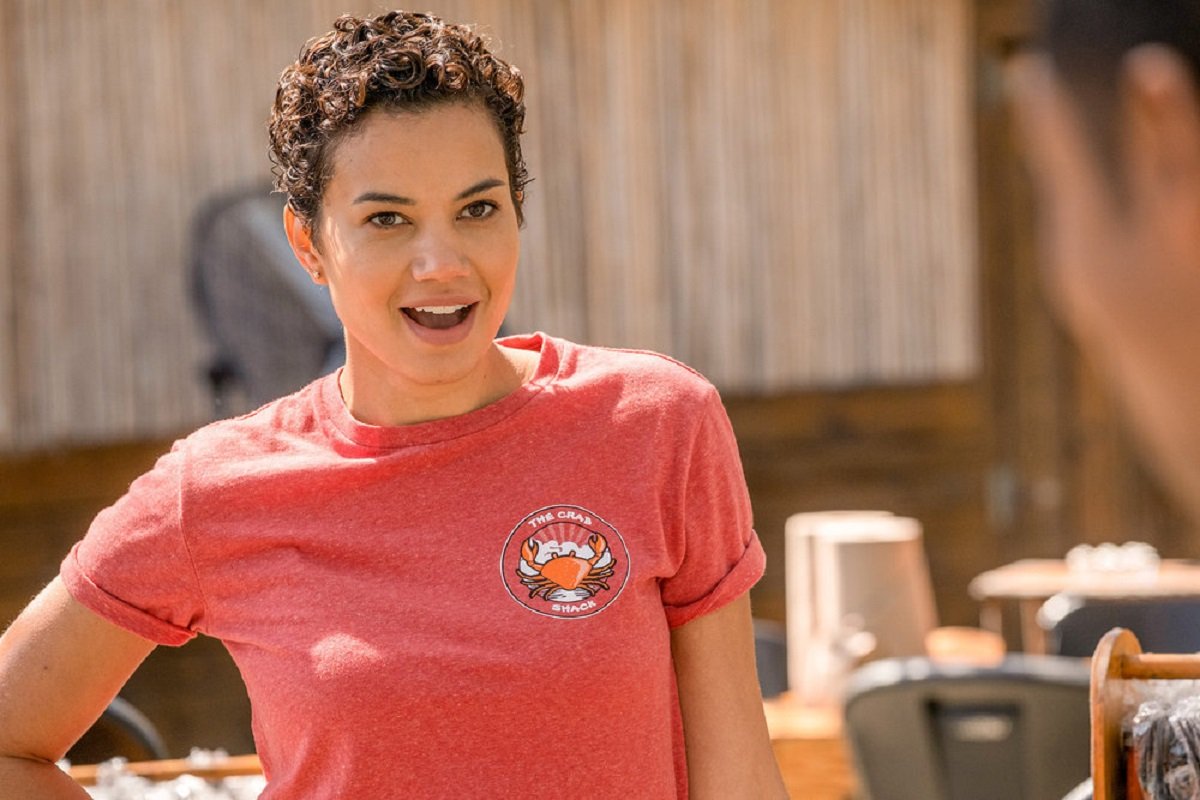 Best known for her role in Mara Brock Akil's romantic dramedy series Love Is __, Michele Weaver returns with a new big role in NBC's family drama Council of Dads.
As a student at Pepperdine University, Weaver majored in theatre acting and media production. The Colorado native now has quite a few roles under her belt, not just on television but on the big screen as well. Her most recent works include Nighthawks with Janet Montgomery and Chace Crawford; Illicit with Vivica Fox and David Ramsey; Sistercode with Amber Rose and Eva Marcille; and Syfy's 2 Lava 2 Lantula.
Weaver is very picky when it comes to choosing a role. "It's important to feel the connection," she says. The star certainly felt a strong connection with her character Luly Perry, the eldest of five children raised by a stepmother and now a terminally ill father, who tasks a group of close friends to father his children when he passes away.
Here is the official synopsis:
Family takes on a different meaning in this transformative and inspirational new drama when Scott Perry, a loving father of five, has his entire life's plan thrown into upheaval by an unexpected health scare. He calls on a few of his most trusted friends to step in as back-up dads to help guide and support his growing family – just in case he ever can't be there to do it himself. There's Anthony, Scott's oldest and most loyal friend; Larry, his tough-love AA sponsee; and Oliver, his dedicated doctor and wife's dearest friend. Together, they discover that there's more to being a father than anyone could do alone – and more to being a family than they ever thought possible.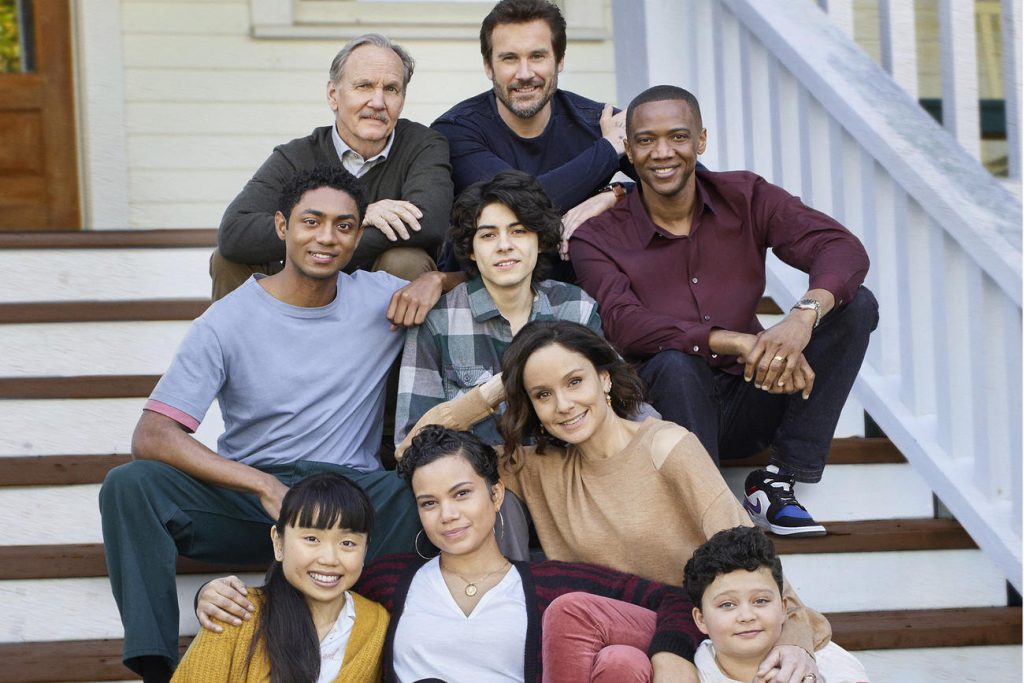 Weaver says she relates to her character Luly in many ways, "I'm biracial, I'm the oldest sister, I'm an actress, which is very similar to writing…" Luly is an ambitious writer with plans to move from Savannah to New York City. She is also a dream chaser, a big sister, a fiance and then a wife. Luly is relatable and "a great representation of women in this day and age."
As we move through the season, Weaver says, we will follow Luly's journey of self-discovery. "She starts to really explore who she is and where she came from. And what came from it, is answers she didn't really want to hear."
Some have been comparing Council of Dads with another NBC hit show This Is Us and wondering if the new drama is here to replace the Emmy-winning tearjerker. Weaver says it is not. As a big This Is Us fan herself, she sees some common themes, like family and the diversity of family, "but our show has a different perspective … Our family is a different family," she says, "No one has ever seen a family like this on television but at the same time, it's very relatable. We definitely have our own flavor." The actress said.
Tune in to watch Council of Dads on Tuesday, March 24 on NBC. The episode will air at 10/9c immediately following the season finale of This Is Us.