Oscar Winning Costume Designer Ruth Carter To Work On "Coming To America" Sequel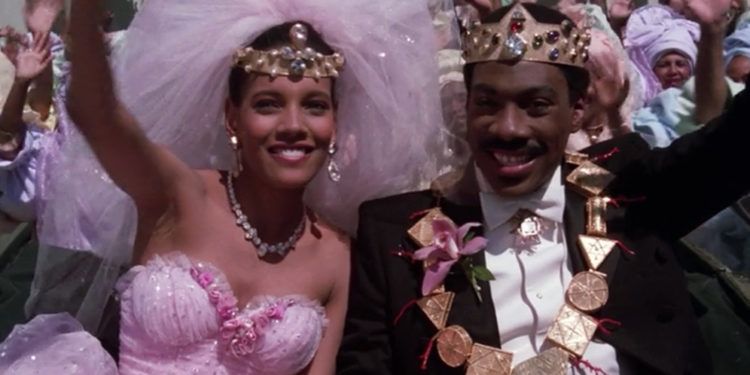 The sequel to our beloved comedy Coming To America is in pre-production and Oscar winner Ruth Carter (Black Panther) is on board to create the costumes for the cast.
As we reported back in January, in Coming To America 2, Akeem learns about a long lost son and must return to America to meet his unlikely heir to the throne of Zamunda. The intention is to bring back the original cast which includes Eddie Murphy, Arsenio Hall, Shari Headley, John Amos, and James Earl Jones.
Murphy commented, "After many years of anticipation, I'm thrilled that Coming to America 2 is officially moving forward. We've assembled a great team that will be led by Craig Brewer, who just did an amazing job on Dolemite, and I'm looking forward to bringing all these classic and beloved characters back to the big screen."
Earlier this morning Carter tweeted, "GOOD MORNING MY NEIGHBORS! It's official! Preliminary fitting for Coming to America 2 with Prince Akeem, Semmi and Oscar."
🗣🗣GOOD MORNING MY NEIGHBORS! It's official! Preliminary fitting for Coming to America 2 with Prince Akeem, Semmi and Oscar. pic.twitter.com/KcGbwcRXW1

— Ruth E Carter (@iamRuthECarter) April 8, 2019
The untitled sequel is set to be released on August 7, 2020.
J. August Richards Talks Starring On NBC's Latest Drama 'Council Of Dads'
Premiering on NBC this week is the network's newest drama Council of Dads inspired by Bruce Feiler's bestselling book by the same title.
J. August Richards, best know for hit shows Angel and Agents of S.H.I.E.L.D., is starring as one of the leads, a bonus dad to his terminally ill patient's children.
The story behind this drama series appears to be quite unique in itself (just look at the synopsis below). We are invited to witness the journey of three men coming together to fulfill their friend's wish of co-fathering his five children, including a grown daughter Luly (Michele Weaver) from a previous marriage.
Here is the official synopsis:
Scott Perry (Tom Everett Scott), a loving father of five, has his entire life's plan thrown into upheaval by an unexpected health scare. He calls on a few of his most trusted friends to step in as back-up dads to help guide and support his growing family – just in case he ever can't be there to do it himself.
Dr. Oliver Post (Richards), is not only Scott's oncologist but also best friends with his wife ( played by Sarah Wayne Callies), who also works at the hospital. Caught off guard by what was asked of him, Oliver is now faced with a challenge – co-parenting his friends' children while being married and already raising his own 13-year old.
Joining the task alongside him are Scott's longtime bachelor friend Anthony (Clive Standen) and Larry (Michael O'Neill), Scott's sponsee at Alcoholics Anonymous.
Having to care for someone else's children is not new to Richards. In real life, he is a proud uncle and a three-time godfather. It's not quite the same as being a parent, he admits, but the high level of responsibility is still there. And when it comes to having personal role models, Richards mentions his godfather (who sadly passed away after they shot the pilot) and his father.
Council of Dads premieres Tuesday, March 10 at 10/9c. Watch the official trailer below.
Netflix Has Picked Up 'The Lovebirds' After Studio Canceled Theatrical Release
Paramount Picture's latest romantic comedy starring Issa Rae and Kumail Nanjiani will have its release after all. According to Deadline, The studio's murder mystery comedy, which was recently pulled from theatrical release due to Coronavirus lockdown, is heading directly to Netflix. The launch date will be announced soon.
Here's the synopsis for The Lovebirds:
A couple (Rae and Nanjiani) experiences a defining moment in their relationship when they are unintentionally embroiled in a murder mystery. As their journey to clear their names takes them from one extreme – and hilarious – circumstance to the next, they must figure out how they, and their relationship, can survive the night.
Watch the official trailer below.
"Little Fires Everywhere": Episodes 1-3 Recap
BY KIMBERLY JONES
Little Fires Everywhere is based on a novel written by Celeste Ng that follows the lives of residents in the suburbs of Shaker Heights, Ohio in the 90s. Bill and Elena Richardson (Reese Witherspoon and Joshua Jackson) are longtime residents of the community and are the parents of 4 teenagers who are all on the path to self-discovery. The Richardson's have a tight family unit and are doing their best to raise healthy, ambitious, generous and well-rounded children. Elena is having a hard time with her younger daughter Izzy (Megan Stott) who is clearly going through a rebellious stage so the two of them are in constant disagreement.
Elena is a suburban upper-class mom who is pretty uptight and wants control of her family and her image. She seems to have the Richardson kids' lives already planned out for their successful future. Elena is a perfectionist, a quality that doesn't really work in her favor with her kids because she's judgmental and intimidating. The family inherited a rental property and that is when she meets single mother Mia Warren (Kerry Washington) and her intelligent teenage daughter Pearl Warren (Lexi Underwood). Mia a traveling artist and her daughter have been living in their car and responded to an ad for Elena's rental. Upon their first meeting, Mia has her guard up with Elena and there is tension between the two. Mia is put off by Elena's invasive and privileged tone during their first conversation.
Elena seems totally unaware of how uncomfortable and unwelcome this makes Mia. Despite their
bumpy start the Warren's move into the rental property. Pearl immediately adapts to her new environment after she meets Moody, one of Richardson's sons (Gavin Lewis). The two teenagers are attracted to each other and start spending a lot of time together. Hanging out with the Richardsons somewhat opens Pearl's eyes to a whole new world. Although there are racial and economic differences between their two worlds, the teenagers still develop a friendship. Pearl also learns that she and Elena have a common interest – writing and journalism. Mia doesn't approve of Pearl's friendly relationships with the Richardsons but doesn't express this to her daughter immediately.
The series takes a deep dive into classism and racism. For instance, Pearl, after spending more time with the Richardsons, realizes just how underprivileged her life has been. She has had to constantly move around. Because of her mother, she has never really had a nice stable place to live, she has never met her father and her school counselor won't consider placing her in the correct math class at her new school because of her race. Instead of taking her mother Mia's advice on standing up to her counselor, Pearl asks Elena for help to get enrolled in the correct math class. After a quick conversation with the counselor, Elena (much thanks to her race and status) easily gets Pearl in. When Mia starts working for the Richardsons as their "house manager", Pearl seems to be surprised, ashamed and uncomfortable that her black mom is now working for this white family that she is trying to build new relationships with. This only further magnifies the differences between the two families. After Mia becomes Elena's house manager, the two of them get to know each other a little better. Mia, however, is still very guarded with the new family and keeps her distance.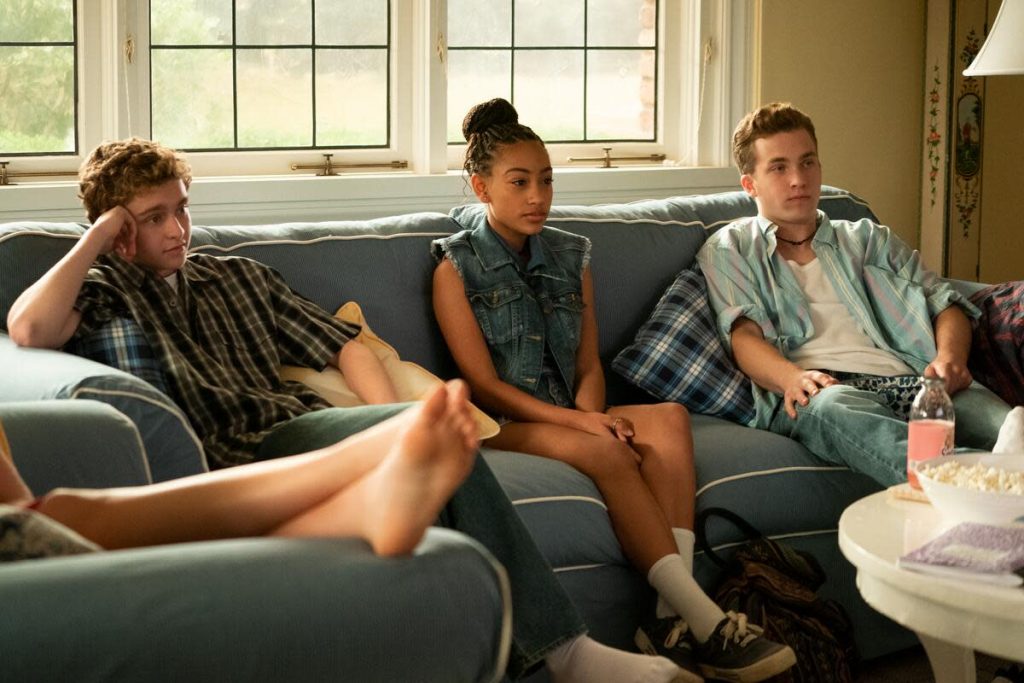 At the end of the three-episode premiere, Mia remains a mystery. Even in her relationship with her daughter Pearl, she is keeping a secret. Pearl has never met her father and her mother refuses to identify him. This is extremely frustrating for Pearl and leaves audiences wondering what exactly is Mia hiding?
Mia is not the only one with secrets. Each character is hiding something and those secrets have yet to come to light. The suspense of how the stories unfold makes the audience crave more. Little Fires Everywhere is a captivating, stimulating drama with an amazing cast that keeps audiences on the edge of their seats. New episodes are available every Wednesday on Hulu.