Review: 'Antebellum' – a Racial Horror That Misses The Mark
written by Kimberly Jones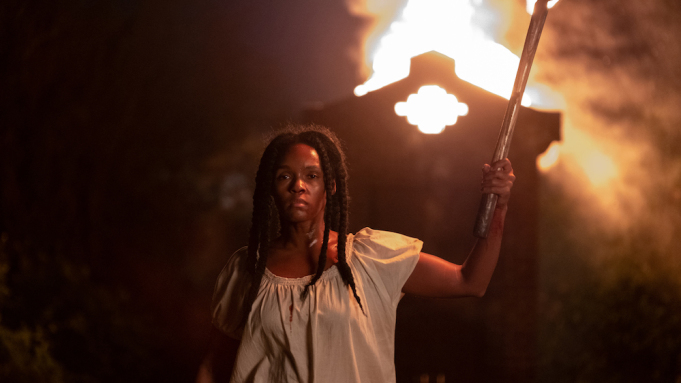 Based on the previews, many viewers, myself included, expected Antebellum to be a mix between Jordan Peele's Get Out and HBO's latest hit series Lovecraft Country. With this concept and Janelle Monae leading the cast what could go wrong? A lot. Although Monae did a good job bringing her character to life, ultimately, the horror film missed the mark.
Antebellum is Gerard Bush and Christopher Renz's directorial debut. Its opening scene takes place on a Louisiana plantation where a woman named Eden (played by Monae) is captured after an escape attempt and is strapped to the back of a horse. On the other side of the plantation, a couple is being tortured – a man is in shackles, and a woman is hunted down and noosed. These images are used for shock value – it is hard to watch but at the same time, it keeps the viewer intrigued.
In this storyline, prior to being kidnapped, enslaved, and renamed, Eden is a successful scholar Veronica Henley. She is also a mother and a brilliant public speaker. Veronica is an intelligent, powerful woman who speaks out against injustices and unapologetically owns her blackness. She has a very public platform and acts as a commentator and activist which makes her a target for her abductors.
While in Louisiana on her latest book tour, Veronica goes out with her girlfriends Dawn (Empire's Gabourey Sidibe) and Sarah (Lily Cowles, Roswell New Mexico). The three catch up and indulge in girl talk. Sidibe is a much needed addition to the story with her quick wit and one-liners. After the night out, on her Uber ride back, Veronica is kidnapped by the rideshare driver, a woman named Elizabeth (Jena Malone, Hunger Games).
Eden eventually finds herself in a group of others who suffered the same fate. Now enslaved, she is looked upon as the strong one because of her accomplishments and her platform. She, however, is hesitant to take on the role of a leader. A desperate young woman named Julia (Kiersey Clemons, Lady and the Tramp) approaches Eden in hopes that she can save them all. Eden is mentally worn down, and after a failed first attempt to escape, she is just terrified to try it again.
Directors Bush and Renz fail to connect with the audience through Black trauma. Certainly, there have been plenty of movies that portrayed slavery. The scenes in Antebellum, however, are too graphic. In one of them, for instance, Eden is being branded by one of her masters. It is hard to watch, and, as some expressed, unnecessary.
In the end, Veronica manages to flee the horror of Antebellum, which, we learn in the last scene, is a Civil War reenactment park located in Louisiana. Although her escape was meant to bring this story to a conclusion, we were left with many unanswered questions. Despite that, Monae did a great job carrying the film. Although I found the storyline to be weak and lacking character development, she was able to deliver an overall good performance.
Eddie Murphy's 'Coming 2 America'- Movie Review
by Betty Halsell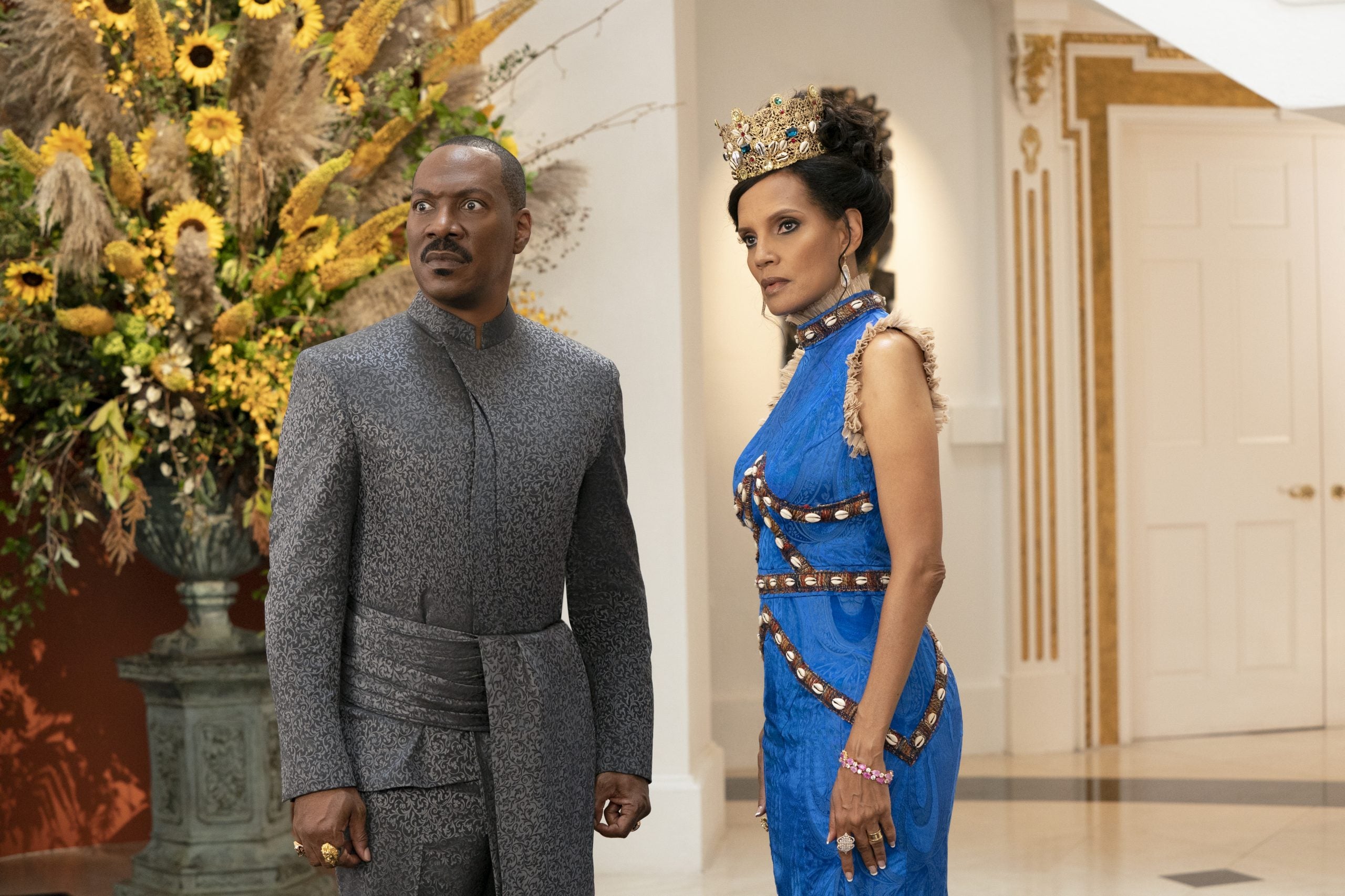 Coming 2 America unearthed bejeweled life lessons, sewn in with the fabrics of true love. It touched on blended families, racism, feminism, and just a touch of true passion and diplomatic change. Paramount Pictures, New Republic Pictures, Eddie Murphy Productions, and Misher Films carefully groomed this sequel to sit on the throne as the next American classic.
Coming 2 America is the true royal oat to the 1988 narrative. The movie picks up 30 years later, back in Zamunda. The future king Akeem (Eddie Murphy) and his beloved wife, Lisa (Shari Headley), arise to their three daughters wishing them a happy anniversary. It is important for there to be a male heir to carry out the patriotic rule of the country in royal families, this was something Prince Akeem assumed he failed at accomplishing. However, to his surprise, a royal oat was sewn, Lavelle Johnson (Jermaine Fowler) sprouted back in the land of Queens.
Prince Akeem soon becomes king, and with the new crown, comes new weight. Coming 2 America presented real scenarios like a blended family, Queen Lisa and Levelle's mother (Leslie Jones) were vastly different but found common ground.
The movie touched on the rule of tradition that overshadows the change for the future, as Meeka (Kiki Lane) eldest royal daughter, watched her dreams of being Queen fade away as soon as there was talk of a son. Women in Zamunda spoke of owning their own business, but solemnly knew according to Zamunda Law, it was not possible. The sequel presented each problem smoothly – they were serious issues, without political heaviness.
Getting into the design and feel of Zamunda, one could assume the wealth of this country is on the highest scale. They pulled from both African and African-American cultures. The entrances of General Izzy (Wesley Snipes) paralleled 'stepping' from Black fraternities/sororities (think stomp the yard every time General Izzy entered the scene.) The costumes were curated by Oscar award-winning Ruth E. Carter, who was the designer behind Wakanda's sense of fashion.
Although there wasn't an official breakdown of what African tribes inspired Carter, she is known to pull from South Africa, using African lace, symbols, and their traditional headdress as statement pieces. Each character presented a unique style, Prince Lavelle interpreted the royal stride and attire to fit his personal taste of swag and cadence. All the intricate nuances that make up Black culture were joined with the vivacious origins of African heritage, which was a beautiful marriage of its own. Also, the athletic brand Puma was spotted making their renditions of African-inspired gear in the movie.
The sequel upheld the presence of being over the top like the 1980s original, with a dash of new flavor, giving it a different soulful bite. There were quick peeks into places that made the classic movie the crowned jewel that it is, such as McDowell's fast food eatery, adding "healthier options." The ingenious characters Murphy created were peppered throughout the film effortlessly.
Nostalgic cameo appearances throughout the journey were made the singing royal announcer Oha (Paul Bates), Morris and Clarence from the barbershop(Arsenio Hall and Murphy), the womanizing pastor Reverend Brown (Hall), the arranged betrothed Imani Izzy (Vanessa Bell Calloway), and Randy "Sexual Chocolate" Watson (Murphy) all played into the new story of royalty.
Love expanded as the root of the story, planting different seeds where it was needed. The affection between a son and his mother who raised him, the love of tradition and family honor, and how love can also be the seed for change. Throughout the movie, Prince Akeem once again evolves to another version of himself, bringing along his country to a new level of progression.
The credits had a few sparks as well, with much-wanted bloopers and an unexpected musical artist doing the cover of the endearing serenade, " She's Your Queen." Much like the 1988 original, the sequel was light-hearted but tackled some of the most tangible issues that America is facing today, Coming 2 America brought back a much-needed smile and feel-good reality that the nation is looking to get back to.
Available March 5 exclusively on Amazon Prime.
Spike Lee's 'Da 5 Bloods' Review: A Rare Look at Black American Heroes
written by Kimberly Jones
Spike Lee's newest joint Da 5 Bloods tells the story of four Black vets who return to Vietnam years after they served to collect the remains of their dear friend and former commander Norman (Black Panther's Chadwick Boseman), and to recover the gold they buried there years ago.
The cinematography in the opening scene alone leaves the audience instantly intrigued and at the same time overwhelmed. A compilation of images and clips of Malcolm X, Angela Davis, Muhammad Ali, protests in the streets of the US and injured children in Vietnam are all eerily similar to the images we are still looking at today.
Paul, the self-professed "leader" of the group, played by Delroy Lindo (known from his iconic roles in Crooklyn and Malcolm X) returns to work with Lee for the fourth time. Otis (Clarke Peters from HBO's The Wire), Eddie (Norm Lewis, Scandal), and Melvin (Isiah Whitlock Jr., The Wire) are having a long-overdue reunion with their bond and brotherhood still intact. Paul, the wild card of the group, commands the screen in every scene. He has several irrational outbursts throughout the film, as he suffers from PTSD but still is in denial about the severity of the situation. Paul is confrontational the majority of the film but he is also comical – him playing a Black Trump supporter wearing the MAGA hat and campaigning for "the wall" is pure comedy. His personality comes off as a little cold and selfish because he only cares about himself and about getting his hands on the buried gold that he feels he is entitled to. Paul has been hardened by life and it shows in his attitude and actions towards his "brothers".
Da 5 Bloods is unique in the way that it takes viewers on an emotional roller coaster through the raw emotions of Black men dealing with grief and family struggles, and their difficult journey to find closure. Paul's estranged son David (Jonathan Majors from HBO's Lovecraft Country) unexpectedly shows up and adds to his father's stress – the two have a strained relationship. David grew up feeling like an orphan, his mother died in childbirth and he always felt that his father blamed him for her death. Otis returned to a major surprise – he had a daughter that he had never met. Because she was biracial, his daughter was disowned by her family and her community. Sadly, racism and the war had robbed Otis of the precious time with his now adult daughter.
The buried gold in the movie represents what was owed to these soldiers for serving a country that never honored them. Not only were they not honored as veterans but as black men in America. They fought a war in Vietnam and returned only to fight a war at home. Eddie even brought up the idea that the gold should be used as reparations for Black Americans. Lee used this as a reference to the 40 acres and a mule, a post-Civil War promise that was made to Black Americans but never fulfilled. Paul quickly shuts this idea down, however. This is something that is owed to him personally, and he does not have the slightest intention of sharing it with anybody.
Some scenes included flashbacks to the Vietnam war. Lee did not use younger actors for these scenes, which is somewhat confusing and very unrealistic. Watching these older actors active in war scenes is awkward and takes away from the authenticity of the scene because it is distracting. Lee may have chosen this route because he wanted to portray these men as present-day heroes. Unfortunately, this may not have been the best choice for the audience.
Da 5 Bloods is a complex story that explores the effects of war on Black soldiers. This was long overdue since war blockbusters in Hollywood do not usually focus on these types of stories. This tale of brotherhood is a balanced mix of politics, humor, heroism, patriotism and sorrow. Lee brought his vision to life successfully with great visuals, performances and, of course, with Marvin Gaye's What's Going On? as the soundtrack. Although the album came out in 1971, the lyrics are relevant to our world today.
Spike Lee always has a unique way of telling black stories and giving voices to the voiceless. This film is no different. Da 5 Bloods could not have come at a better time. With the current climate in our country, this story can get the attention that Black servicemen deserve.
Da 5 Bloods is now streaming on Netflix.
Film Review: "All Day and a Night": A Tragic Tale of Generational Curses
by KIMBERLY JONES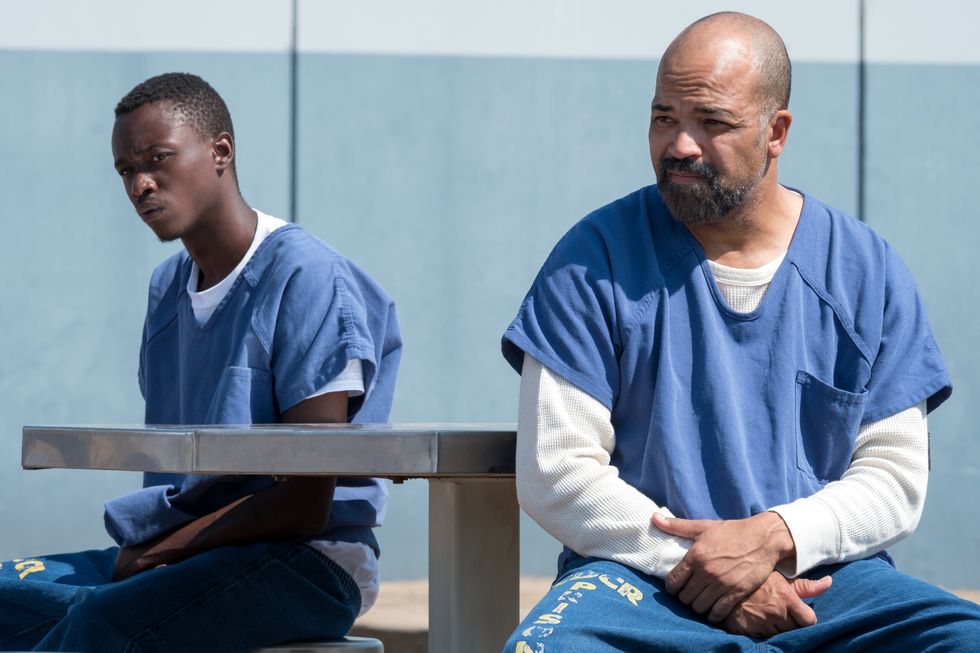 All Day and a Night is the directorial debut for Joe Robert Cole best known for co-writing the Marvel box office hit Black Panther. The film centers around a young man Jahkor (Moonlight's Ashton Sanders) and his transition into adulthood growing up in Oakland. Jahkor was raised in an unstable household. His father James "JD" (played by Emmy winner Jeffrey Wright) was abusive and constantly in and out of jail for his drug and gang activity. He was now serving life in prison. As a young boy Jahkor even witnessed his father murder a young man in broad daylight. His mother Delanda (Kelly Jenrette) was verbally abused by JD repeatedly. She tried to protect young Jahkor from his father's violent outbursts but was often unsuccessful.
From the beginning of his life, Jahkor seemed to be on an inevitable path of self-destruction which, ultimately, led him behind bars. Sanders does a great job bringing to life the raw emotions of a misguided, broken, and frustrated young man. Like in the car scene, for example, Jahkor's breakdown reveals that everything he's been carrying is wearing him down.
In one of the most outstanding scenes of the film Jahkor says, "slavery taught black people how to survive but not live. And that's what we pass on to each other. My father taught me how to take my fucked-up life out on everyone else." Cole uses a powerful choice of words to draw a connection between slavery and the survival mentality that was passed down to Jahkor, which is a generational curse. All his life, he did whatever he could to survive but was never taught how to live. Jahkor never got the chance to see the world beyond his Oakland neighborhood. He could not even make plans for the future.
As a result of his traumatic upbringing, Jahkor struggles with anger issues. The film opens with him violently killing a couple. By doing so, he falls into the fate he so desperately wanted to escape. Jahkor never wanted to follow his father's footsteps. Like many young men in his neighborhood, he had dreams of becoming a rapper and making an honest living. Unfortunately, he was now repeating the cycle. We clearly see a parallel between JD and Jahkor – both struggling with anger, lacking communication skills, and operating in survival mode.
In need of fast cash, Jahkor turns to the neighborhood drug dealer Big Stunna (Watchmen's Yahya Abdul-Mateen II) and agrees to eliminate one of his enemies, Malcolm (Stephen Barrington). The assignment is also personal for Jahkor – Malcolm sold drugs to his father and he resented him for it. And so he goes through with it (the murdered couple at the beginning of the film is Malcolm and his girlfriend) and lands in jail. Now in prison, Jahkor has time to reflect on his life and relationship with his father JD who is locked up in the same facility.
After they reunite, however, we rarely see a genuine connection between JD and Jahkor. It would have been great to see a breakthrough between the two at the end. Despite this, one thing is certain – JD has regrets about how his son's life turned out. He wanted the best for Jakhor but did not know how to provide that.
Cole does a good job of telling a familiar story with an added spin – having the father and son in prison together. Showing them build a stronger bond in bondage, which is also a reflection of modern-day slavery. Sadly, the cycle is likely to be repeated. While in prison, Jahkor and his girlfriend Shantaye's (Shakira Ja-nai Paye) son is born. Another young boy will grow up in an unstable home and an absent father.
All Day and a Night is a cautionary tale that is too often a reality for people who grow up in poverty and dysfunction. In one of the last scenes we see a flashback to younger JD, holding his infant son and saying, "Watch. He gon' rise above all the bullshit we struggle with out here." Then, Cole takes us to the final shot of adult Jahkor and his father, sitting together in the prison yard. Sadly, sometimes there is really no way of escaping a generational curse.
You can stream All Day and a Night on Netflix.