OSCARS 2021 NOMINATIONS ANNOUNCED
Betti Halsell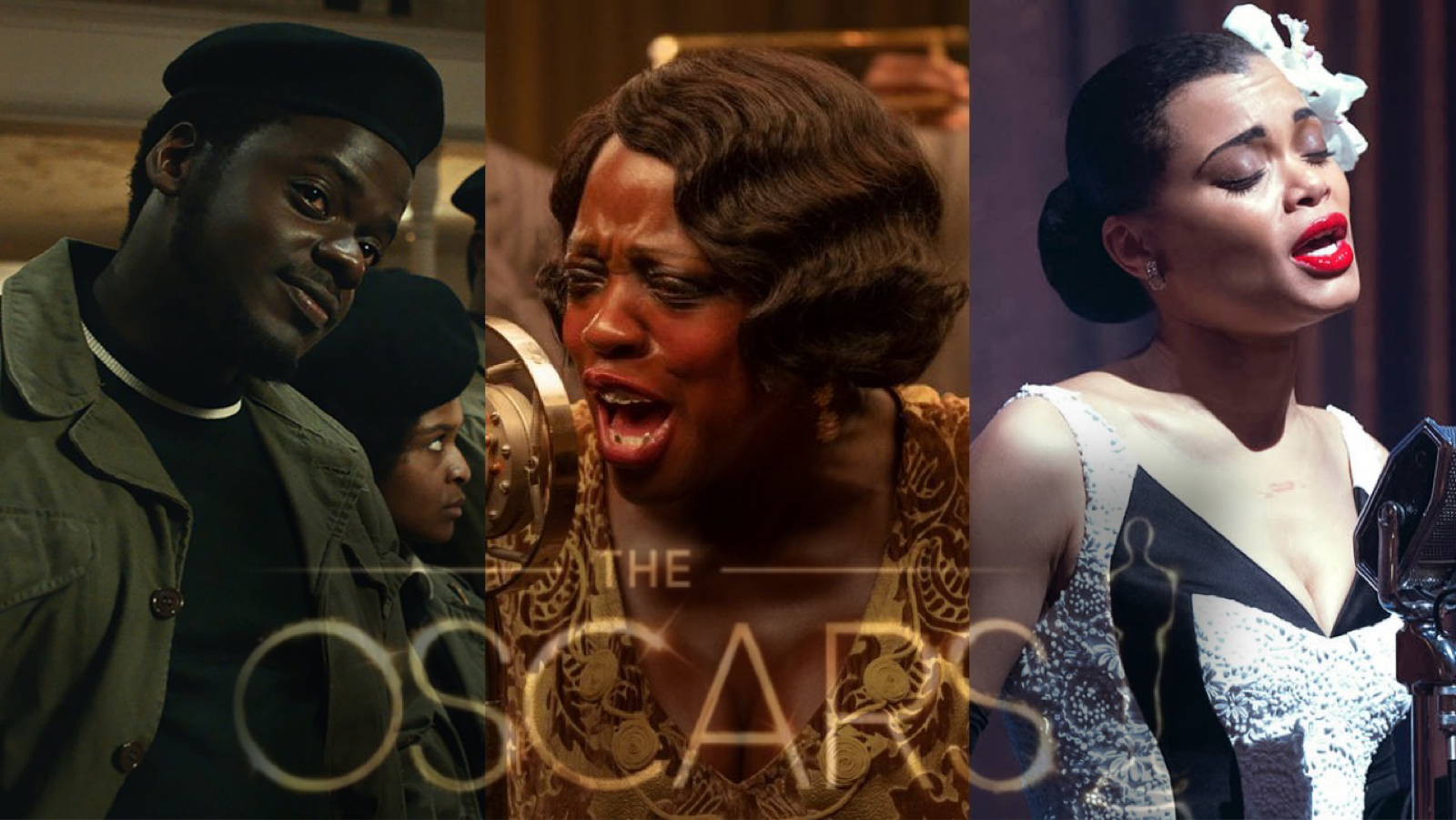 Priyanka Jonas and actor Nick Jonas announced the 93rd Oscars nominations on Monday (March 15). Academy members from each screening committee branch voted to determine the nominees for each category: actors nominate actors, film editors nominate film editors, and the rest of the sub-sections follow suit. All members collectively vote for the Best Picture nomination. Active members will start voting for the winners starting April 15, casting the last vote by April 20.
Some highly anticipated wins include Warner Bros.' Judas and the Black Messiah for Best Motion Picture of the year and Chadwick Boseman for Best Performance by an Actor for his role in Ma Rainey's Black Bottom. Additionally, Andra Day has been nominated for her first Oscar in the Best Actress category for The United States vs. Billie Holiday.
Monumental milestones have been made this year with over 70 women receiving nominations. Female directors Emerald Fennell and Chloé Zhao break through the previous record of only one woman being nominated for Directing in the same year. Zhau is the first woman of color to be nominated in this category.
The 93rd Oscars will air on April 25 on ABC at 8 p.m. ET/ 5 p.m. PT.
Here is the full list of nominees:
Performance by an actor in a leading role
Riz Ahmed in "Sound of Metal"
Chadwick Boseman in "Ma Rainey's Black Bottom"
Anthony Hopkins in "The Father"
Gary Oldman in "Mank"
Steven Yeun in "Minari"

Performance by an actor in a supporting role
Sacha Baron Cohen in "The Trial of the Chicago 7"
Daniel Kaluuya in "Judas and the Black Messiah"
Leslie Odom, Jr. in "One Night in Miami…"
Paul Raci in "Sound of Metal"
Lakeith Stanfield in "Judas and the Black Messiah"

Performance by an actress in a leading role
Viola Davis in "Ma Rainey's Black Bottom"
Andra Day in "The United States vs. Billie Holiday"
Vanessa Kirby in "Pieces of a Woman"
Frances McDormand in "Nomadland"
Carey Mulligan in "Promising Young Woman"

Performance by an actress in a supporting role
Maria Bakalova in "Borat Subsequent Moviefilm: Delivery of Prodigious Bribe to American Regime for Make Benefit Once Glorious Nation of Kazakhstan"
Glenn Close in "Hillbilly Elegy"
Olivia Colman in "The Father"
Amanda Seyfried in "Mank"
Yuh-Jung Youn in "Minari"

Best animated feature film of the year
"Onward" Dan Scanlon and Kori Rae
"Over the Moon" Glen Keane, Gennie Rim and Peilin Chou
"A Shaun the Sheep Movie: Farmageddon" Richard Phelan, Will Becher and Paul Kewley
"Soul" Pete Docter and Dana Murray
"Wolfwalkers" Tomm Moore, Ross Stewart, Paul Young and Stéphan Roelants

Achievement in cinematography
"Judas and the Black Messiah" Sean Bobbitt
"Mank" Erik Messerschmidt
"News of the World" Dariusz Wolski
"Nomadland" Joshua James Richards
"The Trial of the Chicago 7" Phedon Papamichael

Achievement in costume design
"Emma" Alexandra Byrne
"Ma Rainey's Black Bottom" Ann Roth
"Mank" Trish Summerville
"Mulan" Bina Daigeler
"Pinocchio" Massimo Cantini Parrini

Achievement in directing
"Another Round" Thomas Vinterberg
"Mank" David Fincher
"Minari" Lee Isaac Chung
"Nomadland" Chloé Zhao
"Promising Young Woman" Emerald Fennell

Best documentary feature
"Collective" Alexander Nanau and Bianca Oana
"Crip Camp" Nicole Newnham, Jim LeBrecht and Sara Bolder
"The Mole Agent" Maite Alberdi and Marcela Santibáñez
"My Octopus Teacher" Pippa Ehrlich, James Reed and Craig Foster
"Time" Garrett Bradley, Lauren Domino and Kellen Quinn

Best documentary short subject
"Colette" Anthony Giacchino and Alice Doyard
"A Concerto Is a Conversation" Ben Proudfoot and Kris Bowers
"Do Not Split" Anders Hammer and Charlotte Cook
"Hunger Ward" Skye Fitzgerald and Michael Scheuerman
"A Love Song for Latasha" Sophia Nahli Allison and Janice Duncan

Achievement in film editing
"The Father" Yorgos Lamprinos
"Nomadland" Chloé Zhao
"Promising Young Woman" Frédéric Thoraval
"Sound of Metal" Mikkel E. G. Nielsen
"The Trial of the Chicago 7" Alan Baumgarten

Best international feature film of the year
"Another Round" Denmark
"Better Days" Hong Kong
"Collective" Romania
"The Man Who Sold His Skin" Tunisia
"Quo Vadis, Aida?" Bosnia and Herzegovina

Achievement in makeup and hairstyling
"Emma" Marese Langan, Laura Allen and Claudia Stolze
"Hillbilly Elegy" Eryn Krueger Mekash, Matthew Mungle and Patricia Dehaney
"Ma Rainey's Black Bottom" Sergio Lopez-Rivera, Mia Neal and Jamika Wilson
"Mank" Gigi Williams, Kimberley Spiteri and Colleen LaBaff
"Pinocchio" Mark Coulier, Dalia Colli and Francesco Pegoretti

Achievement in music written for motion pictures (Original score)
"Da 5 Bloods" Terence Blanchard
"Mank" Trent Reznor and Atticus Ross
"Minari" Emile Mosseri
"News of the World" James Newton Howard
"Soul" Trent Reznor, Atticus Ross and Jon Batiste

Achievement in music written for motion pictures (Original song)
"Fight For You" from "Judas and the Black Messiah" Music by H.E.R. and Dernst Emile II; Lyric by H.E.R. and Tiara Thomas
"Hear My Voice" from "The Trial of the Chicago 7" Music by Daniel Pemberton; Lyric by Daniel Pemberton and Celeste Waite
"Husavik" from "Eurovision Song Contest: The Story of Fire Saga" Music and Lyric by Savan Kotecha, Fat Max Gsus and Rickard Göransson
"Io Sì (Seen)" from "The Life Ahead (La Vita Davanti a Se)" Music by Diane Warren; Lyric by Diane Warren and Laura Pausini
"Speak Now" from "One Night in Miami…" Music and Lyric by Leslie Odom, Jr. and Sam Ashworth

Best motion picture of the year
"The Father" David Parfitt, Jean-Louis Livi and Philippe Carcassonne, Producers
"Judas and the Black Messiah" Shaka King, Charles D. King and Ryan Coogler, Producers
"Mank" Ceán Chaffin, Eric Roth and Douglas Urbanski, Producers
"Minari" Christina Oh, Producer
"Nomadland" Frances McDormand, Peter Spears, Mollye Asher, Dan Janvey and Chloé Zhao, Producers
"Promising Young Woman" Ben Browning, Ashley Fox, Emerald Fennell and Josey McNamara, Producers
"Sound of Metal" Bert Hamelinck and Sacha Ben Harroche, Producers
"The Trial of the Chicago 7" Marc Platt and Stuart Besser, Producers

Achievement in production design
"The Father" Production Design: Peter Francis; Set Decoration: Cathy Featherstone
"Ma Rainey's Black Bottom" Production Design: Mark Ricker; Set Decoration: Karen O'Hara and Diana Stoughton
"Mank" Production Design: Donald Graham Burt; Set Decoration: Jan Pascale
"News of the World" Production Design: David Crank; Set Decoration: Elizabeth Keenan
"Tenet" Production Design: Nathan Crowley; Set Decoration: Kathy Lucas

Best animated short film
"Burrow" Madeline Sharafian and Michael Capbarat
"Genius Loci" Adrien Mérigeau and Amaury Ovise
"If Anything Happens I Love You" Will McCormack and Michael Govier
"Opera" Erick Oh
"Yes-People" Gísli Darri Halldórsson and Arnar Gunnarsson

Best live action short film
"Feeling Through" Doug Roland and Susan Ruzenski
"The Letter Room" Elvira Lind and Sofia Sondervan
"The Present" Farah Nabulsi
"Two Distant Strangers" Travon Free and Martin Desmond Roe
"White Eye" Tomer Shushan and Shira Hochman

Achievement in sound
"Greyhound" Warren Shaw, Michael Minkler, Beau Borders and David Wyman
"Mank" Ren Klyce, Jeremy Molod, David Parker, Nathan Nance and Drew Kunin
"News of the World" Oliver Tarney, Mike Prestwood Smith, William Miller and John Pritchett
"Soul" Ren Klyce, Coya Elliott and David Parker
"Sound of Metal" Nicolas Becker, Jaime Baksht, Michelle Couttolenc, Carlos Cortés and Phillip Bladh

Achievement in visual effects
"Love and Monsters" Matt Sloan, Genevieve Camilleri, Matt Everitt and Brian Cox
"The Midnight Sky" Matthew Kasmir, Christopher Lawrence, Max Solomon and David Watkins
"Mulan" Sean Faden, Anders Langlands, Seth Maury and Steve Ingram
"The One and Only Ivan" Nick Davis, Greg Fisher, Ben Jones and Santiago Colomo Martinez
"Tenet" Andrew Jackson, David Lee, Andrew Lockley and Scott Fisher

Adapted screenplay
"Borat Subsequent Moviefilm: Delivery of Prodigious Bribe to American Regime for Make Benefit Once Glorious Nation of Kazakhstan" Screenplay by Sacha Baron Cohen & Anthony Hines & Dan Swimer & Peter Baynham & Erica Rivinoja & Dan Mazer & Jena Friedman & Lee Kern; Story by Sacha Baron Cohen & Anthony Hines & Dan Swimer & Nina Pedrad
"The Father" Screenplay by Christopher Hampton and Florian Zeller
"Nomadland" Written for the screen by Chloé Zhao
"One Night in Miami…" Screenplay by Kemp Powers
"The White Tigers" Written for the screen by Ramin Bahrani

Original screenplay
"Judas and the Black Messiah" Screenplay by Will Berson & Shaka King; Story by Will Berson & Shaka King and Kenny Lucas & Keith Lucas
"Minari" Written by Lee Isaac Chung
"Promising Young Woman" Written by Emerald Fennell
"Sound of Metal" Screenplay by Darius Marder & Abraham Marder; Story by Darius Marder & Derek Cianfrance
"The Trial of the Chicago 7" Written by Aaron Sorkin
Rihanna's New Wax Figure Unveiled at Madame Tussauds in Amsterdam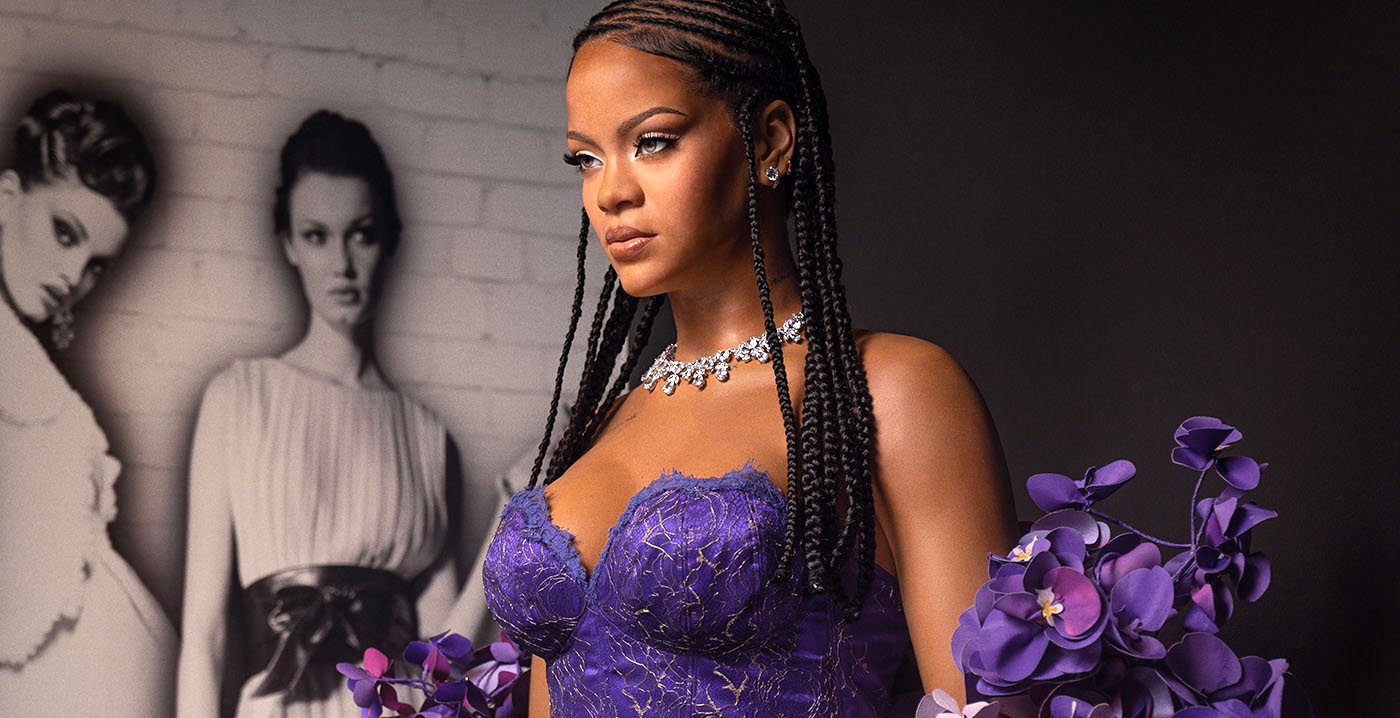 The global icon and entrepreneur Rihanna was honored with a new wax figure at Madame Tussauds in Amsterdam, Netherlands, this week.
Her outfit this time around is inspired by one of her looks from the 2020 Savage x Fenty show, which streamed exclusively on Prime Video.
Starz Releases Official Trailer for 'Run The World' Season 2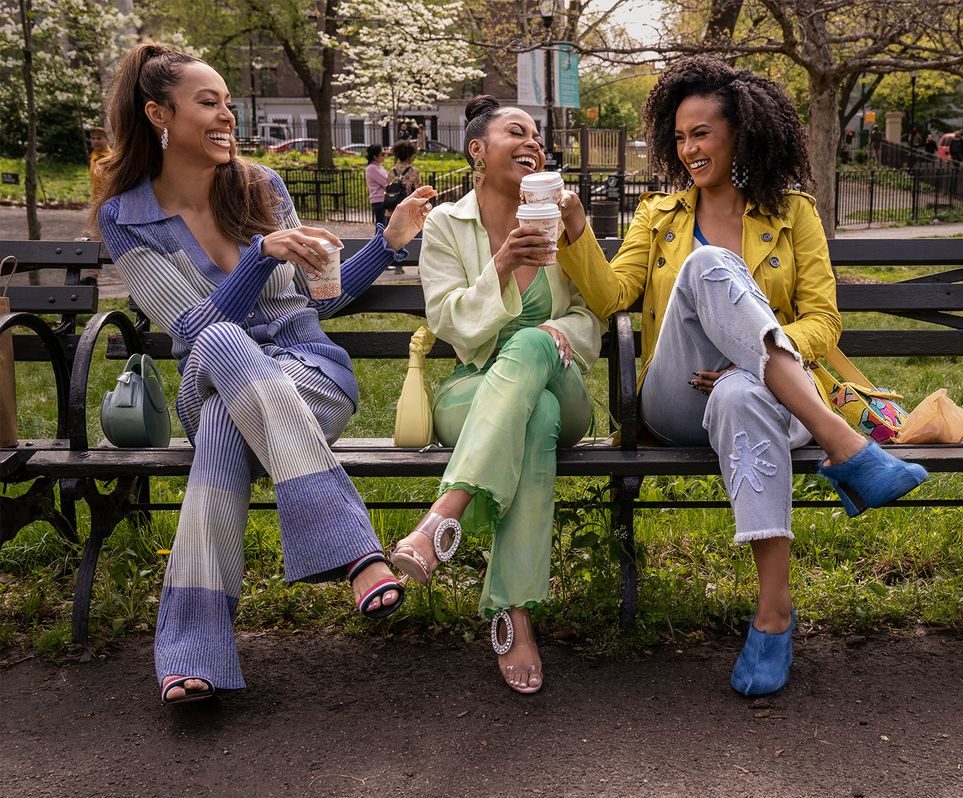 The squad is back! Starz dropped the new trailer for 'Run The World' season 2, and it looks like our favorite NYC girls are in for more fun and drama. Bresha Webb, Amber Stevens West, and Corbin Reid are reprising their roles as Renee, Whitney, and Sondi, respectively. Andrea Bordeaux (who played Ella in Season 1) departed the show over the COVID-19 vaccine mandate.
The new season will follow the "euphoric highs and heartbreaking lows that Whitney, Renee, and Sondi must endure in their pursuit of world domination," says the official synopsis. "Whitney must follow the road of self-discovery to thrive in her life with or without Ola, while Renee and Sondi must decide what they truly want out of life — both in love and their careers. Whether they reunite with a past love, taste the life of a millionaire, or see their career take off in a radical new direction, these powerful Black women, fortified by their impenetrable friendship, won't let anything get in their way."
The new episodes of 'Run the World' will premiere on Friday, May 26.
Disney Casts Actors of Color to Play Fictional White Characters – Impactful or Opportunistic?
The studio has faced criticism for hiring non-white actors to portray roles depicted in Disney cartoons as white for its live-action remakes.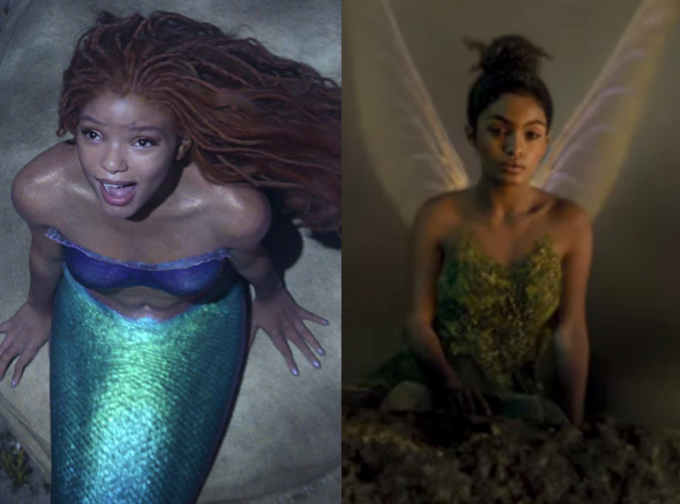 This year, Disney is gearing up to release live-action remakes of 'The Little Mermaid' and 'Peter Pan.' Each will feature a Black actor playing a fictional character originally portrayed by a white actor. Halle Bailey, a Black actress and singer, is set to portray the beloved red-haired, fish-tailed under-the-sea princess Ariel. Yara Shahidi, a daughter of an Iranian father and an African-American mother, will star as Peter Pan's most trusted fairy friend Tinkerbell. Both movies are scheduled to be released in the next two months.

The casting decisions came with backlash from a vast number of Twitter and Redditt users, who claim – "blackwashing" childhood characters (i.e., taking an originally white character and making them a person of color) will not solve the lack of inclusivity in Hollywood. But is that really why they so passionately stand against it? The negative attention on Little Mermaid and Tinker Bell has also fueled great support from other fans who view such anger as racist behavior. "Those opposed to diversity on screen are the ones fighting it in real life," one Twitter user wrote. Rob Marshall, who directs the upcoming Little Mermaid remake, admitted he was caught off guard by some of the negative responses that came with casting Bailey. "I wasn't anticipating that because, in a way, I felt like we've moved so far past that kind of thing." He also insisted there was no agenda in Disney's decision to hire the 22-year-old, "We just were looking for the best
actor for the role, period. The end," he told Entertainment Weekly. "We saw everybody and every ethnicity. The goal was to find someone who can be incredibly strong, passionate, beautiful, smart, clever, and with a great deal of fire and joy," Marshall explained.

For a few years now, Disney, among other media companies, has made an effort to
redeem itself from a century-long history of producing controversial movies and
animated films ('Song of the South,' 'Dumbo, 'The Aristocrats"), some of which have been deemed racist or 'culturally outdated' as Disney conveniently describes it. Most recently, in the midst of the COVID-19 pandemic, the company announced a diversity and inclusion program 'Reimagine Tomorrow,' that is committed to "amplifying underrepresented voices and untold stories as well as championing the importance of accurate representation in media and entertainment." Casting more people of color could count as a way to honor their commitment, but is changing the ethnicity of established characters the best solution? Some argue that it could be. Several previously released remakes that followed this model have done well, despite surrounding controversy.
Rodgers and Hammerstein's Cinderella cast/ Disney
In 1997, Disney released Rodgers and Hammerstein's Cinderella, a reimagining of the famed tale. It did not just have a non-white main cast but also received a budget of $12 million, which ranked it among the most expensive television films ever made. The remake featured Brandy, an African-American actor/singer, as Cinderella, the late Whitney Houston as Fairy Godmother, Paulo Montalban, an Asian actor as Prince Christopher, and Victor Garber and Whoopi Goldberg as the king and queen. Although the non-traditional reiteration of the Disney story received mixed reviews from critics, it was met with a lot of praise, specifically from the Black community. "This Cinderella remake is such a beautiful, magical gem of a movie filled with a multiracial cast, and I can't believe it came out in 1997! Talk about progressive!" a review on IMDb reads. "I think this live-action Cinderella movie is my most favorite. I love the songs and the comedy. Most of the actors are familiar. This movie also teaches us that no matter what we look like, black, white, Asian, we are all the same," another fan wrote in his five-star review.
Most recently, Disney doubled down on casting non-white actors to star in their remakes. Aside from the aforementioned 'Little Mermaid' and 'Peter Pan' films, Rachel Zegler, a Latina actress, was cast to play Snow White in a movie scheduled to be released in 2024. Disney's 'Wonder Years' reboot features an all-Black main cast. Zendaya plays MJ in the new Spider-Man movies. And that's not just with Disney. Amazon Prime Video recently cast Afro-Latino actor Ismael Cruz Córdova to play Arondir, a Silvan elf, in 'The Lord of the Rings: The Rings of Power.' The reimagining of 'The West Side Story' featured Latino actors in leading roles. Almost every casting announcement caused a social media stir.
Rachel Zegler spotted on the set of 'Snow White'
But why remake in the first place? According to Dr. Matthew Jones, Film Studies lecturer at De Montfort University in Leicester, "Remake and reboot culture is not new. It's often framed as something novel and unique to our postmodern times, but there is actually a rich tradition of remakes in Western film culture," he told Cosmopolitan. So why are they still being made? The answer is fairly simple – remakes are a safe financial bet. Studios capitalize on people's nostalgia and the connections they already have with their favorite characters. "The most secure option for studios is always going to be something we call a 'pre-sold property,' Dr. Jones continued, "meaning films with pre-existing fan audiences. And what types of films have fan audiences before they are even released? Remakes, reboots, and sequels do, precisely because they are already properties familiar to audiences and which some people will feel an emotional attachment to already."
Those opposed to Disney's casting decisions to 'race swap' insist the company should focus on creating original characters and storylines instead of reimagining the ones they have become so accustomed to. "Another remake! Did Hollywood run out of ideas?" One Reddit user asked. "Disney is only changing the race/ethnicity of characters in live-action remakes to spark controversy and get more people talking about the movie rather than trying to bring minorities to light as protagonists," another speculated. However, it's no secret that the United States has a long and dark history of racial discrimination and injustice. So, when minority groups are shown outside of the tired, stereotypical roles or, furthermore, play roles that are considered "traditionally" white – it implies a change that some simply don't want to accept.
Indeed, Disney had succeeded in the past in introducing original non-white animated characters such as Mulan (the live-action version was released in 2020), Tiana in 'Princess and the Frog' (the remake is currently in the works), Moana, and most recently, the family of 'Encanto.' But original content inevitably means more resources spent, and with remakes that deliver guaranteed financial gains and casting decisions that bring attention (positive or negative), studios seem to achieve desirable results still. Additionally, the cultural and racial diversification of Disney's fan base and the pressure to acknowledge and show more of those faces on the screen pushes the company to do just that. So the main question remains – does Hollywood genuinely cares about inclusivity, or is it just adjusting for the sake of profits? No matter the answer, one thing is clear – Disney is not going anywhere any time soon, and neither are the Black, Asian, Latino, and other non-white people across the globe. Those who have a problem will just have to learn to live with it.