Film Review: "All Day and a Night": A Tragic Tale of Generational Curses
by KIMBERLY JONES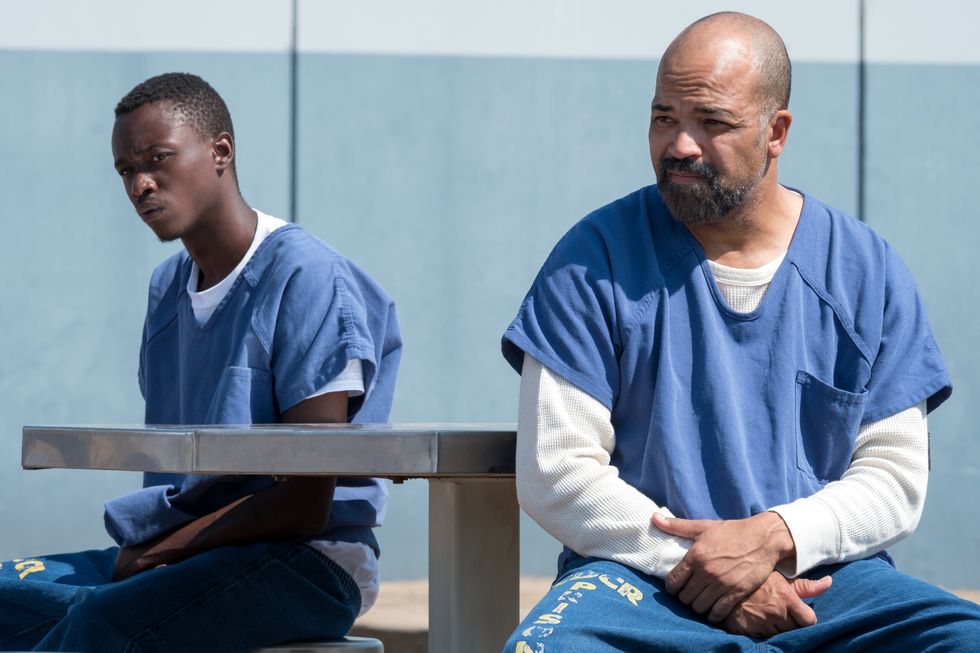 All Day and a Night is the directorial debut for Joe Robert Cole best known for co-writing the Marvel box office hit Black Panther. The film centers around a young man Jahkor (Moonlight's Ashton Sanders) and his transition into adulthood growing up in Oakland. Jahkor was raised in an unstable household. His father James "JD" (played by Emmy winner Jeffrey Wright) was abusive and constantly in and out of jail for his drug and gang activity. He was now serving life in prison. As a young boy Jahkor even witnessed his father murder a young man in broad daylight. His mother Delanda (Kelly Jenrette) was verbally abused by JD repeatedly. She tried to protect young Jahkor from his father's violent outbursts but was often unsuccessful.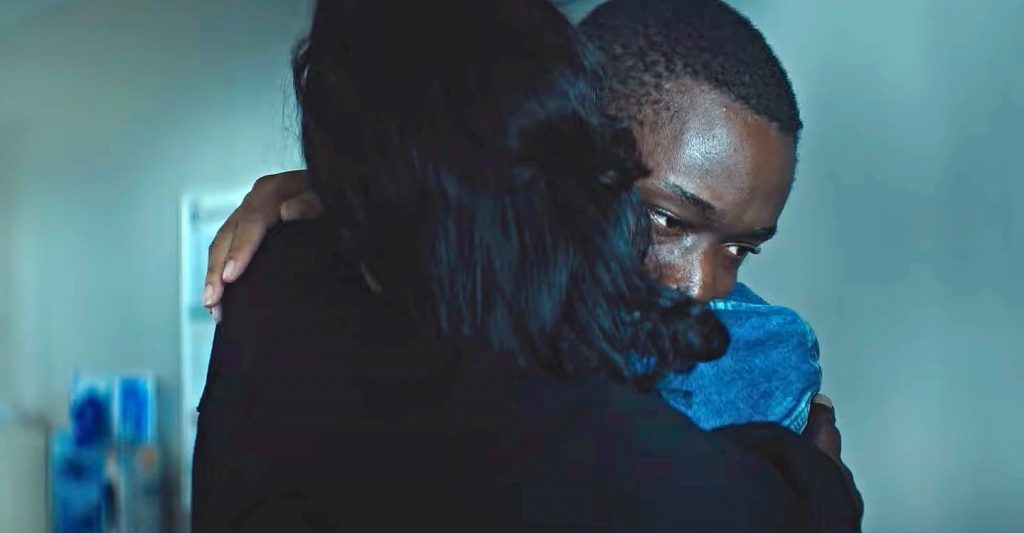 From the beginning of his life, Jahkor seemed to be on an inevitable path of self-destruction which, ultimately, led him behind bars. Sanders does a great job bringing to life the raw emotions of a misguided, broken, and frustrated young man. Like in the car scene, for example, Jahkor's breakdown reveals that everything he's been carrying is wearing him down.
In one of the most outstanding scenes of the film Jahkor says, "slavery taught black people how to survive but not live. And that's what we pass on to each other. My father taught me how to take my fucked-up life out on everyone else." Cole uses a powerful choice of words to draw a connection between slavery and the survival mentality that was passed down to Jahkor, which is a generational curse. All his life, he did whatever he could to survive but was never taught how to live. Jahkor never got the chance to see the world beyond his Oakland neighborhood. He could not even make plans for the future.
As a result of his traumatic upbringing, Jahkor struggles with anger issues. The film opens with him violently killing a couple. By doing so, he falls into the fate he so desperately wanted to escape. Jahkor never wanted to follow his father's footsteps. Like many young men in his neighborhood, he had dreams of becoming a rapper and making an honest living. Unfortunately, he was now repeating the cycle. We clearly see a parallel between JD and Jahkor – both struggling with anger, lacking communication skills, and operating in survival mode.
In need of fast cash, Jahkor turns to the neighborhood drug dealer Big Stunna (Watchmen's Yahya Abdul-Mateen II) and agrees to eliminate one of his enemies, Malcolm (Stephen Barrington). The assignment is also personal for Jahkor – Malcolm sold drugs to his father and he resented him for it. And so he goes through with it (the murdered couple at the beginning of the film is Malcolm and his girlfriend) and lands in jail. Now in prison, Jahkor has time to reflect on his life and relationship with his father JD who is locked up in the same facility.
After they reunite, however, we rarely see a genuine connection between JD and Jahkor. It would have been great to see a breakthrough between the two at the end. Despite this, one thing is certain – JD has regrets about how his son's life turned out. He wanted the best for Jakhor but did not know how to provide that.
Cole does a good job of telling a familiar story with an added spin – having the father and son in prison together. Showing them build a stronger bond in bondage, which is also a reflection of modern-day slavery. Sadly, the cycle is likely to be repeated. While in prison, Jahkor and his girlfriend Shantaye's (Shakira Ja-nai Paye) son is born. Another young boy will grow up in an unstable home and an absent father.
All Day and a Night is a cautionary tale that is too often a reality for people who grow up in poverty and dysfunction. In one of the last scenes we see a flashback to younger JD, holding his infant son and saying, "Watch. He gon' rise above all the bullshit we struggle with out here." Then, Cole takes us to the final shot of adult Jahkor and his father, sitting together in the prison yard. Sadly, sometimes there is really no way of escaping a generational curse.
You can stream All Day and a Night on Netflix.
Spike Lee's 'Da 5 Bloods' Review: A Rare Look at Black American Heroes
written by Kimberly Jones
Spike Lee's newest joint Da 5 Bloods tells the story of four Black vets who return to Vietnam years after they served to collect the remains of their dear friend and former commander Norman (Black Panther's Chadwick Boseman), and to recover the gold they buried there years ago.
The cinematography in the opening scene alone leaves the audience instantly intrigued and at the same time overwhelmed. A compilation of images and clips of Malcolm X, Angela Davis, Muhammad Ali, protests in the streets of the US and injured children in Vietnam are all eerily similar to the images we are still looking at today.
Paul, the self-professed "leader" of the group, played by Delroy Lindo (known from his iconic roles in Crooklyn and Malcolm X) returns to work with Lee for the fourth time. Otis (Clarke Peters from HBO's The Wire), Eddie (Norm Lewis, Scandal), and Melvin (Isiah Whitlock Jr., The Wire) are having a long-overdue reunion with their bond and brotherhood still intact. Paul, the wild card of the group, commands the screen in every scene. He has several irrational outbursts throughout the film, as he suffers from PTSD but still is in denial about the severity of the situation. Paul is confrontational the majority of the film but he is also comical – him playing a Black Trump supporter wearing the MAGA hat and campaigning for "the wall" is pure comedy. His personality comes off as a little cold and selfish because he only cares about himself and about getting his hands on the buried gold that he feels he is entitled to. Paul has been hardened by life and it shows in his attitude and actions towards his "brothers".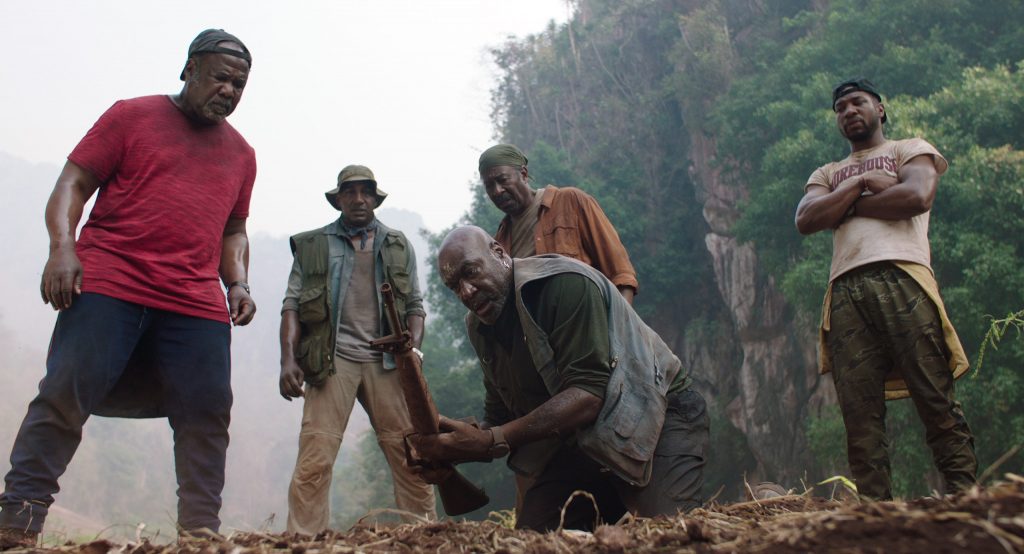 Da 5 Bloods is unique in the way that it takes viewers on an emotional roller coaster through the raw emotions of Black men dealing with grief and family struggles, and their difficult journey to find closure. Paul's estranged son David (Jonathan Majors from HBO's Lovecraft Country) unexpectedly shows up and adds to his father's stress – the two have a strained relationship. David grew up feeling like an orphan, his mother died in childbirth and he always felt that his father blamed him for her death. Otis returned to a major surprise – he had a daughter that he had never met. Because she was biracial, his daughter was disowned by her family and her community. Sadly, racism and the war had robbed Otis of the precious time with his now adult daughter.
The buried gold in the movie represents what was owed to these soldiers for serving a country that never honored them. Not only were they not honored as veterans but as black men in America. They fought a war in Vietnam and returned only to fight a war at home. Eddie even brought up the idea that the gold should be used as reparations for Black Americans. Lee used this as a reference to the 40 acres and a mule, a post-Civil War promise that was made to Black Americans but never fulfilled. Paul quickly shuts this idea down, however. This is something that is owed to him personally, and he does not have the slightest intention of sharing it with anybody.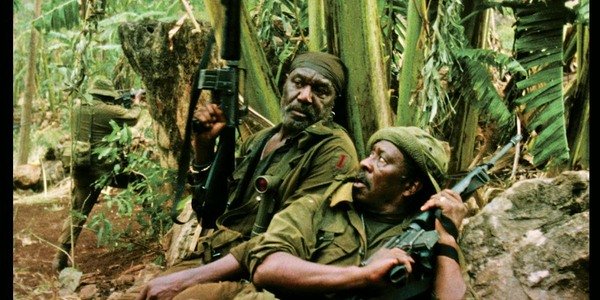 Some scenes included flashbacks to the Vietnam war. Lee did not use younger actors for these scenes, which is somewhat confusing and very unrealistic. Watching these older actors active in war scenes is awkward and takes away from the authenticity of the scene because it is distracting. Lee may have chosen this route because he wanted to portray these men as present-day heroes. Unfortunately, this may not have been the best choice for the audience.
Da 5 Bloods is a complex story that explores the effects of war on Black soldiers. This was long overdue since war blockbusters in Hollywood do not usually focus on these types of stories. This tale of brotherhood is a balanced mix of politics, humor, heroism, patriotism and sorrow. Lee brought his vision to life successfully with great visuals, performances and, of course, with Marvin Gaye's What's Going On? as the soundtrack. Although the album came out in 1971, the lyrics are relevant to our world today.
Spike Lee always has a unique way of telling black stories and giving voices to the voiceless. This film is no different. Da 5 Bloods could not have come at a better time. With the current climate in our country, this story can get the attention that Black servicemen deserve.
Da 5 Bloods is now streaming on Netflix.
'The Banker': Two Black Men Build an Empire in the Jim Crow Era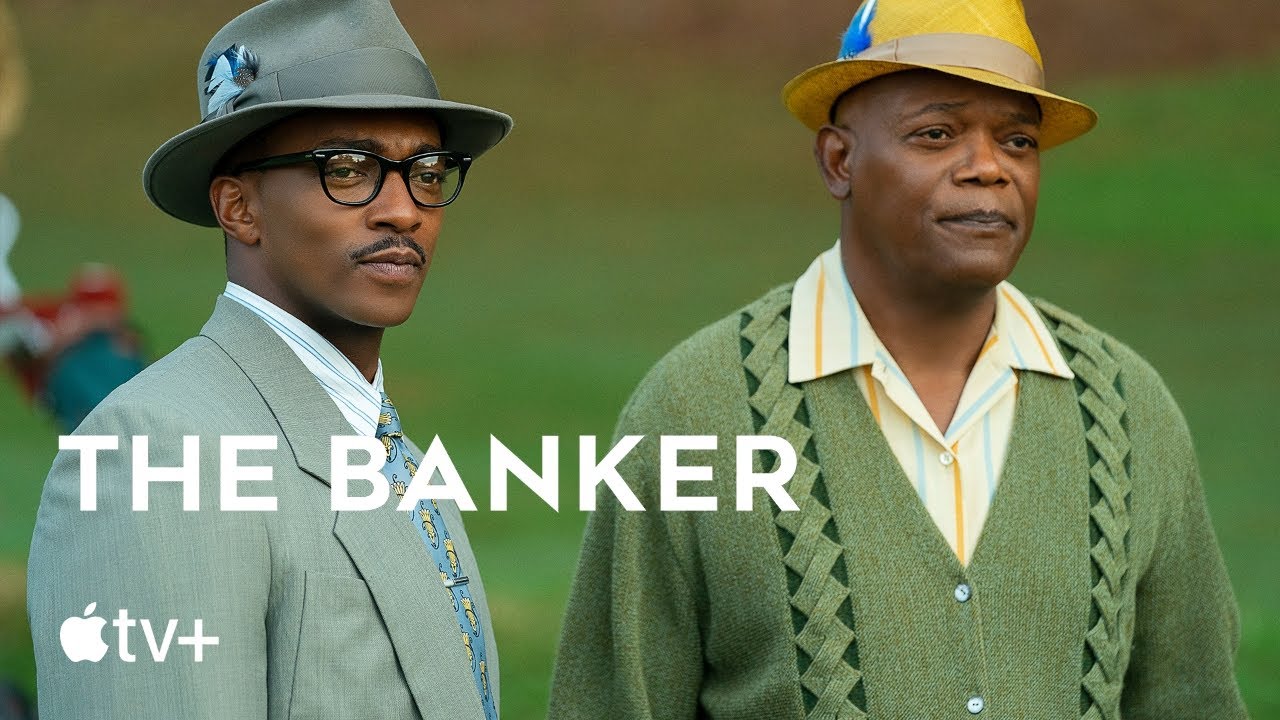 In 1954, in America, a black man owning a bank was something unattainable and seemed practically impossible but for Bernard Garrett (Anthony Mackie) anything was possible. Bernard was smart and ambitious and would stop at nothing to make his American dream come true. His dream was for black people to have access to capital for their businesses and have access to home loans to invest in real estate. Bernard knew the importance of ownership and was dedicated to educating his community and helping pave the way. He was an innovator and truly ahead of his time. He had the knowledge, he had the ambition. The only problem was…he was black.
Bernard had to find a way to get over this hurdle and use his talents to provide a better life for his wife Eunice (Nia Long) and their son. Eunice introduced Bernard to club owner, real estate investor and future partner Joe Morris (Samuel L Jackson). Joe had more experience in real estate along with money and connections that Bernard needed. The two didn't really hit it off when they first met but they eventually got on the same page about their vision. Bernard met a young white man named Matt Steiner (Nicholas Hoult) who knew nothing about real estate or banking but was the perfect face to get his goal accomplished. Together, Bernard and Joe taught Matt everything he needed to know to impress the real estate moguls and investment bankers – math, finance, and even golf. Once Matt was ready, they made their first big purchase – a building that held all major banks in Downtown Los Angeles. Bernard and Joe have done the unimaginable.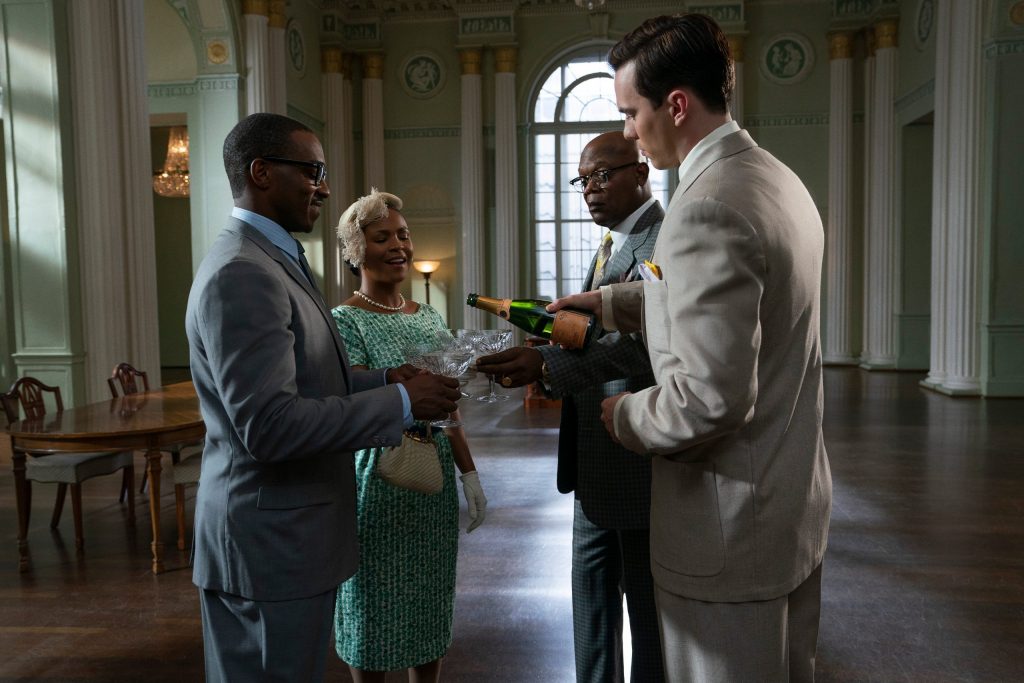 The duo got busy purchasing many more properties in white neighborhoods to help black people move into better areas of the city. With all the success they had in Los Angeles, Bernard thought he could try his luck in his small hometown in Texas. Things, however, did not go as planned as in the South they faced even more racism and segregation. Again, with Matt's help, they were able to purchase two more banks in Texas. As soon as they took ownership, the duo started to quickly lend money to black home- and business owners. The number of loans that Matt approved in such a short time made other bankers suspicious and the bank was audited. In the process of the audit their scheme was uncovered, and Bernard and Joe's identities were revealed. The banks were shut down by the Feds and both black men were sentenced to three years in jail. They only served nine months for mishandling bank funds and fraud.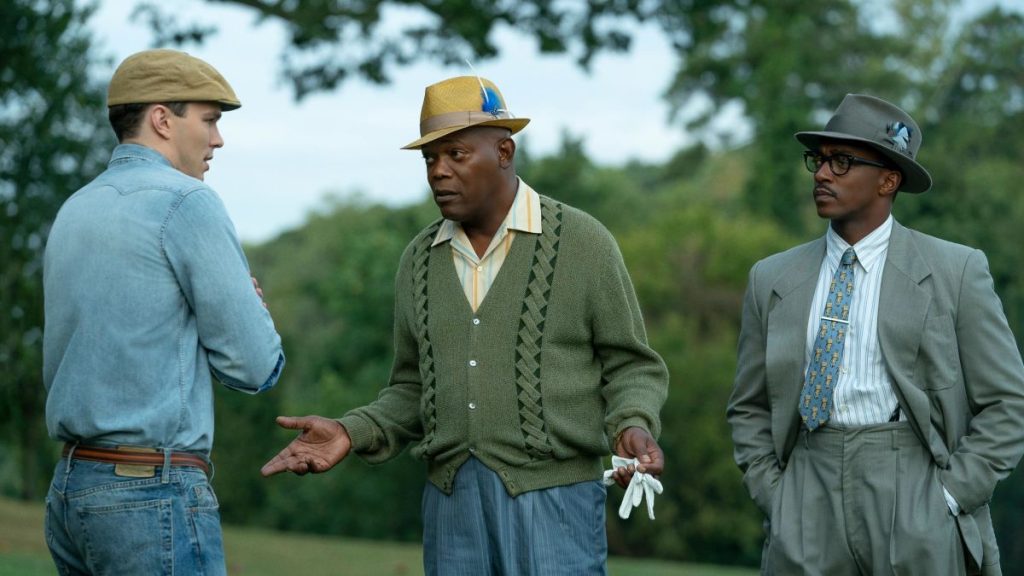 Although Bernard and Joe did time in jail, at the end of it all, there is a silver lining to this story – these black men made history and beat the odds by purchasing two banks in the United States in the Jim Crow Era. The Banker is an eye-opening story of courage and hope; it is an important part of history that is relatively unknown. Two black men generations before us had the vision and enough courage to pursue their dream. All of this was done to advance the lives of black people in America. This is a tale of two heroes that was long overdue. This story is an amazing gem in American history and an inspiration to all.
The Banker is now available for streaming on AppleTV+.
"Little Fires Everywhere": Episodes 1-3 Recap
BY KIMBERLY JONES
Little Fires Everywhere is based on a novel written by Celeste Ng that follows the lives of residents in the suburbs of Shaker Heights, Ohio in the 90s. Bill and Elena Richardson (Reese Witherspoon and Joshua Jackson) are longtime residents of the community and are the parents of 4 teenagers who are all on the path to self-discovery. The Richardson's have a tight family unit and are doing their best to raise healthy, ambitious, generous and well-rounded children. Elena is having a hard time with her younger daughter Izzy (Megan Stott) who is clearly going through a rebellious stage so the two of them are in constant disagreement.
Elena is a suburban upper-class mom who is pretty uptight and wants control of her family and her image. She seems to have the Richardson kids' lives already planned out for their successful future. Elena is a perfectionist, a quality that doesn't really work in her favor with her kids because she's judgmental and intimidating. The family inherited a rental property and that is when she meets single mother Mia Warren (Kerry Washington) and her intelligent teenage daughter Pearl Warren (Lexi Underwood). Mia a traveling artist and her daughter have been living in their car and responded to an ad for Elena's rental. Upon their first meeting, Mia has her guard up with Elena and there is tension between the two. Mia is put off by Elena's invasive and privileged tone during their first conversation.
Elena seems totally unaware of how uncomfortable and unwelcome this makes Mia. Despite their
bumpy start the Warren's move into the rental property. Pearl immediately adapts to her new environment after she meets Moody, one of Richardson's sons (Gavin Lewis). The two teenagers are attracted to each other and start spending a lot of time together. Hanging out with the Richardsons somewhat opens Pearl's eyes to a whole new world. Although there are racial and economic differences between their two worlds, the teenagers still develop a friendship. Pearl also learns that she and Elena have a common interest – writing and journalism. Mia doesn't approve of Pearl's friendly relationships with the Richardsons but doesn't express this to her daughter immediately.
The series takes a deep dive into classism and racism. For instance, Pearl, after spending more time with the Richardsons, realizes just how underprivileged her life has been. She has had to constantly move around. Because of her mother, she has never really had a nice stable place to live, she has never met her father and her school counselor won't consider placing her in the correct math class at her new school because of her race. Instead of taking her mother Mia's advice on standing up to her counselor, Pearl asks Elena for help to get enrolled in the correct math class. After a quick conversation with the counselor, Elena (much thanks to her race and status) easily gets Pearl in. When Mia starts working for the Richardsons as their "house manager", Pearl seems to be surprised, ashamed and uncomfortable that her black mom is now working for this white family that she is trying to build new relationships with. This only further magnifies the differences between the two families. After Mia becomes Elena's house manager, the two of them get to know each other a little better. Mia, however, is still very guarded with the new family and keeps her distance.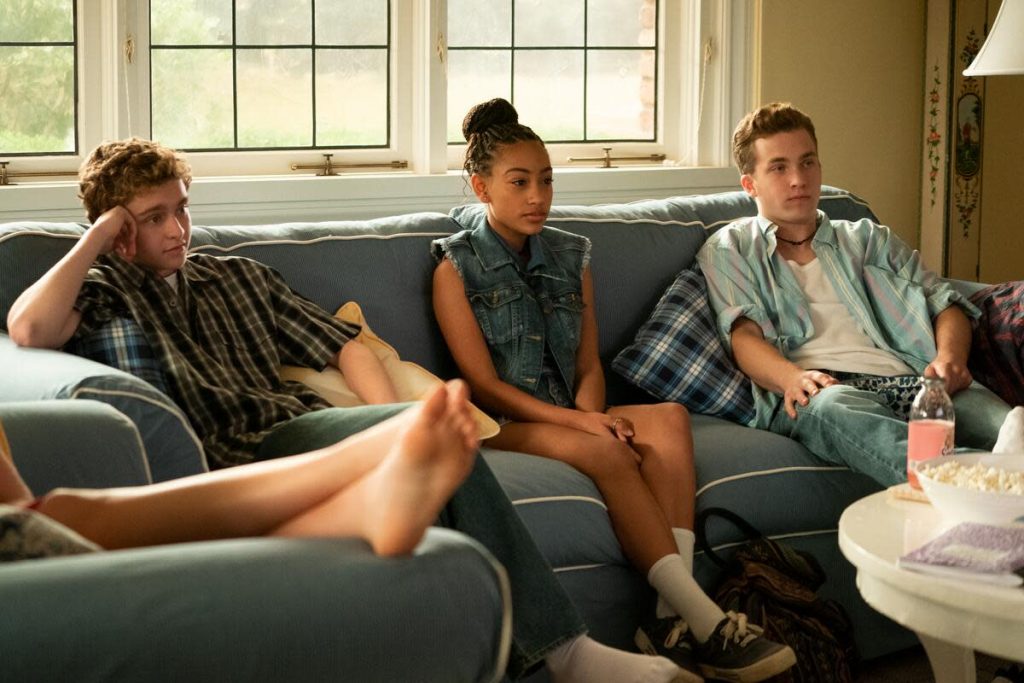 At the end of the three-episode premiere, Mia remains a mystery. Even in her relationship with her daughter Pearl, she is keeping a secret. Pearl has never met her father and her mother refuses to identify him. This is extremely frustrating for Pearl and leaves audiences wondering what exactly is Mia hiding?
Mia is not the only one with secrets. Each character is hiding something and those secrets have yet to come to light. The suspense of how the stories unfold makes the audience crave more. Little Fires Everywhere is a captivating, stimulating drama with an amazing cast that keeps audiences on the edge of their seats. New episodes are available every Wednesday on Hulu.