'The Photograph' Review: an Invigorating Story Of Life and Love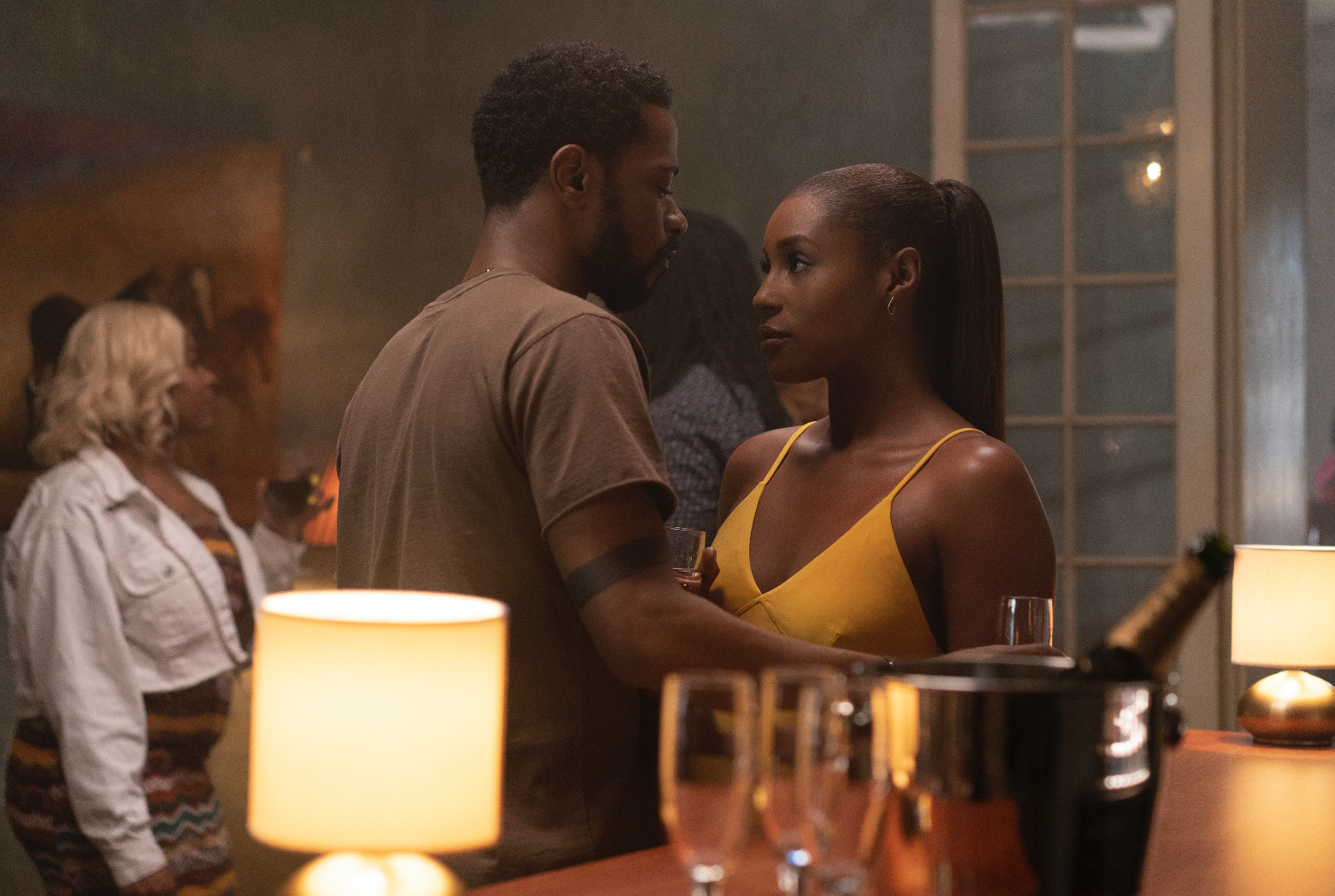 The Photograph, Universal's latest romantic drama, premieres this week just on time for Valentine's Day. Written and directed by Stella Meghie, the film stars Insecure's Issa Rae and Y'lan Noel, Atlanta's Lakeith Stanfield, and Roxanne Roxanne's Chante Adams.
The Photograph takes us on a journey of two love stories – one set in the past, the other – in the present. Mae Eames (Rae), a successful Queens Museum curator and estranged daughter of a famed photographer Christina Eames (Adams), struggles with her mother's sudden passing. Mae is especially hurt about not knowing that she was sick. Her life takes a turn when she discovers a letter, written by her mother, chronicling her life in Louisiana. There is one man whose name keeps coming up in those letters, Isaac (Noel), Christina's big love. The man she chose to leave behind to pursue her dreams in New York.
While Mae is going through her discoveries about her mother, journalist Michael Block (Stanfield) is doing a story on the now aged Isaac in Louisiana. Block learns about Christina's work and decides to interview her daughter, Mae, back in New York. They meet, they fall in love. But the question is – is love really enough? As both professionals navigate their careers and love lives, they are forced to choose one over the other… or could they find a way to make this work after all?
Rae and Stanfield are great together, they have beautiful chemistry. The romantic scenes are beautifully set and shot. The verbal and non-verbal interactions are sweet and believable. The supporting cast also does an amazing job. The happily married couple Asia and Kyle (played by LilRel Howery and Teyonah Parris) are adding a great layer to the story. Both successful with two kids, the Blocks are an example of black marriages we need to see more of on the big screen.
The Photograph is refreshing. It moves at a comparatively slower pace – tracking shots, dialogues that are not rushed, the music ( a topic which, by the way, deserves a whole separate article) that instantly pulls you into Michael, Mae, Isaac and Christina's worlds and ads so much soul.
The Photograph inspires with its simple yet captivating story of two successful black people who meet and fall in love. It is a modern-day saga that echoes some of our favorite on-screen stories of black romance such as Love Jones (1997), Love and Basketball (2000), and If Beale Street Could Talk (2018). If you loved any of these, you'll enjoy The Photograph.
Aretha Franklin Biopic 'Respect' Pushed Back For Christmas Release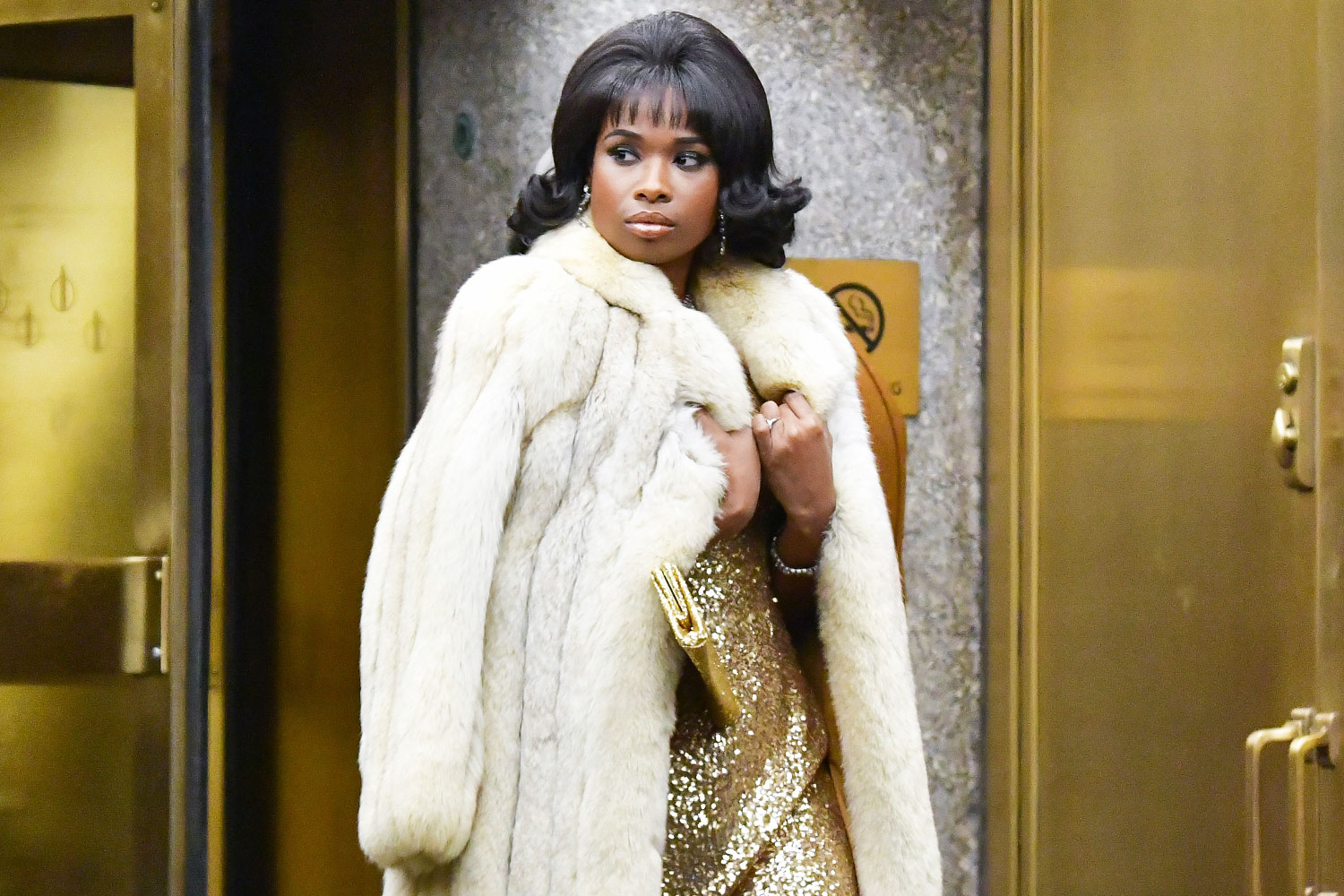 MGM's Aretha Franklin biopic Respect, originally scheduled for an October 9 debut, will now have a limited release on Christmas Day. The film will then expand in theaters on January 8, with a wide release on January 15, the Martin Luther King Jr. holiday weekend.
Respect is directed by Liesl Tommy and stars Academy Award winner Jennifer Hudson as Franklin, Forest Whitaker as C.L. Franklin, Marlon Wayans as Ted White, Mary J. Blige as Dinah Washington, and Tituss Burgess as Rev. Dr. James Cleveland.
Watch the teaser below.
'The Banker': Two Black Men Build an Empire in the Jim Crow Era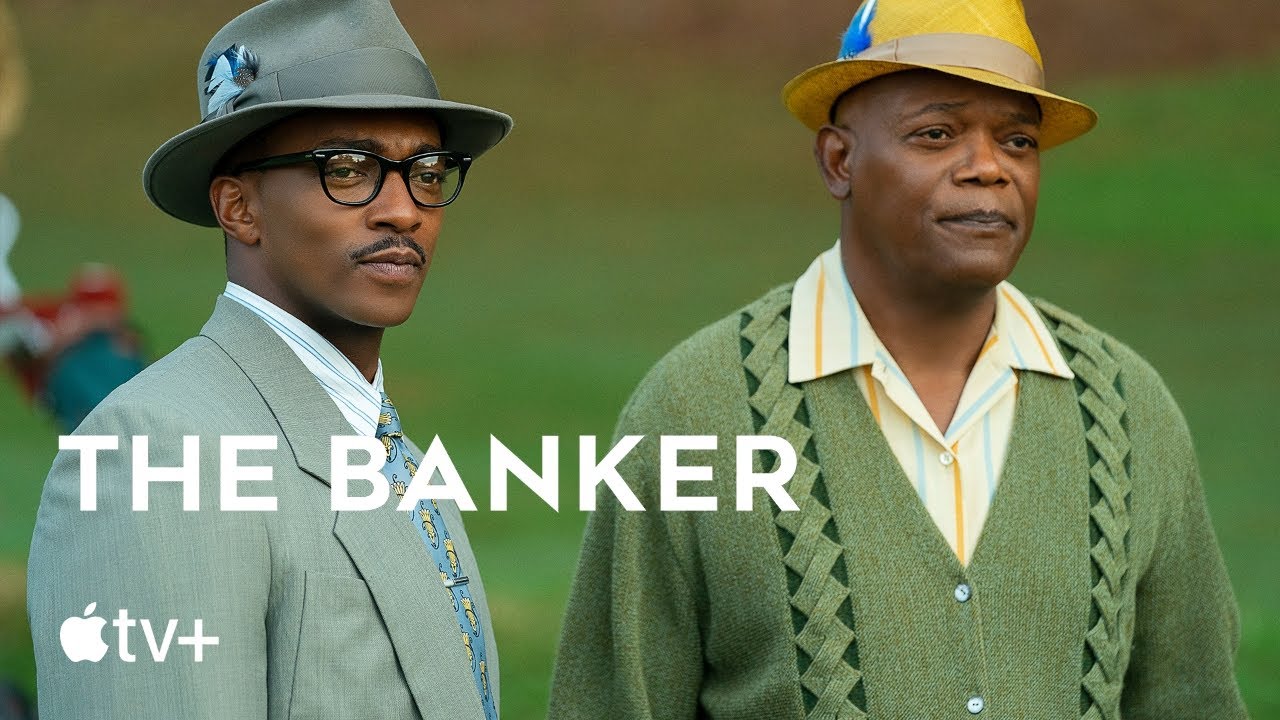 In 1954, in America, a black man owning a bank was something unattainable and seemed practically impossible but for Bernard Garrett (Anthony Mackie) anything was possible. Bernard was smart and ambitious and would stop at nothing to make his American dream come true. His dream was for black people to have access to capital for their businesses and have access to home loans to invest in real estate. Bernard knew the importance of ownership and was dedicated to educating his community and helping pave the way. He was an innovator and truly ahead of his time. He had the knowledge, he had the ambition. The only problem was…he was black.
Bernard had to find a way to get over this hurdle and use his talents to provide a better life for his wife Eunice (Nia Long) and their son. Eunice introduced Bernard to club owner, real estate investor and future partner Joe Morris (Samuel L Jackson). Joe had more experience in real estate along with money and connections that Bernard needed. The two didn't really hit it off when they first met but they eventually got on the same page about their vision. Bernard met a young white man named Matt Steiner (Nicholas Hoult) who knew nothing about real estate or banking but was the perfect face to get his goal accomplished. Together, Bernard and Joe taught Matt everything he needed to know to impress the real estate moguls and investment bankers – math, finance, and even golf. Once Matt was ready, they made their first big purchase – a building that held all major banks in Downtown Los Angeles. Bernard and Joe have done the unimaginable.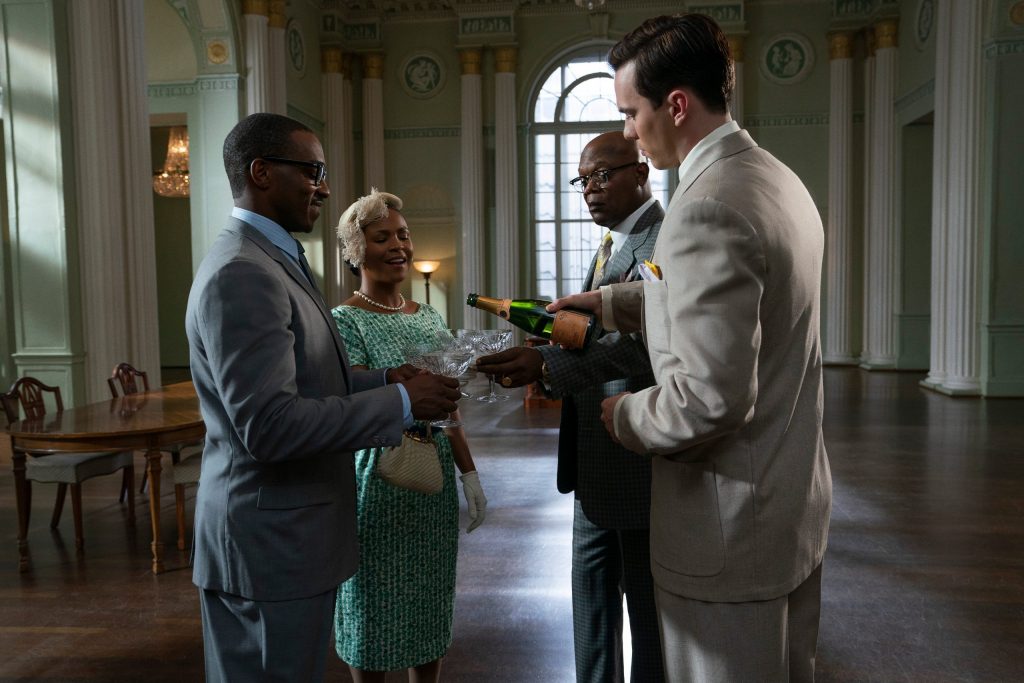 The duo got busy purchasing many more properties in white neighborhoods to help black people move into better areas of the city. With all the success they had in Los Angeles, Bernard thought he could try his luck in his small hometown in Texas. Things, however, did not go as planned as in the South they faced even more racism and segregation. Again, with Matt's help, they were able to purchase two more banks in Texas. As soon as they took ownership, the duo started to quickly lend money to black home- and business owners. The number of loans that Matt approved in such a short time made other bankers suspicious and the bank was audited. In the process of the audit their scheme was uncovered, and Bernard and Joe's identities were revealed. The banks were shut down by the Feds and both black men were sentenced to three years in jail. They only served nine months for mishandling bank funds and fraud.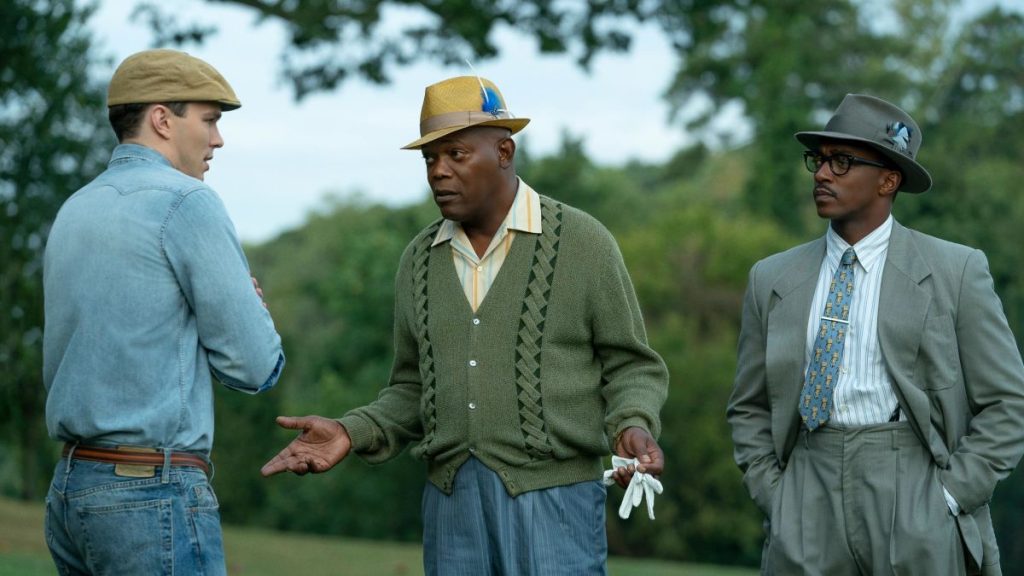 Although Bernard and Joe did time in jail, at the end of it all, there is a silver lining to this story – these black men made history and beat the odds by purchasing two banks in the United States in the Jim Crow Era. The Banker is an eye-opening story of courage and hope; it is an important part of history that is relatively unknown. Two black men generations before us had the vision and enough courage to pursue their dream. All of this was done to advance the lives of black people in America. This is a tale of two heroes that was long overdue. This story is an amazing gem in American history and an inspiration to all.
The Banker is now available for streaming on AppleTV+.
Netflix Has Picked Up 'The Lovebirds' After Studio Canceled Theatrical Release
Paramount Picture's latest romantic comedy starring Issa Rae and Kumail Nanjiani will have its release after all. According to Deadline, The studio's murder mystery comedy, which was recently pulled from theatrical release due to Coronavirus lockdown, is heading directly to Netflix. The launch date will be announced soon.
Here's the synopsis for The Lovebirds:
A couple (Rae and Nanjiani) experiences a defining moment in their relationship when they are unintentionally embroiled in a murder mystery. As their journey to clear their names takes them from one extreme – and hilarious – circumstance to the next, they must figure out how they, and their relationship, can survive the night.
Watch the official trailer below.